This past weekend my husband and I took the high school youth from our church on a weekend retreat. The camp used to be a working farm which has been converted to a retreat center for area church groups. We zip-lined, played carpet ball and ping pong, exercised our art skills and played in the rain. Our guest speaker taught the youth (and adults) about seeing versus perceiving and how our perceptions are not based solely on what we see with our eyes (we all see exactly the same colors/shapes) but based upon our background knowledge and what we are told is acceptable.
noun
1.
the
act
or
faculty
of
apprehending
by
means
of
the
senses
or
of
the
mind;
cognition;
understanding.
2.
immediate
or
intuitive
recognition
or
appreciation,
as
of
moral,
psychological,
or
aesthetic
qualities;
insight
;

intuition;

discernment:
an
artist
of
rare
perception.
4.
Psychology
.
a
single
unified
awareness
derived
from
sensory
processes
while
a
stimulus
is
present.
For example; when we look in the mirror, what determines whether we look good and/or are fit to go out in to public. What was acceptable and good looking in the 70's is not going to fly today! Why? Our perception. What our parents think is acceptable differs from our friends. Again perception. This plays out in how we behave. We are all a little schizophrenic in our behavior. We put on our different hats depending on if we are at work, school, home, or church. We become chameleons trying to fit in and be accepted where we are. As Christians the image we should be striving to see looking back at us in the mirror is Christ. That "hat" should be on us in every sphere of our life and not just when we are in our churches or with other believers.
Colossians 3
English Standard Version (ESV)
Put On the New Self
3

If then you have been raised with Christ, seek the things that are above, where Christ is, seated at the right hand of God.
2 Set your minds on things that are above, not on things that are on earth.
3 For you have died, and your life is hidden with Christ in God.
4 When Christ who is your life appears, then you also will appear with him in glory.
5 Put to death therefore what is earthly in you: sexual immorality, impurity, passion, evil desire, and covetousness, which is idolatry. 6 On account of these the wrath of God is coming. 7 In these you too once walked, when you were living in them. 8 But now you must put them all away: anger, wrath, malice, slander, and obscene talk from your mouth. 9 Do not lie to one another, seeing that you have put off the old self with its practices 10 and have put on the new self, which is being renewed in knowledge after the image of its creator. 11 Here there is not Greek and Jew, circumcised and uncircumcised, barbarian, Scythian, slave, free; but Christ is all, and in all.
12 Put on then, as God's chosen ones, holy and beloved, compassionate hearts, kindness, humility, meekness, and patience, 13 bearing with one another and, if one has a complaint against another, forgiving each other; as the Lord has forgiven you, so you also must forgive. 14 And above all these put on love, which binds everything together in perfect harmony. 15 And let the peace of Christ rule in your hearts, to which indeed you were called in one body. And be thankful. 16 Let the word of Christ dwell in you richly, teaching and admonishing one another in all wisdom, singing psalms and hymns and spiritual songs, with thankfulness in your hearts to God. 17 And whatever you do, in word or deed, do everything in the name of the Lord Jesus, giving thanks to God the Father through him.
We were given examples of how perception played out in many historical events such as the Holocaust and slavery. When perception is skewed we can convince ourselves that doing things that are wrong or bad for us is not only okay but the right thing to do. Our speaker talked about his own life and how the decision to act out and be the class clown starting when he was 6-years-old led him down a path that included dropping out in 8th grade, being expelled, from multiple schools, behavioral institutions, drugs, and homelessness all by the age of 18. What he thought was just doing what he wanted to do led him to be trapped as a person he hated. He gave us the relatively benign example of simply wanting to eat what you like and how a life of indulgence and laziness (which seems desirable at the time) can lead to health issues and obesity where you can now no longer do things you want to do like breathe normally, look good, walk up stairs, or run with your kids. A few caring people in his life who simply loved him helped him to perceive that they were different, but different in a way that he desired to be. These life changing relationships led him to a place where the scales fell off of his eyes and he saw his sin and his need for Christ. He had been set free!!
Romans 7
English Standard Version (ESV)
Released from the Law
7

Or do you not know, brothers—for I am speaking to those who know the law—that the law is binding on a person only as long as he lives?
2 For a married woman is bound by law to her husband while he lives, but if her husband dies she is released from the law of marriage.
3 Accordingly, she will be called an adulteress if she lives with another man while her husband is alive. But if her husband dies, she is free from that law, and if she marries another man she is not an adulteress.
4 Likewise, my brothers, you also have died to the law through the body of Christ, so that you may belong to another, to him who has been raised from the dead, in order that we may bear fruit for God. 5 For while we were living in the flesh, our sinful passions, aroused by the law, were at work in our members to bear fruit for death. 6 But now we are released from the law, having died to that which held us captive, so that we serve in the new way of (the Spirit and not in the old way of the written code.
The Law and Sin
7 What then shall we say? That the law is sin? By no means! Yet if it had not been for the law, I would not have known sin. For I would not have known what it is to covet if the law had not said, "You shall not covet." 8 But sin, seizing an opportunity through the commandment, produced in me all kinds of covetousness. For apart from the law, sin lies dead. 9 I was once alive apart from the law, but when the commandment came, sin came alive and I died. 10 The very commandment that promised life proved to be death to me. 11 For sin, seizing an opportunity through the commandment, deceived me and through it killed me. 12 So the law is holy, and the commandment is holy and righteous and good.
13 Did that which is good, then, bring death to me? By no means! It was sin, producing death in me through what is good, in order that sin might be shown to be sin, and through the commandment might become sinful beyond measure. 14 For we know that the law is spiritual, but I am of the flesh, sold under sin. 15 For I do not understand my own actions. For I do not do what I want, but I do the very thing I hate. 16 Now if I do what I do not want, I agree with the law, that it is good. 17 So now it is no longer I who do it, but sin that dwells within me. 18 For I know that nothing good dwells in me, that is, in my flesh. For I have the desire to do what is right, but not the ability to carry it out. 19 For I do not do the good I want, but the evil I do not want is what I keep on doing. 20 Now if I do what I do not want, it is no longer I who do it, but sin that dwells within me.
21 So I find it to be a law that when I want to do right, evil lies close at hand. 22 For I delight in the law of God, in my inner being, 23 but I see in my members another law waging war against the law of my mind and making me captive to the law of sin that dwells in my members. 24 Wretched man that I am! Who will deliver me from this body of death? 25 Thanks be to God through Jesus Christ our Lord! So then, I myself serve the law of God with my mind, but with my flesh I serve the law of sin.
I am sure there are pieces I am missing but I hope this gives you a picture of the amazing weekend we had.
And now for a few pictures I captured on my phone!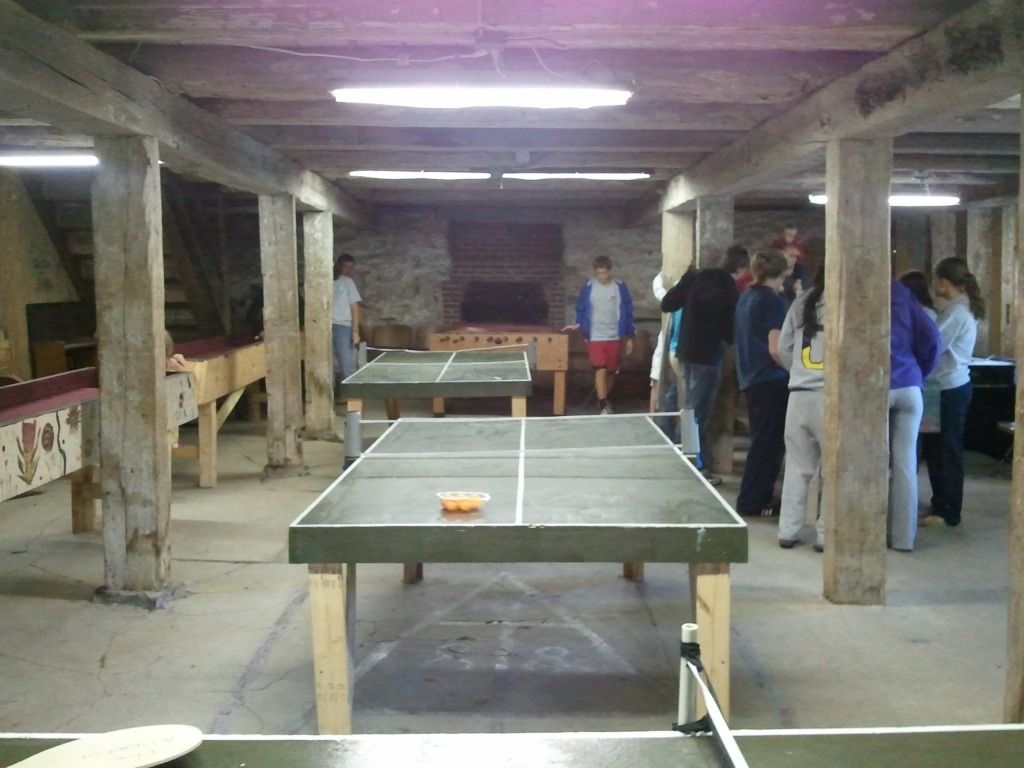 barn basement game room (check out those hand cut pillars! they even had the axe marks! remarkable!)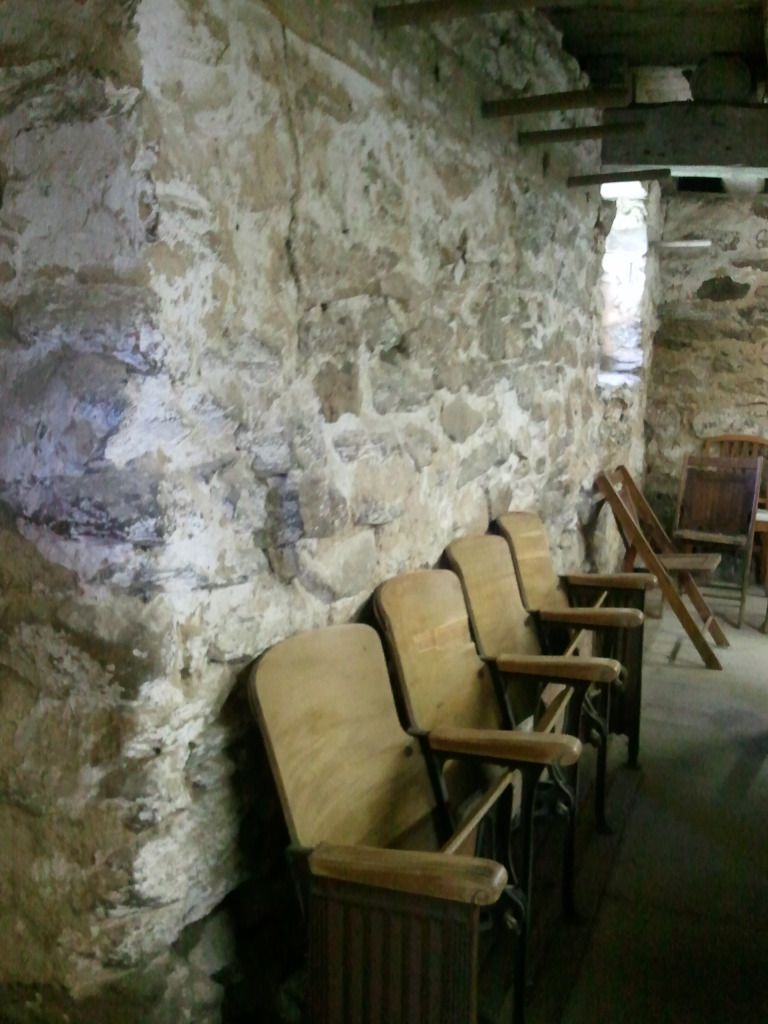 And now! A peek at our little art project!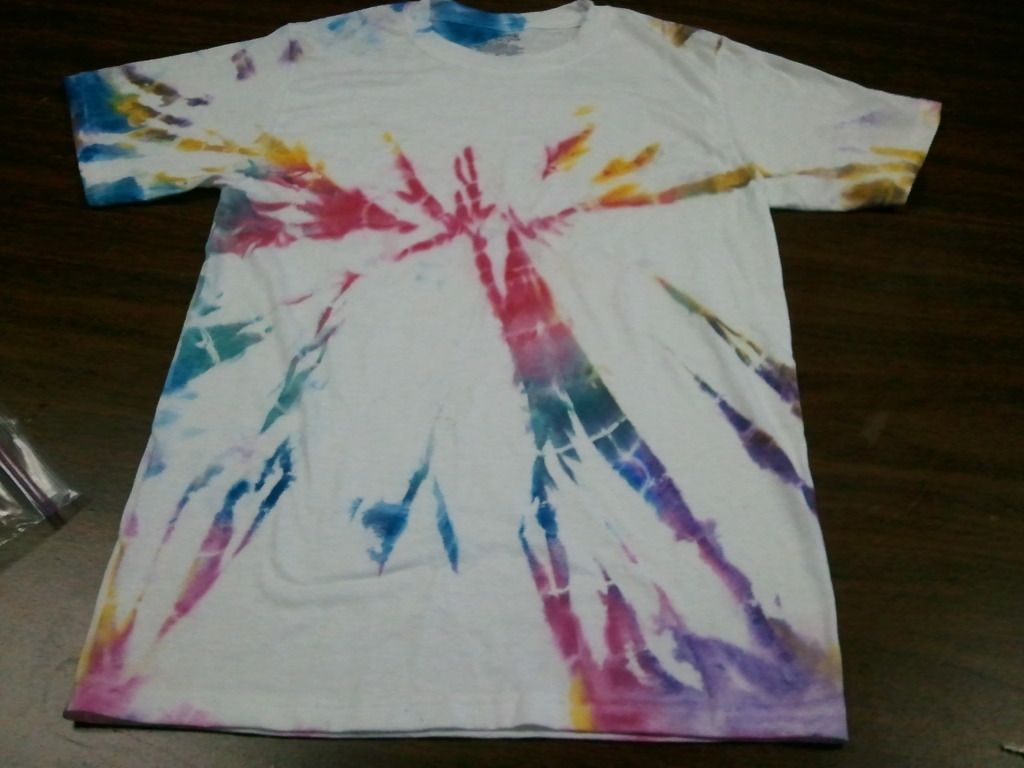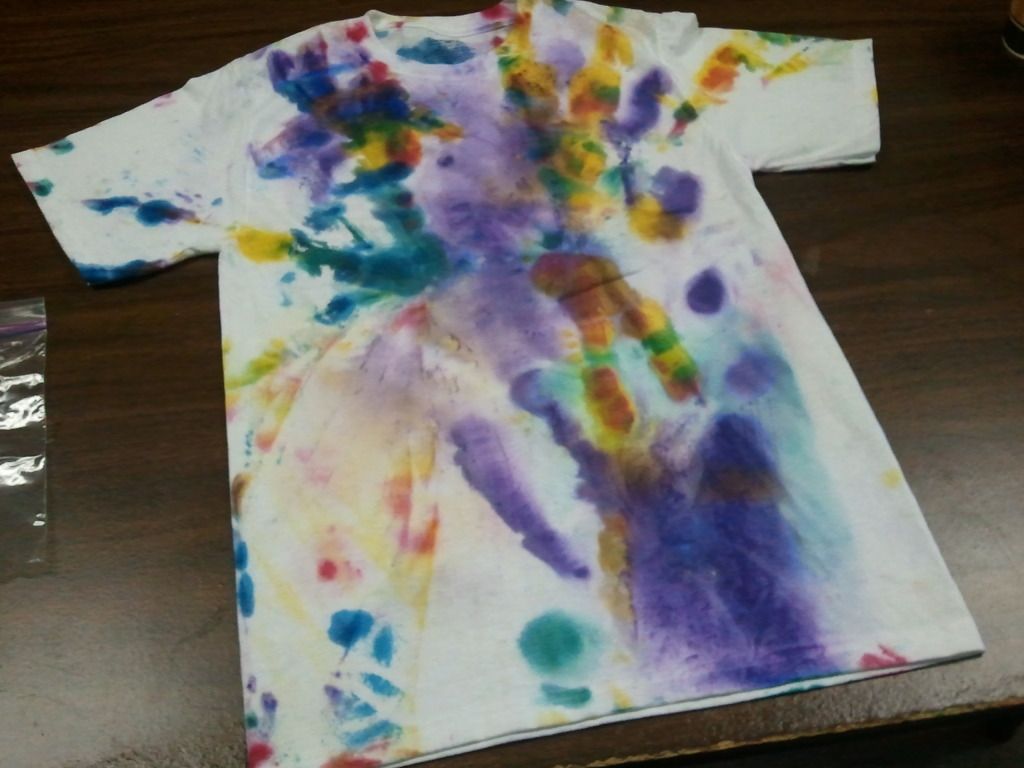 In searching for a dye that we could use and clean up easily I found Tumble Dye! Simply scrunch, twist, rubber band, or lay out stencils on the tee shirt and use the little bottles to spray the dye onto a damp or dry shirt. We dampened our shirts so the dyes would bleed into each other a bit. The first tee pictured was rubber banded to look like a snake and then sprayed. The second tee started that way and then the artist decided to start spraying color all over their opened tee. I think both turned out great! It was much easier than using true tie dye and the results were quite similar. After your design is complete let the shirt air dry then tumble dry for 20 minutes to fully set the color! Easy Peasy!
Can't wait to see all the kids sporting their creations! They are already talking about going back next year!
If you want to help me make up for the time I spent away this weekend I would appreciate your votes for the Epic Room Makeover from Mandi at Vintage Revivals. Just click and scroll down to submission #1 (My Beastly Master submission post). You can vote once every day through September 14th from every device you own with it's own IP address! I would greatly appreciate your support!