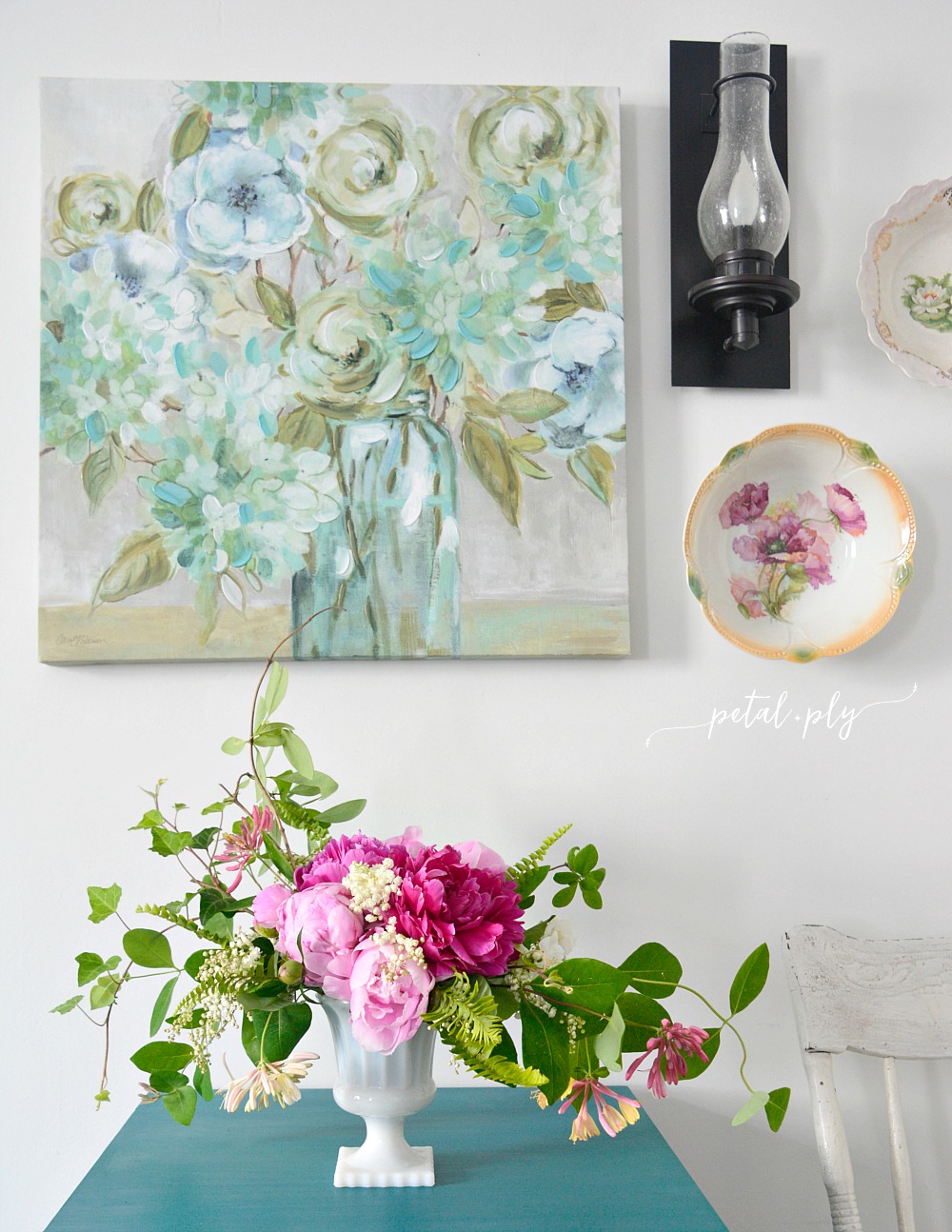 I don't know about you but one of the things I love about spring and summer is the beautiful flowers and greens that are constantly changing the landscape.
My mom is an avid gardener and every week we've been wandering through her garden watching and discussing the changes. I tell her what plants I like and would like babies of and she tells me about when they come up, how long they last, when we can transplant them, and how easy or finicky they are to care for.  She's also given me advice on some plants that she has that I may want to stay away from, unless I'm up for dealing with an invasive plant.
I'm very excited to finally be starting the flower gardens at our house. We've been in our home for almost three years now and have the yard to a point where I can start adding in the plants I love. I've been dreaming and planning AND going crazy pinning to my Exterior Pinterest board! So many ideas and grand plans are floating through my head. It's going to take a while to bring all my dreams to fruition but the yard has so much potential and I can't wait to make it the perfect place to play, relax, and entertain.
One of the big reasons I want to get my gardens up and running is to have flowers to design with! I used to work as a floral designer and it's something I love to do BUT flowers are expensive and unfortunately it isn't an expense I can justify on a regular basis. Having flowers to cut from my own yard will be wonderful.
A few weeks ago on one of our garden wanderings we snipped a bundle of flowers which I took home and arranged.  It felt so good to design again!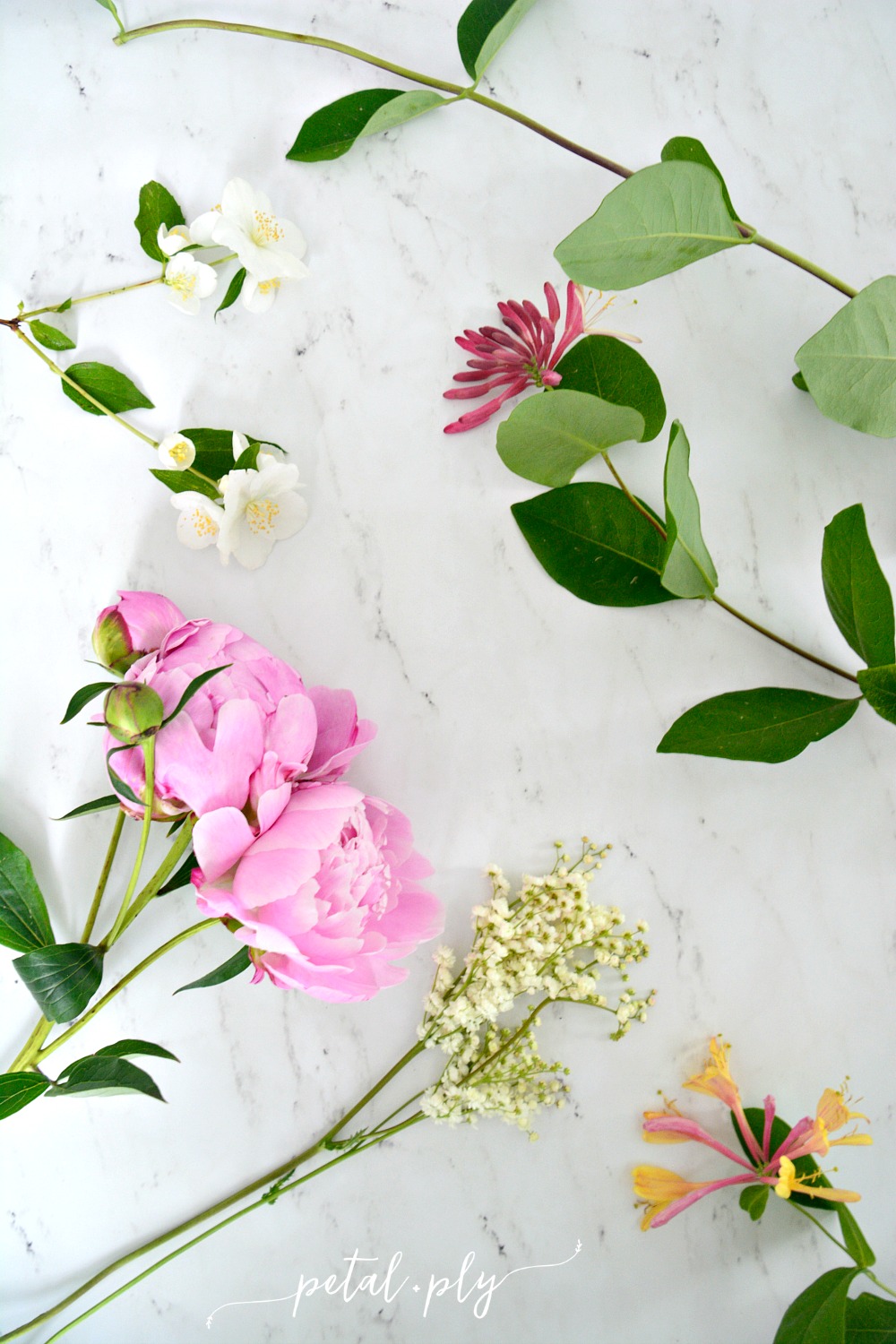 This post contains Amazon Affiliate links.
This asymmetrical arrangement used light pink peonies, fuchsia peonies, mock orange, yellow-pink honeysuckle, and meadowsweet from my mom's garden along with some ivy and fern bits from my garden.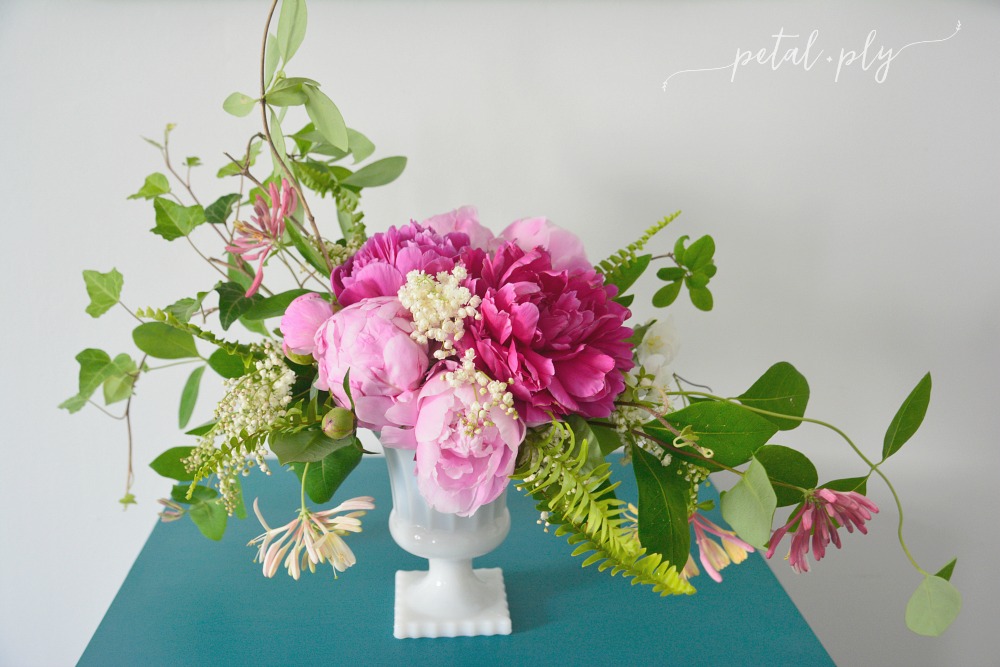 So let's talk design. I had planned on using a chunk of floral foam as the foundation of my arrangement but the foam I had on hand was for silk arranging. Plan B was to scrounge a chunk of chicken wire to mound into the vase, but I had already started and honestly didn't know where my husband might have some stored. So onto plan C, use the stems of the flowers and greens to hold each other into the vase. With this approach you really need to criss-cross your stems so the weight of each piece and the interlocking grid formed, locks everything into place. I used ivy and honeysuckle sweeping up to the left and down to the right to create the curving line of the arrangement. The peonies were mounded at center as the main focal point and stems of the meadowsweet and mock orange were used as filler flowers. I utilized the beautiful sweeping lines of the honeysuckle to bring movement and color away from the vase. Lastly, I tucked a few pieces of fern.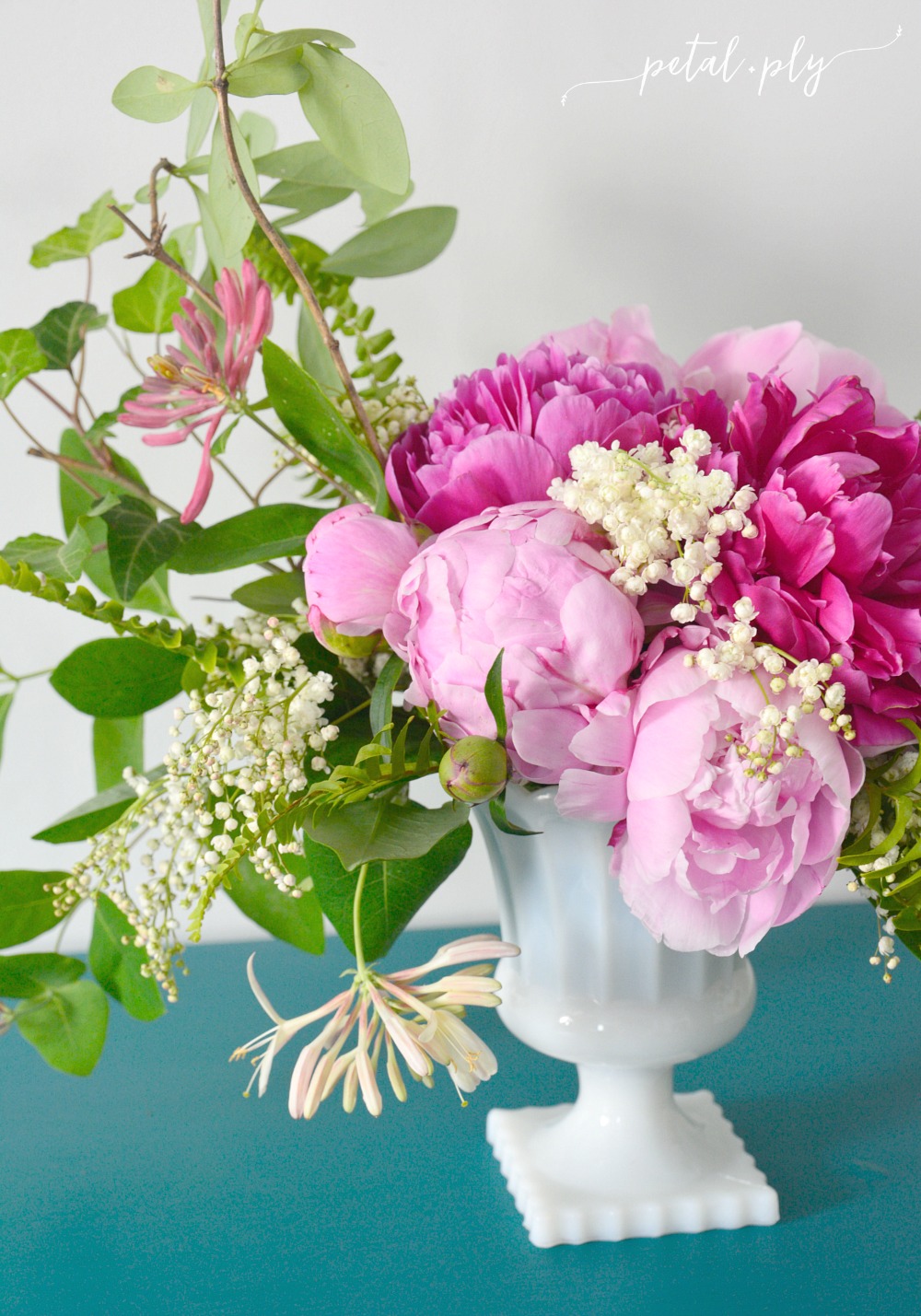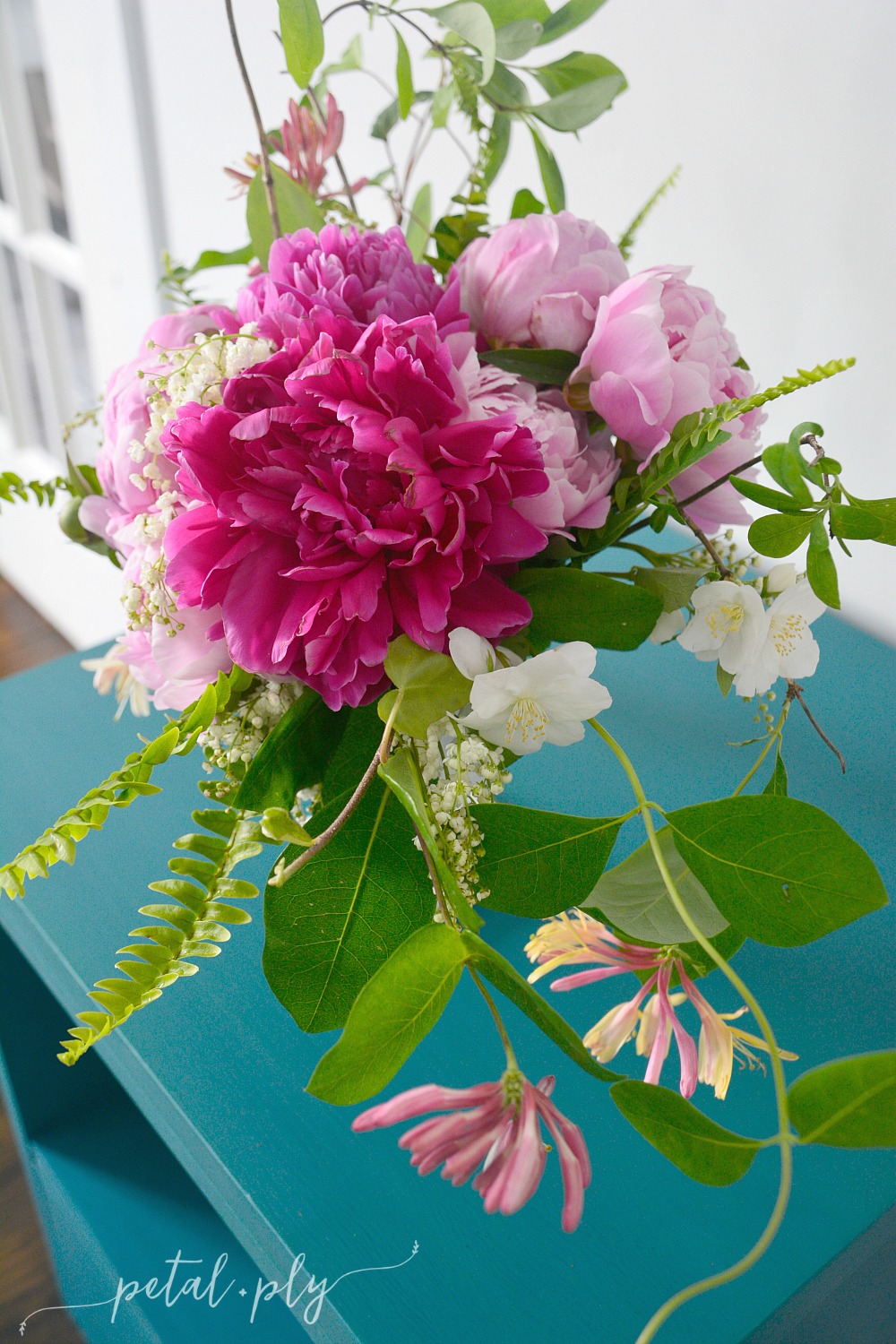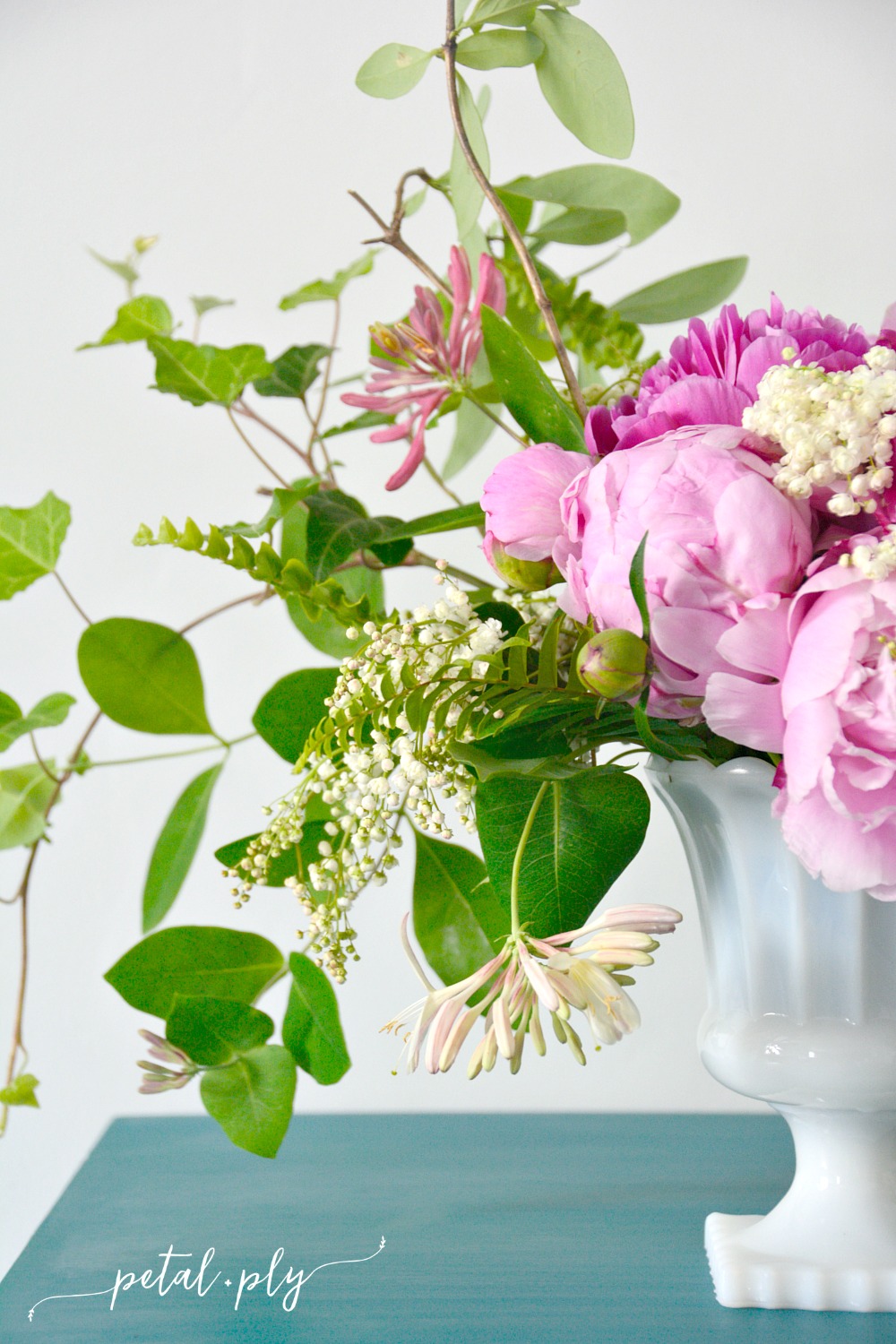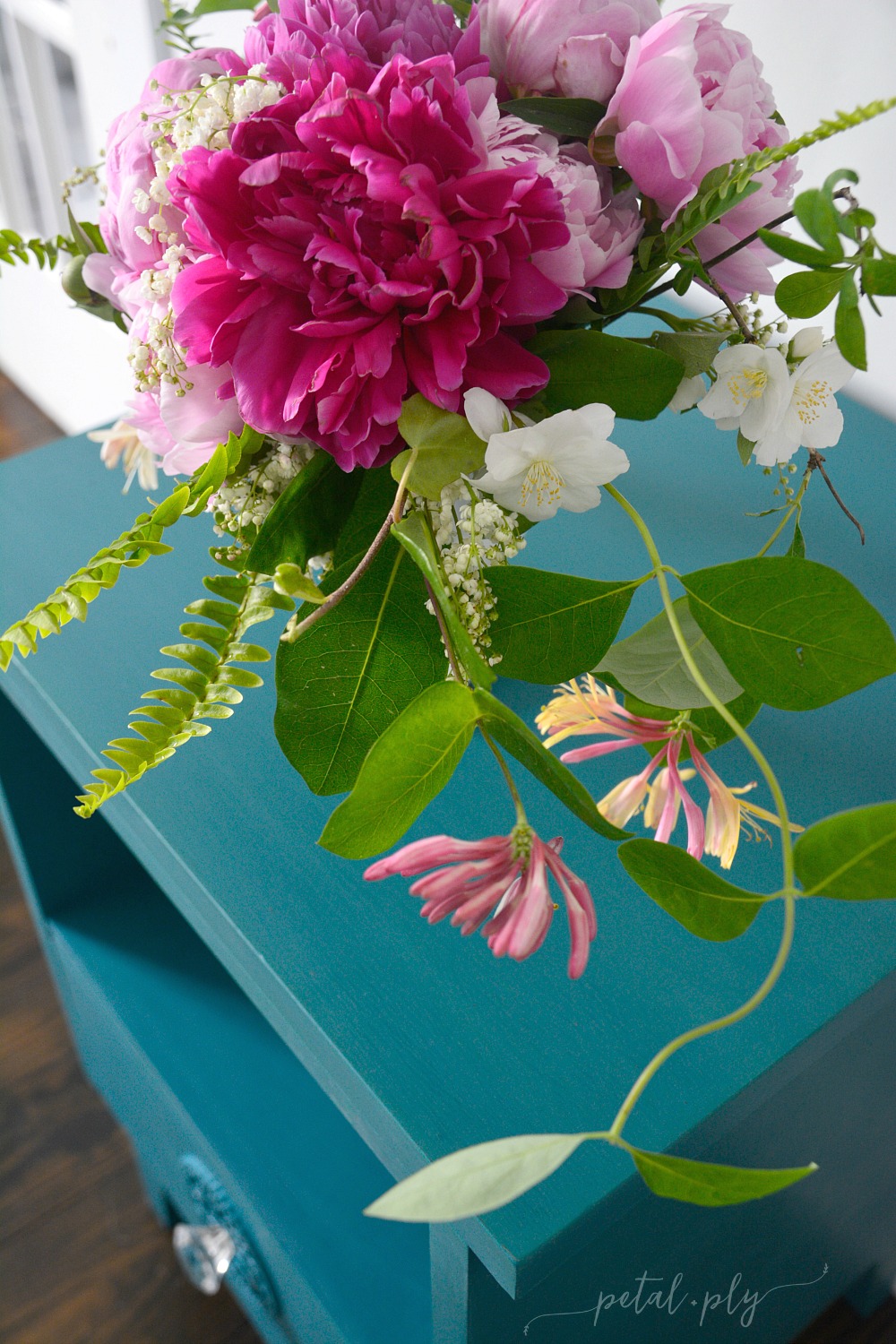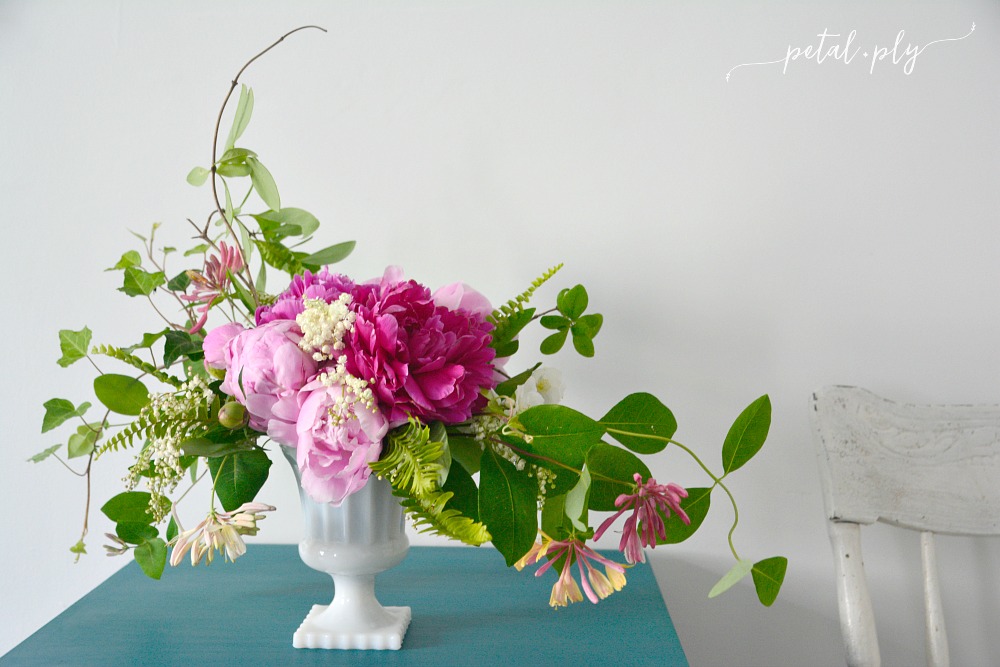 Garden flowers really lend themselves to sweeping atypical wild-styled arrangements.
Do you love this flowing style floral design OR are you more drawn to structured orderly floral arranging?
Thanks for stopping in today!
For my regular readers, I'd love to know, have you enjoyed my recent posts on live and silk floral design? Is it something you'd like to see more of? Do you just like seeing the pretty flowers or do you want to know more about the principles of floral design that I consider with every arrangement? Please let me know in the comments.