I figured I may as well post what I have been up to.  Somehow between feeding the baby, making PB&J's for the 2 year old, nonexistant naptimes, laundry, cleaning and a seemingly neverending schedule of hoiliday and youth group events one project has been completed.  YAY.  This Craigslist freebie needed some work but I am thrilled with the results.
Before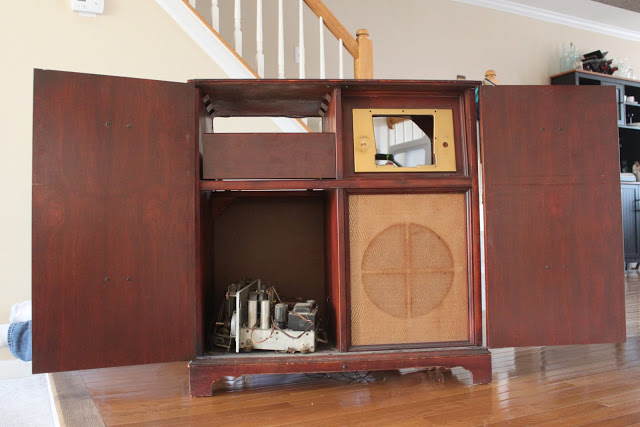 Did you notice my husband's leg poking out from behind the cabinet?  That's him back there doing some demo and he did the reconstruction too!
A pretty fabulous vintage piece but, it didn't work and had quite a few dings and dents.  So, after some reconstruction (by the hubs), a few coats of Annie Sloan Old White Chalk Paint distressed and waxed on the exterior, a gray paint on the interior, and oil rubbed bronze hardware, here it is.
After
All ready for the winter holidays.
p.s. I'll tell you the story of the wooden highchair another day. 😉