Why Iced?  Well for one the color, and second the actual texture of the paint.  I painted this little table in Skylight a MyColor paint inspired by Pantone.
Before I get to the before and after pictures of the table here's the scoop on the paint.  The paint comes in a clear 35 ounce container with a self sealing cap.  When you pop the cap open (you will need a flathead screwdriver or little prybar just like any metal can) you will find a nice thick and creamy paint.  It reminded me of homemade icing or melted marshmallow.  Is it weird to say that this paint literally looks yummy?  Stick the cap back on top and push down with both hands and it will snap right back in there!  If you have little kids you'll love that feature.  Naptime won't need to be interrupted with the typicall bang, bang, bang of the hammer to the paint can!  The paint is low VOC and low odor and states it is self priming and stain blocking with an eggshell finish.
How well does the paint work?  The Skylight went on evenly and needed about 2 coats to cover this little dark wood stained table.  I called the company to ask about furniture prep since the paint is self priming and was told if the piece had a smoothe sealed surface you would need to sand it or use an all surface primer.  Since the piece was just stained wood with no sealer I chose to paint directly on the existing finish.  The paint sanded off very easily by hand where I chose to distress so easily in fact that it seemed like it needed a sealer despite the eggshell finish.  The finish may have been more durable if I had chosen to use an allsurface primer or to rough up the wood with some sanding prior to painting.  In any case I topped the table with clear wax and now it seems like it has plenty of protection from unintentional chipping.
I appreciate the fact that the paint only costs about $10.00 for a can that is large enough to do several small projects or a large one (and maybe a small one too) so it is an affordable option if you want to refinish one piece or a few small pieces and wouldn't need a large can of paint.  There is a pretty good selection of colors too….49 to be exact!  If you do try the paint be sure to come back and leave a comment to let everyone know how you like the paint.
Now, here's the before and after pictures of my little Iced End Table!  We bought a pair of these antique, drop leaf, turned leg end tables from a post on Craigslist.  I think they are absolutely adorable!
Before
After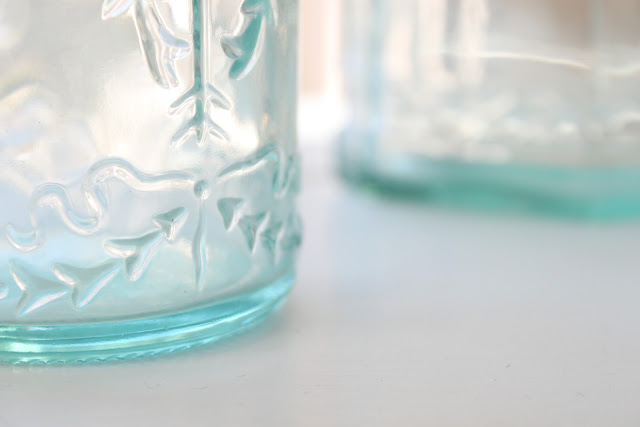 Skylight reminded be exactly of the icy blue/green of old wine bottles!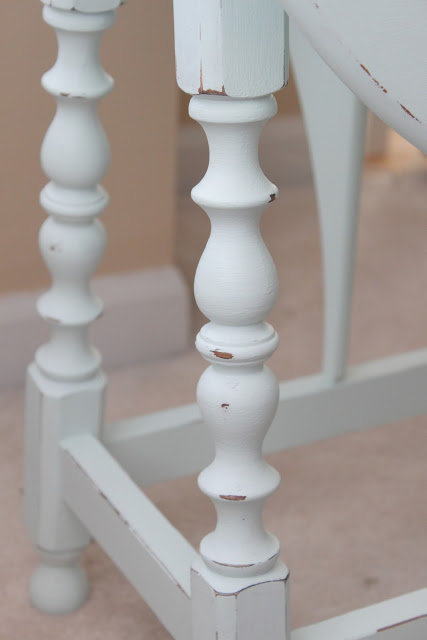 This lady's got some legs!