We recently got rid of our small china hutch when we found a LARGE one someone put on Craigslist.  My husband did not understand why I wanted it and was skeptical, to say the least, about how it would turn out.
I totally agree that this piece certainly wasn't much to look at, but I had BIG plans for this baby!
After a little leveling (by simply adding floor protectors to all of the corners), removing the glass and replacing it with screen, completely removing the outer bottom doors (because removing the glass ruined the backside of them), and giving it one coat of Annie Sloan Chateau Grey Chalk Paint this cabinet is now the farmhouse beauty I knew she could be!!
Did I mention it only took removing the glass and giving it a rough coat of paint before my husband started to see what I was envisioning!  Take a look at the transformation in action.
BEFORE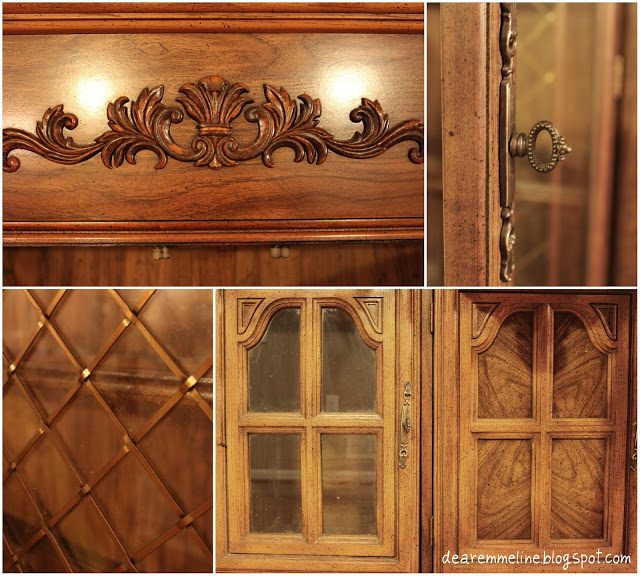 Looking back I can see where my husband was coming from…..yikes!
DURING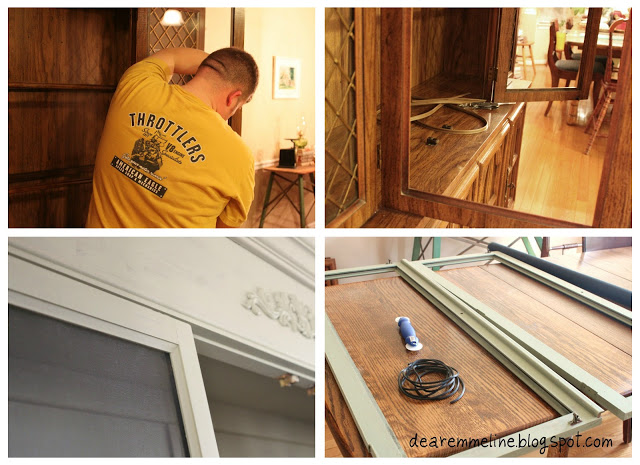 We started by removing the glass and metal screens.  They were put in with some sort of rubber so all we did was pull the rubber out, and out came the glass!  Easy peasy.  In fact we plan on doing it to another display cabinet we have.  Next, the doors came off and one coat of paint went on.  Giving it one coat of Annie Sloan Chateau Grey gave it the perfect amount of color and age without needing to distress at all.  One coat and it looked perfectly weathered and just slightly streaky on its own!  I had to practically climb inside to screen the oustide panels (they weren't actually doors) which was a bit of a pain but they came together nicely.  Thankfully, I am a righty and my husband is a lefty so we teamed up and each screened one panel (I was becoming quite frustrated trying to lay inside the cabinet and use my right arm which was practically pinned under me to screen the right panel).  Thanks hubs for the help!!  The 2 doors in the middle were much easier to screen since they came off.  We used Invisible Charcoal Fiberglass screening, .160″ diameter Black Screen Spline, and a Screen Spline Roller to complete the job.  All of the screening supplies cost about $15.00 and the whole process was pretty easy to do.  My only suggestion is to make sure you do not pull the screen too tight.  We had one tear on us.  We actually ended up leaving the tear since it was small and adds to the aged look!
If your glass comes out and the frame has a nice "rut" then this treatment will work perfectly.  We did not measure anything exactly…instead we measured our spline by holding it up to the frame (make sure to cut the spline a little shorter than you need because it does stretch a bit).  We also layed the screen over the frames and cut (again make sure you cut a few inches extra in each direction).  Hold the screen semi-taught as you roll the spline in.  I would recommend having a friend help you by holding the screen while you roll the spline into place.  This will help keep the screen from shifting and also help get the screen smooth.  After the screen is in place use a utility or exacto knife to trim the excess screening.  Tada!  Your doors are ready to be reinstalled!
Okay, let me remind you of the before and after.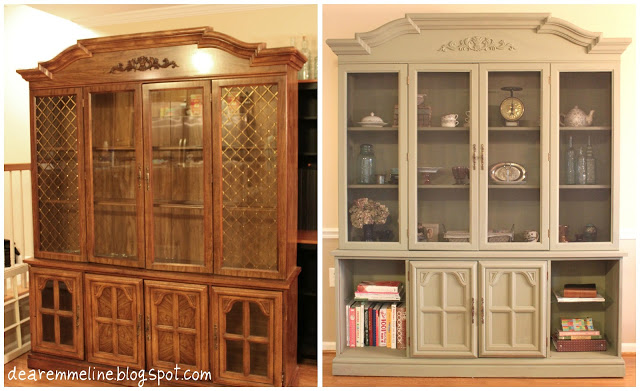 Ahhh, talk about a 180.
Here are a few more AFTER shots to enjoy!