Ever tried looking for drawer pulls with a 5-inch hole to hole span?  Well,  for one of my recent furniture redos I needed to do just that and let's just say they pretty much do not exist.  I got one hit when I searched online and it was an AWFUL modern silver number!  My wonderful husband also did some legwork and visited local hardware stores to no avail.  Yikes,  how am I going to refinish an armoire that is missing a drawer pull if I can't find any drawer pulls to replace it with?

  Bingo!  I'll just have to make my own.  Since I already planned to turn this small armoire into storage for a little princess (the doors are covered in wood scroll work hearts) I just needed to figure out how to give it a girly touch!  The girly hearts were just begging for some ribbons and bows…..so here you go!
A vintage sheet later and the drawers are now fully functional again!  I also used the sheet (and some Mod Podge) to cover the faces of the inside drawers.  I'm so glad I found this sheet at the bottom of a box of linens I got at an estate auction for $5.  It's the perfect color for any little girl's room and would look so sweet with a blue ball jar full of flowers on top!
To finish this little armoire/dresser it was given a coat of all surface primer, then white MyColor latex paint, distressed, then touched up with Annie Sloan Pure White paint and topped with clear Annie Sloan wax.  I tried to save time by using an all surface primer to cut out the sanding step…..NOT a good idea.  You bumped the piece and paint chipped off.  So, after the whole thing was painted I sanded the areas I wanted to distress and if to much flaked off I used Annie Sloan paint to touch up and tried again.  After sealing it with wax the surface is protected BUT according to the MyColor paint I shouldn't really have needed a protectant top coat.  Sigh, you live and you learn.  Either way, I LOVE how it turned out and if my daughter's room didn't really need a longer shorter dresser I would probably keep it!  I would NEVER, NEVER have thought that at the beginning of this project.  Eww, just take a look!
Before
(BIG, BROWN, & GAUDY)
After
(BRIGHT, WHITE, & FEMININE)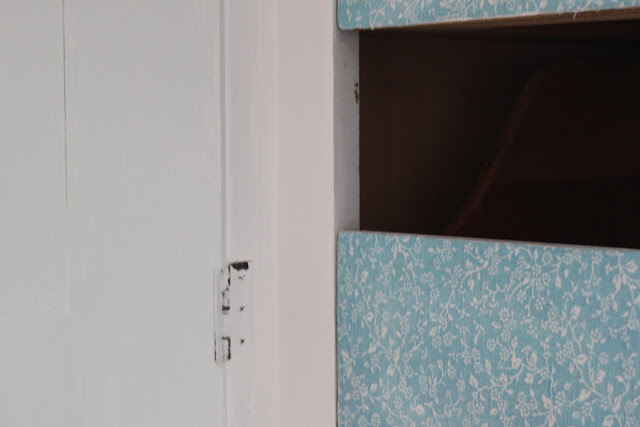 a very faint teal blue painted inside the doors to coordinate with the fabric
Thank you vintage sheet stash for single-handedly saving this project!  I will now call on you whenever I am in a drawer pull crisis. 😉