I'm finally back with another furniture makeover!  Life has been a whirlwind recently.  One where I feel like I get plenty of projects started, but none completed.  After a couple of late-ish nights this past week I have finally wrapped up a coffee and end table set.  I've had this set sitting in the queue since the the end of last year.  Yikes.  New projects came up and this one kept getting pushed back (literally…and stacked upon, etc).  But, IT IS DONE, FINALLY, and I am quite happy with how the set turned out.
I was going to say, "story of my li-ife, I forgot to take a before picture" but from the recesses of my brain I remembered I actually did take a few back eons ago when I got the set.  Dark, dinged up, gross, chewed up cardboardy inlays.  Not pretty!
So this is where I would insert the picture, but,  even though I know I took them, I just dug through my folders and THEY WERE NOT THERE.  Please forgive me, or you could actually just thank me, because it was a pretty hideous sight!
So instead more of the pretty!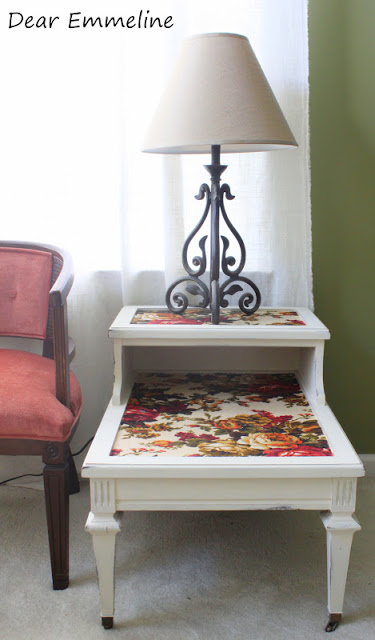 See the corner of my $10 yard sale chair from last weekend. SCORE!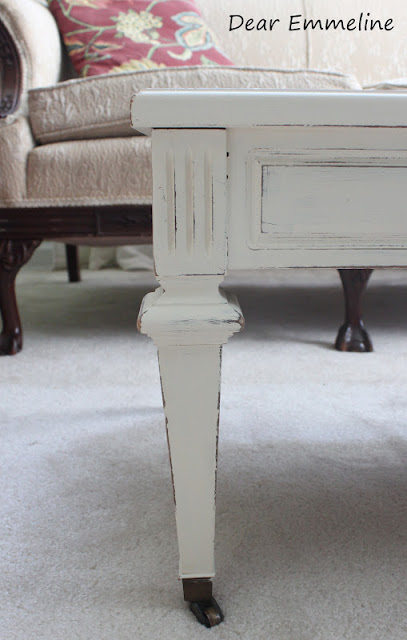 Love the metal casters!
How fabulous is the linen texture of this castoff curtain panel?  I found one lonely panel in the same box of linens as this fabric.  I love the cottage cabbage rose print, mixed with the more traditional burgandy and neutrals, with a punch of a decidedly more modern orange thrown in!  The pieces were painted in Annie Sloan Chalk Paint Old White and distressed a bit to get rid of some of the reddish pink "stain bleed" spots (not sure if anyone else notices this a lot when using lighter color paints).  We even primed with Zinsser to save paint. I measured and cut the fabric from the curtain panel and to adhere the fabric I painted a layer of Matte Mod Podge onto the wood, laid the fabric, and then put another layer of Mod Podge on top.  My fabric seemed to "shrink" after it was cut, so I simply stretched it into position and made sure there was enough Mod Podge for it to stick to on the table surface while I stretched other corners and edges into position.  No recutting necessary!
Now this set is ready to make a statement!
Have you used vintage linens or curtains for a furniture or craft project?  Please share.  I'm a sucker for vintage fabric!