A $20.00 yard sale score finally gave us the dresser we needed for our son's room.
Out with the changing table, in with the dresser…well sort of.  The edges of this piece were quite dinged up so the piece needed a bit of work.  Plus the mirror frame was missing the mirror so we had to figure out a solution for that as well.
We decided to keep the drawers, top, and mirror frame wood tone.  A little Old English Scratch Cover and Old English Lemon Oil and the wood looked pretty much good as new.  The more major scratches faded down to give the piece a worn but not dry and scratched up look.
Next, time to pick a paint color (Afternoon Tea- Valspar, check) and mix up a batch of DIY chalky finish paint (check).  I used a recipe that was recommended by Cassie of Primitive and Proper.  1/2 cup water, 1/2 cup Plaster of Paris mixed up and then added to 1 cup paint.  Cassie told me she just eyeballs it but my husband measured it out with our fancy DIY Chinese food container measuring cup.  If I use this recipe again I think I definitely will dump in some more plaster and less water because our batch was super runny and took a good 3+ coats to cover and when I went back over parts that hadn't quite dried the paint lifted right back off.
My son's room is decked out in owls and I wanted to incorporate some other woodland animals sooo……..I went down to the computer and hunted for woodland animal silhouettes, shapes, clipart, etc until I found ones I liked.  I resized them in Paint until they were the size I wanted them (one the screen).  Since our printer ran out of ink and we were out of backups I took tissue paper laid it across the computer monitor and traced the shapes.
I laid the tracings over contact paper to create reverse stencils for the sides of the dresser.  Since I needed the same images facing opposite directions I folded the contact paper and stapled the tissue to it before I cut.  Once it was cut I had two contact stencils each facing opposite directions.  Then I laid all my stencils out in mirror image layouts on the sides of the dresser.
I was loosely inspired by this ottoman I saw on Joss and Main.
After painting I tried to peel off the stencils while the paint was still a wet (because I read you should do so) and to my shock and horror some of the paint started to peel up too…NOOOOO!  Because the paint was watery I also had a little bleeding under the edges of some of the contact paper as well.  Seriously?!  Can I ever catch a break?  Well my remedy was to take a paint brush and touch up the spots that peeled up and to take baby wipes and wipe (to wet) and scrape off the excess that bled under.  What I should have done was use real chalk paint which will not peel up and has a nice thick consistency so it probably wouldn't have bled under.  Oh well!  You live and you learn!  Despite my technical issues I ended up with what my husband has dubbed as "his favorite piece I have ever done"!
As you can see our missing mirror was replaced by using an old cork board we had lying around.  My dearest husband cut it to fit then cut backer board to stabilize it and nailed it down around the back or the frame.  Now it's the perfect spot to hang mementos or art!
Here's a few more peeks at the dresser and the artwork and trinkets we've been hoarding collecting for Everett's room.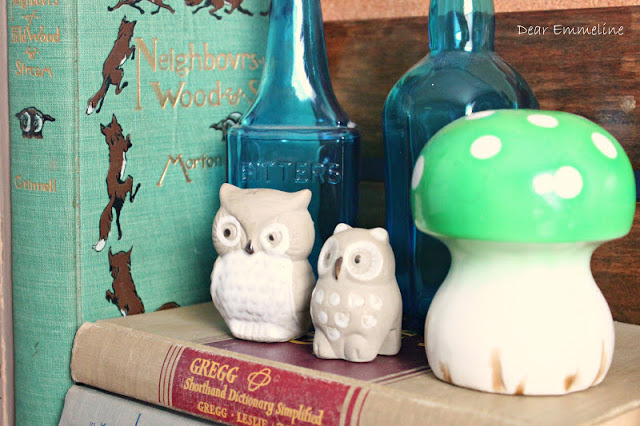 How fabulous is the vintage Neighbovrs of Field Wood & Stream book we found at a yard sale?!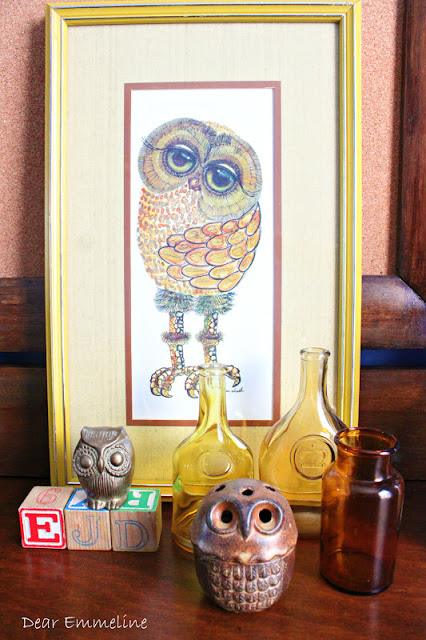 I love the painting we found at a consignment store and it came with a perfectly complementing yellow and gold frame!
One last look at the final product!
Bonus points if you noticed I swapped out the artwork. 😉 Trying a few different options never hurts!
Thanks for visiting.  Hope to see you again soon!