There. I said it. My master is pitiful and I am embarrassed to even let you peek inside.
We bought our house and moved in 4 years ago. It was a foreclosure so it came as is. We didn't have to do too much to make it livable but our master hasn't been touched since the day we moved in.
We've swapped out several bedding sets. here's the most recent.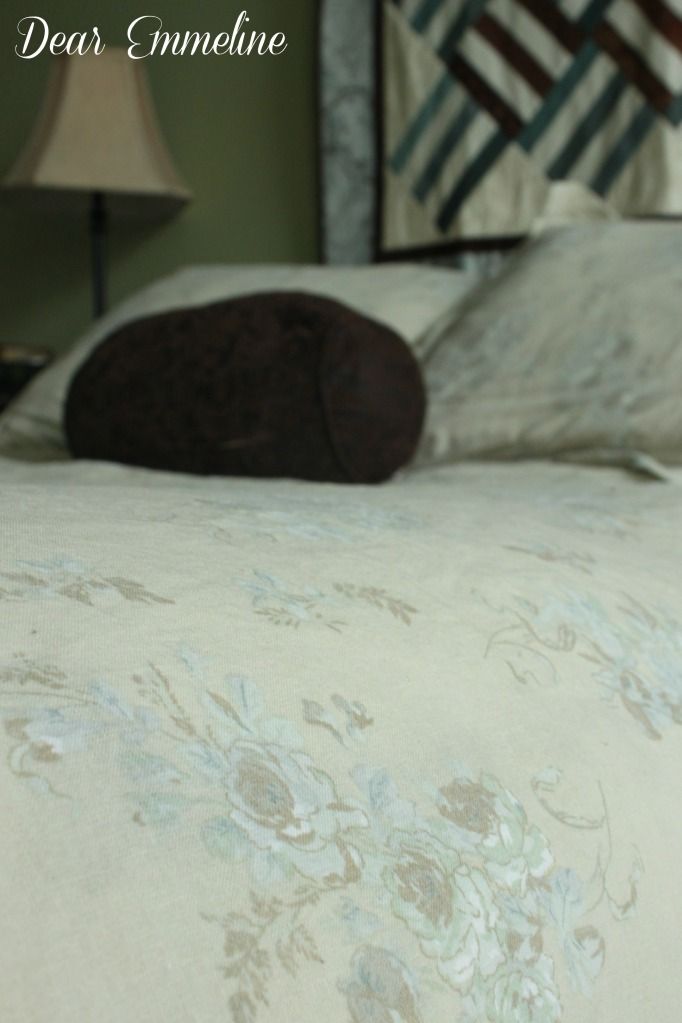 I love this set. It has a linen texture and love the green, tan, and blue colors as well as the cabbage rose pattern. But, it does not match the green walls (as you can see in the background). I DO NOT care for the wall color and want to get some new paint up there. I'll expand more on that situation later.
I have also made curtains. The windows in this room are really big and I could not find curtains that fit so I made some myself! Nate Berkus would be so proud that they are kissing the floor. Muah!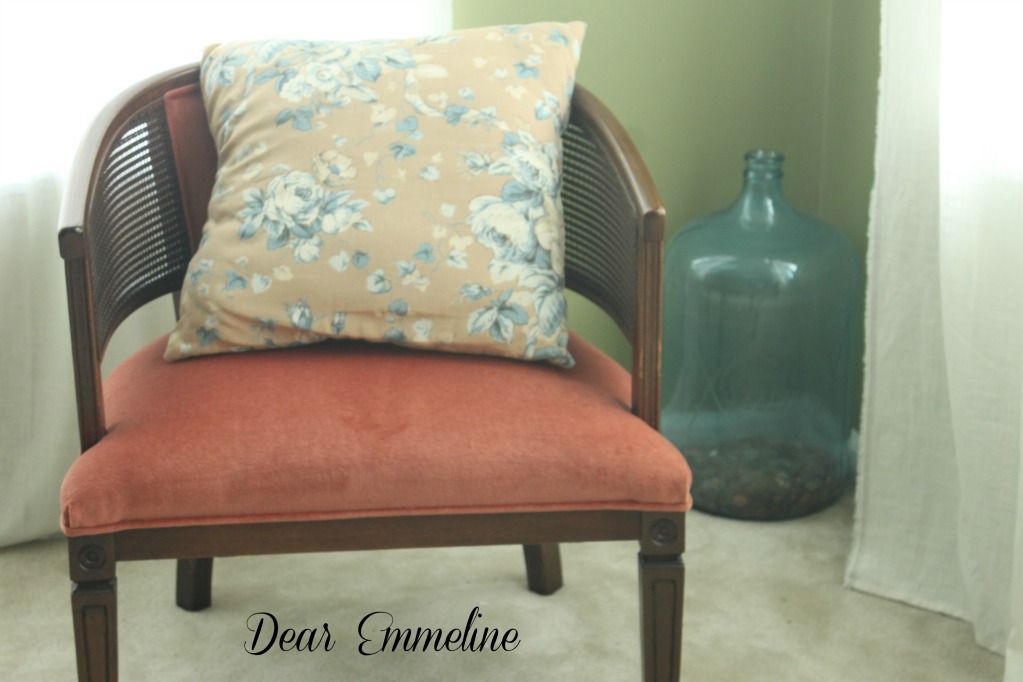 But ALL of the big projects that I want to do have not been touched! Why? Let me give you a peek at the MAJOR hurdles.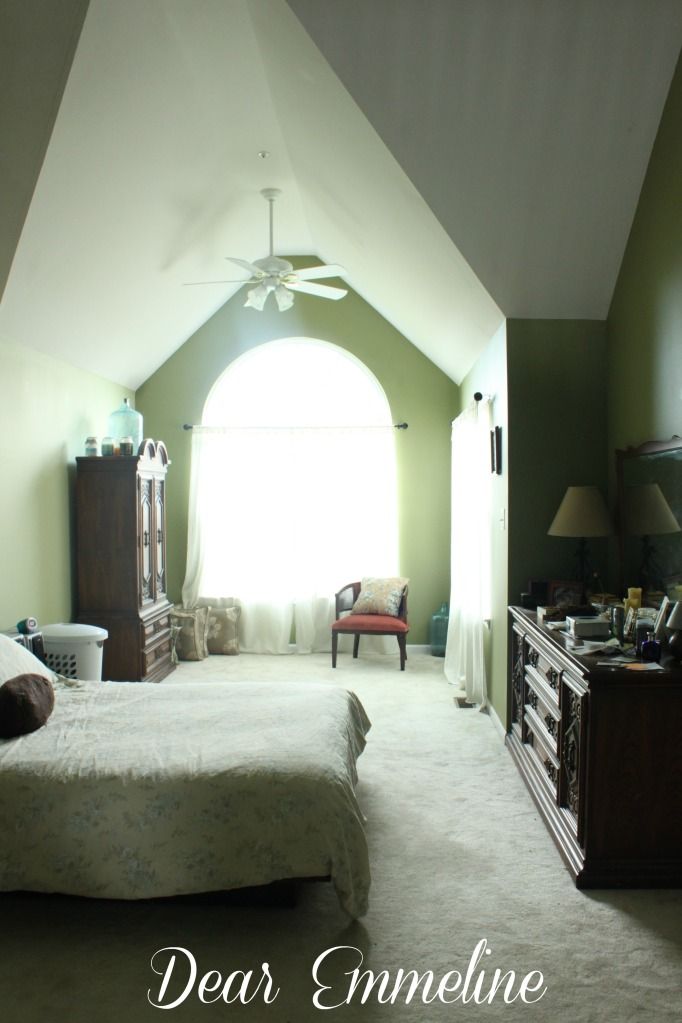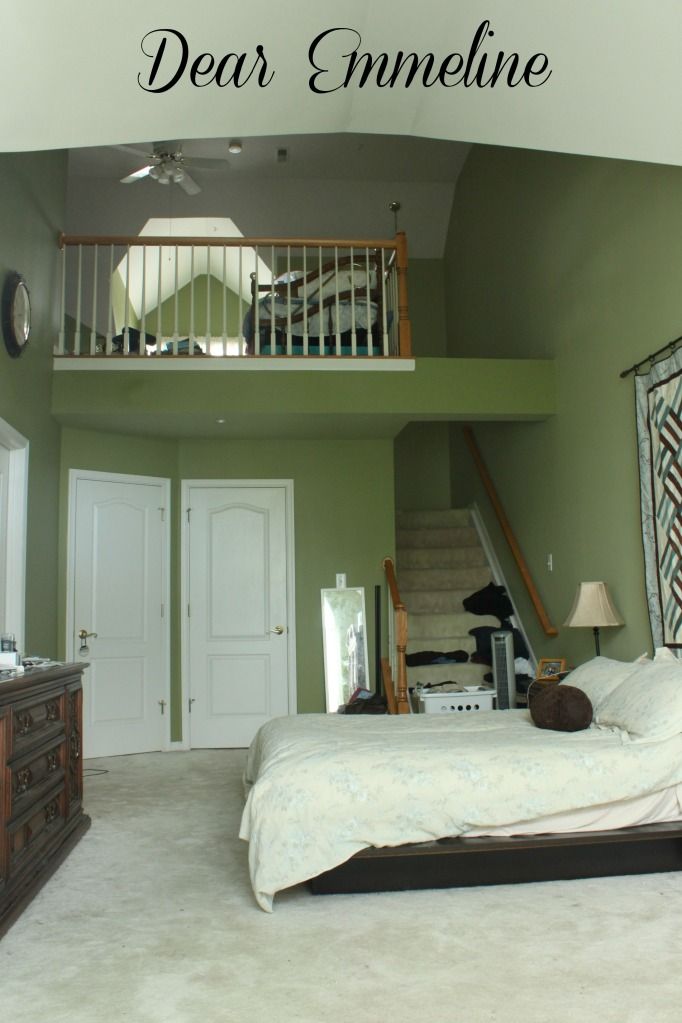 Can you tell what the problem is (besides $0 in the makeover budget)? It couldn't be the ridiculously high ceilings, abundance of angles, or the fact that the room doesn't end (it just has to head on up into a loft making painting one HUGE pain in the booty!) could it? I don't even know where to start or finish. Add on a 1-year-old and a 3-year-old and it looks like this project won't happen for the next oh 18 years!
I know you love the fan and lighting loveliness goin' on up there too! Who wouldn't?
To embarrass myself further check out my husband's work clothes storage.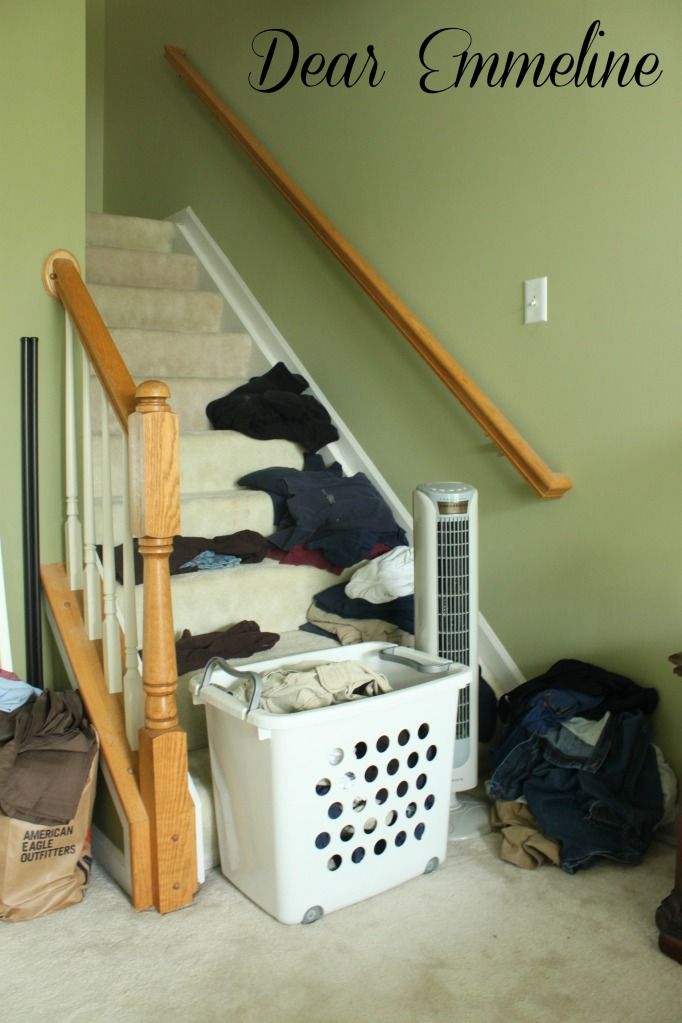 Awesome, right?
Or my end table and oh so stylish hamper!
Sad thing is the stereo isn't even plugged in because it is possessed. Randomly kicks on and starts playing stuff at 3 in the morning. No thank you. I've got my kiddos for that wake up call!
If you look closely you can even see something crusty permanently attached to the carpet by the previous owner. Gag!
What else?
Dusty, dirty, dorm room mirror.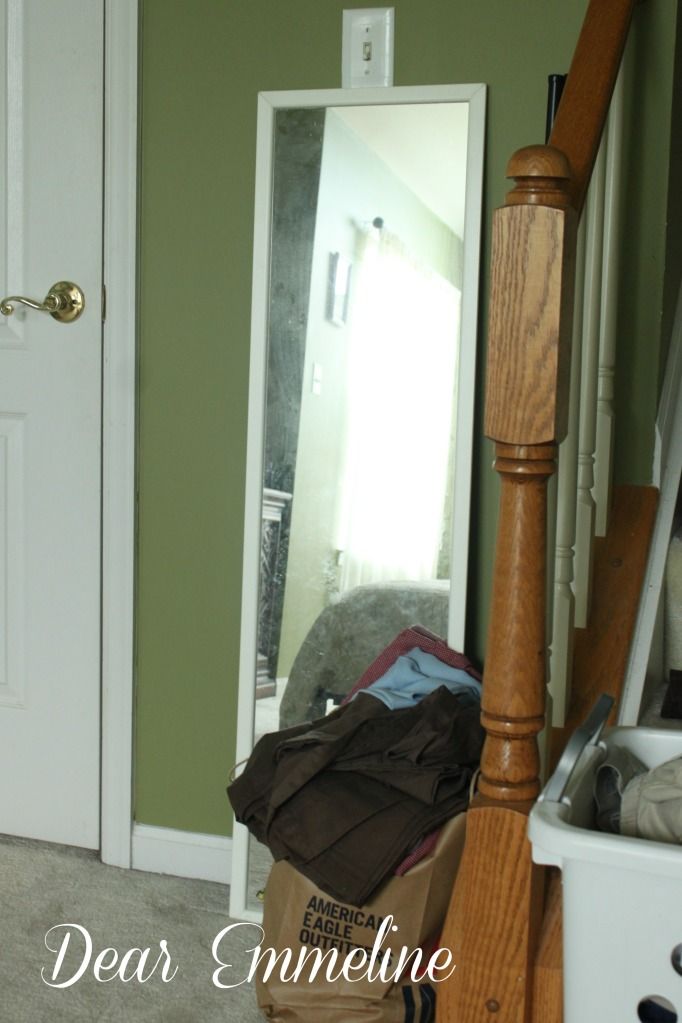 Crazy cords.
Beauty and The Beast furniture (Hey! Don't judge. It was free and at least it's a matching set! oh wait. Except for the falling apart platform bed which is so low both my kids think it's their personal jungle gym).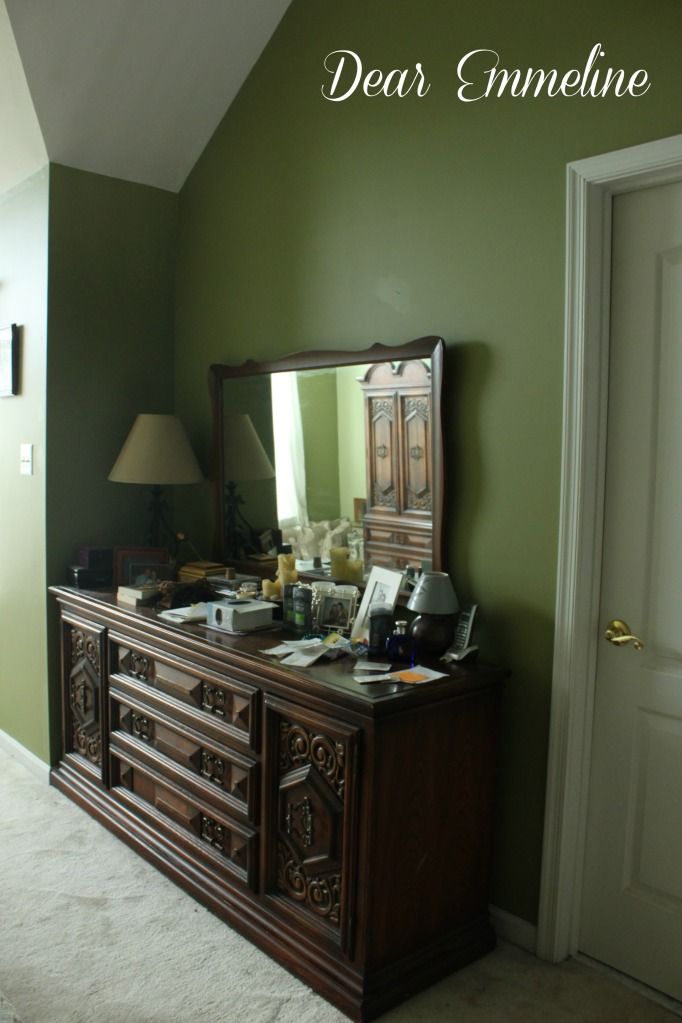 You can see the reflection of the armoire in the mirror! Straight from the Beast's castle!
Now why would I show you this ridiculously embarrassing, anything but relaxing, lacking in personality, boring, unmatched, I'm over it, poor excuse for a master bedroom?
Because I want….nay I NEED….Mandi of Vintage Revivals to come and revive this room! Mandi, I need you! My room needs an new life! One where it's lively, colorful, comfortable, hip, and most importantly loved. I've got the guts. Time to make them grin!
****voting is now open!!! September 7-14! Click on the button below and vote for room #1! Thanks so much.****
_________________________________________________________________________
After reading some other submissions, I decided to get a little more personal and give you some reasons to vote for our room (besides the room needing some major help).

Why should you vote to redo my master bedroom?

1. I try to be content with my home. It's a great space and has loads of potential but the reality is, it isn't what I want it to be and the feeling of not being able to do anything about it nags at me every day. You would make my decor dreams come true to gift me with a fresh (and finished) look.
 

Now here's where I get all personal on you and jump into the logistics of the situation…

2. So you might say "Why can't YOU do something about it?" We have the skills. That isn't the problem. The biggest hurdle is finances. Even "cheap" design is not FREE design. Paint, wood, glue, craft materials, fabric, flooring, etc. costs money UNLESS it is given to you. Four years ago we bought our house and then I made the tough decision to stop teaching 2nd grade to be a stay-at-home mom. In turn our income dropped significantly but we were okay. Then my husband who's a plumber had a slow, slow year at work. He barely had work. To be honest I thought we would lose our house and it was probably the hardest and most stressful time in my life. In order to stay current on our house payments we had to use our credit card A LOT. He started to look for new job and because of the impression he had made through his work relations he was able to secure a plumbing inspector position. We have by the grace of God been able to keep our house and pay down our debt by being very careful and intentional about every purchase we make. I buy used clothing/shoes for our kids (and flat out barely buy any for my husband and myself), we cancelled our cable, have the cheapest plans available for internet and phones, I usually cut hubby's hair and mine hasn't been cut or trimmed in 3 years. We made the decision when my husband had a take home vehicle to get rid of our 2nd car. When he started his new job a take home vehicle wasn't included but a second vehicle was and is nowhere on the horizon. This means unless I can convince a friend to come over or my mom to drive up (20 minutes) and take us out that we are trapped in our home ALL day long. Nothing like having all those unfinished projects staring me in the face all day and not being able to escape. I do not tell you all this for you to say "poor girl" for I am so blessed, but it does explain why I am SO EXCITED to have the opportunity and how much I would truly appreciate a room makeover by Mandi!
 

3. I am trying to start up a home-based furniture refinishing and handmade/vintage goods business so I can raise my kids and contribute financially. My bedroom is the one place in the house that is semi-unaffected by a mass of furniture projects and I would love to have a place to go after the day is done that actually is finished and where I can relax and not think about how much still needs to be done. I say semi-unaffected because somehow a dresser I'm working on managed to creep it's way up there! Compared to the rest of the furniture store house though it is usually unaffected. Currently, my living/dining/kitchen combo is housing 4 furniture projects in various states of doneness in addition to the furniture that actually belongs in there. Add the sewing machine on the floor that's sitting ready for my next project and couldn't be put on the table because is was covered with dresser drawers from another project and you have a momma that is one drawer pull away from going CRAZY!!….I NEED a peaceful/finished space somewhere in my house! Please, I beg you!

4. Back to number 2. Drop of income = lack of finances to complete master. I'm an avid DIY'er so I've been thinking of how to slowly check items off the list but they always get put on the back burner and I can't justify the expense (even affordable options) so it looks like own our own it probably won't ever get finished.

5. I have a design split personality which means that even if I could come up with the necessary finances to tackle the room it's hard for me to narrow down a plan for the room . I love COLOR, I love neutrals, rustic and regal, vintage, simple, clean lines, texture, and patterns. Quite frankly, I love beauty in many forms and need someone else to help direct me towards a look that cohesively includes elements that I LOVE which are seemingly all over the map. I have a hard time trusting myself to do this and Mandi has proved this ability so I would love to have the opportunity to draw from her eclectic genius!

6. Mandi can help me tap into my 7th grade personality! The one that bought, wore, and loved a pair of green and orange holographic tennis shoes despite the grief her family, friends, and peers may have given her for them. I'm not afraid to push the envelope as long as the results are me! I guarantee that this room would leave you speechless and inspired.
Last but not least,

7. We have an amazing group of family and friends who I would force love to ask to join us in completing this epic project. And while the makeover would make me feel like I've won the lottery the bonding experience with my loved ones would be PRICELESS!