Hard to believe it's already been four days since setting up my first booth (ever) at Ginger and Spice Marketplace in Walkersville, Maryland. I spent the majority of last week tying up loose ends on a few furniture pieces and giving some simple updates to accessories I brought to the sale. I'll share some of them throughout the week.
One of the pieces I finished up for the show was an antique buffet we picked up for $30.00 through Craigslist.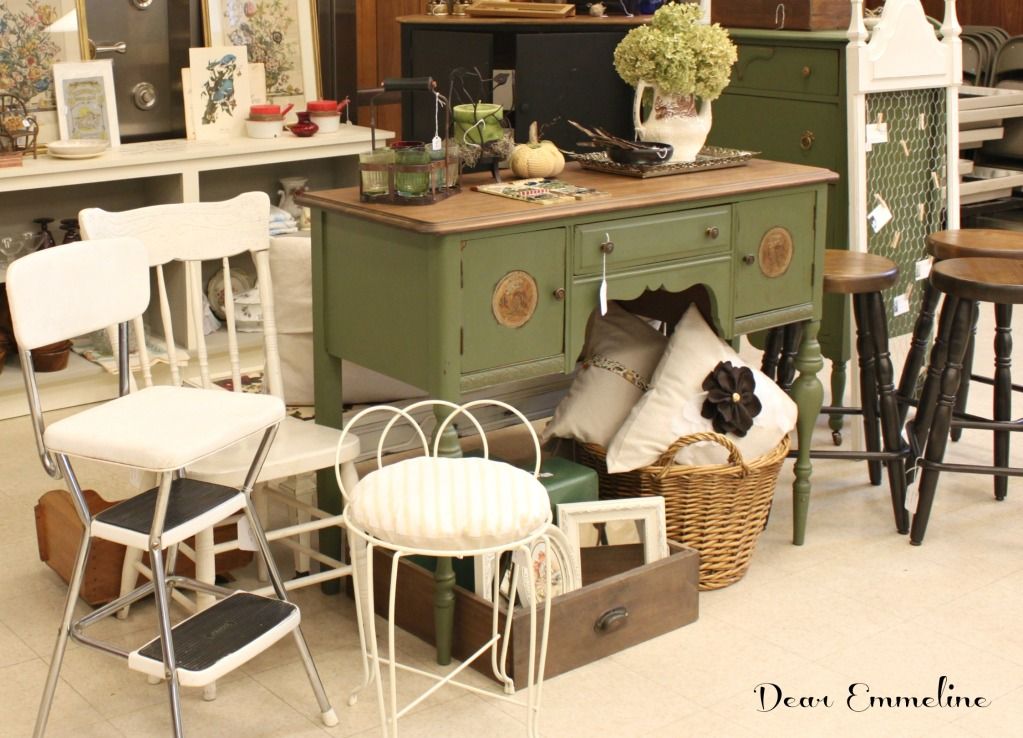 My family and friends couldn't believe I was selling the piece and when it didn't sell at the sale we brought it back to the house and set it up in our dining area. Some dried hydrangeas in a brown transferware pitcher got set up with a few white and orange pumpkins, 2 large wooden spools, and a pale blue stoneware bowl. My little vignette didn't last long because my dad emailed to say he wanted to buy the piece for my mom's birthday this week. So we took the piece down to my parent's last night and it's all set up in their dining room. I'll make sure to take my camera down this weekend to get some pictures of the buffet in its new home. My mom has her fall decor up and I plan to take some pictures and give you a tour as well.
The top of the buffet was stripped down to the bare wood. There were quite a few water rings that my husband was able to get out using a baking soda and bleach paste. Then we simply sealed the top with clear wax.
The top has a very rustic look which I love!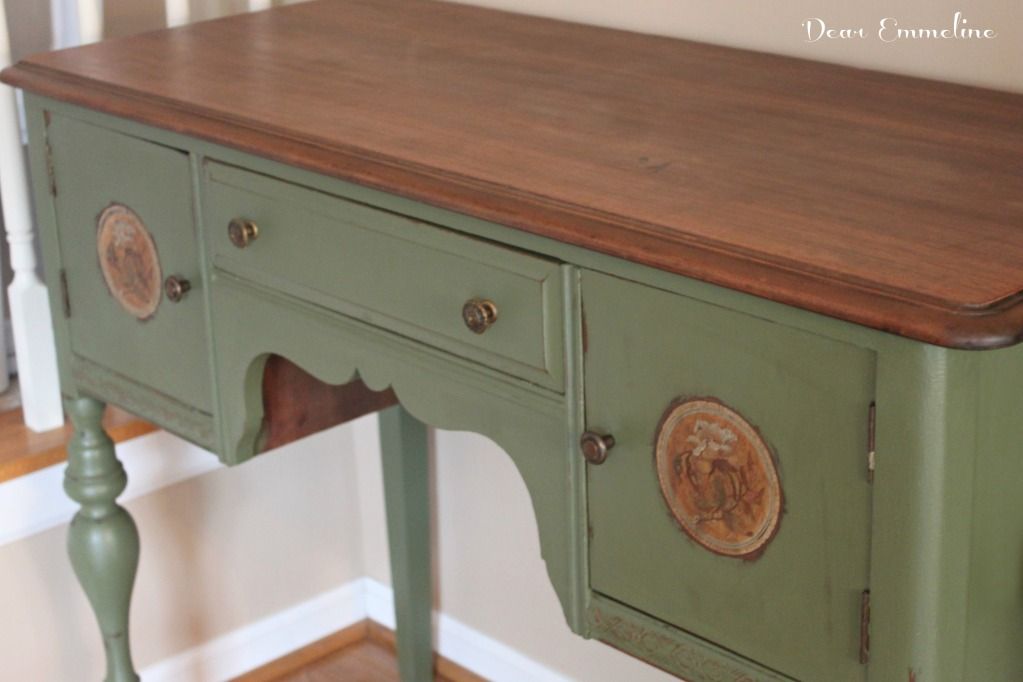 The piece came with 3 matching knobs and one oddball, so we kept 2 and replaced the 2 center knobs with antique knobs (that had the same finish) from another dresser we recently finished.
The highlight of this buffet are the wood inlays. We covered them with painters tape while we painted to keep them free of paint. We then distressed the paint edge to draw attention to the medallions and give them an appropriately aged look.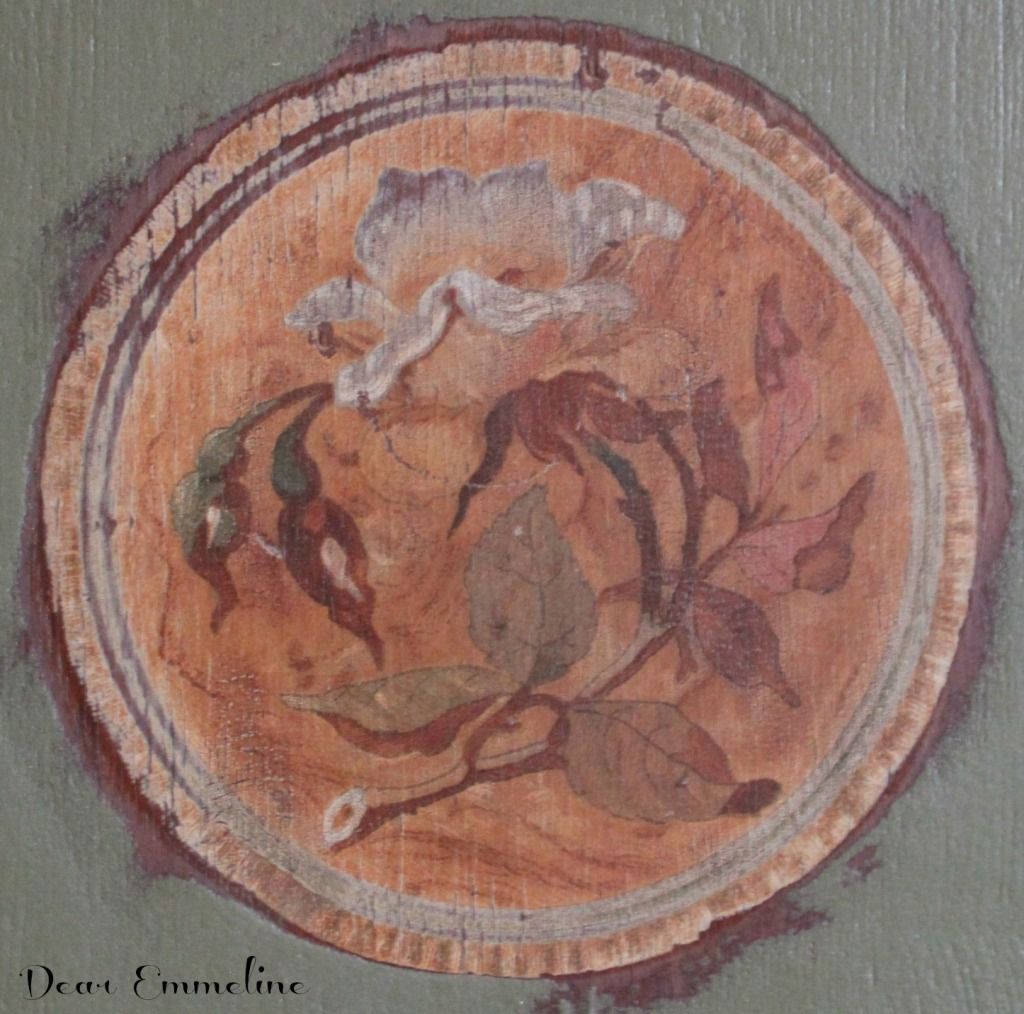 Since I wanted to keep the medallions I knew the paint would need to complement the colors in them. The Capulet Olive MyColor paint I used for my olive and gold dresser redo happened to be the perfect shade of green! It didn't hurt that we still have tons of this color left because we scooped up 2.5 quarts at the hardware store for $6.00 since one of them had come open during shipping, spilled, and hardened causing all three jars to be stuck together. My husband hacked them apart and the paint inside was completely undamaged. We mixed some up with baking soda using this baking soda paint recipe and after painting I smoothed out the finish all over, distressed, and topped with a coat of wipe on poly. You will surely be seeing more of this paint. Everyone seems to love the color and we still have about 2 quarts to use up.
I'm glad this piece is staying in the family!