As we wrap up this Thanksgiving weekend I want to tell you about my dear friend Linsey. I am so thankful for her friendship. She is not only the funniest person I know but she is kind and caring. She has a heart for God and for youth and loves to craft. We clicked immediately when we first met. We were both pregnant at the time and expecting little girls. Linsey had her daughter and six days later I had mine! We hope they grow up to be the best of friends! Recently, Linsey hosted a ladies sushi night at her house for the ladies in our small group. I had family plans and was unable to make it but was surprised and touched to find a personalized wine charm favor and sweet note from Linsey in my church mailbox letting me know she had missed me!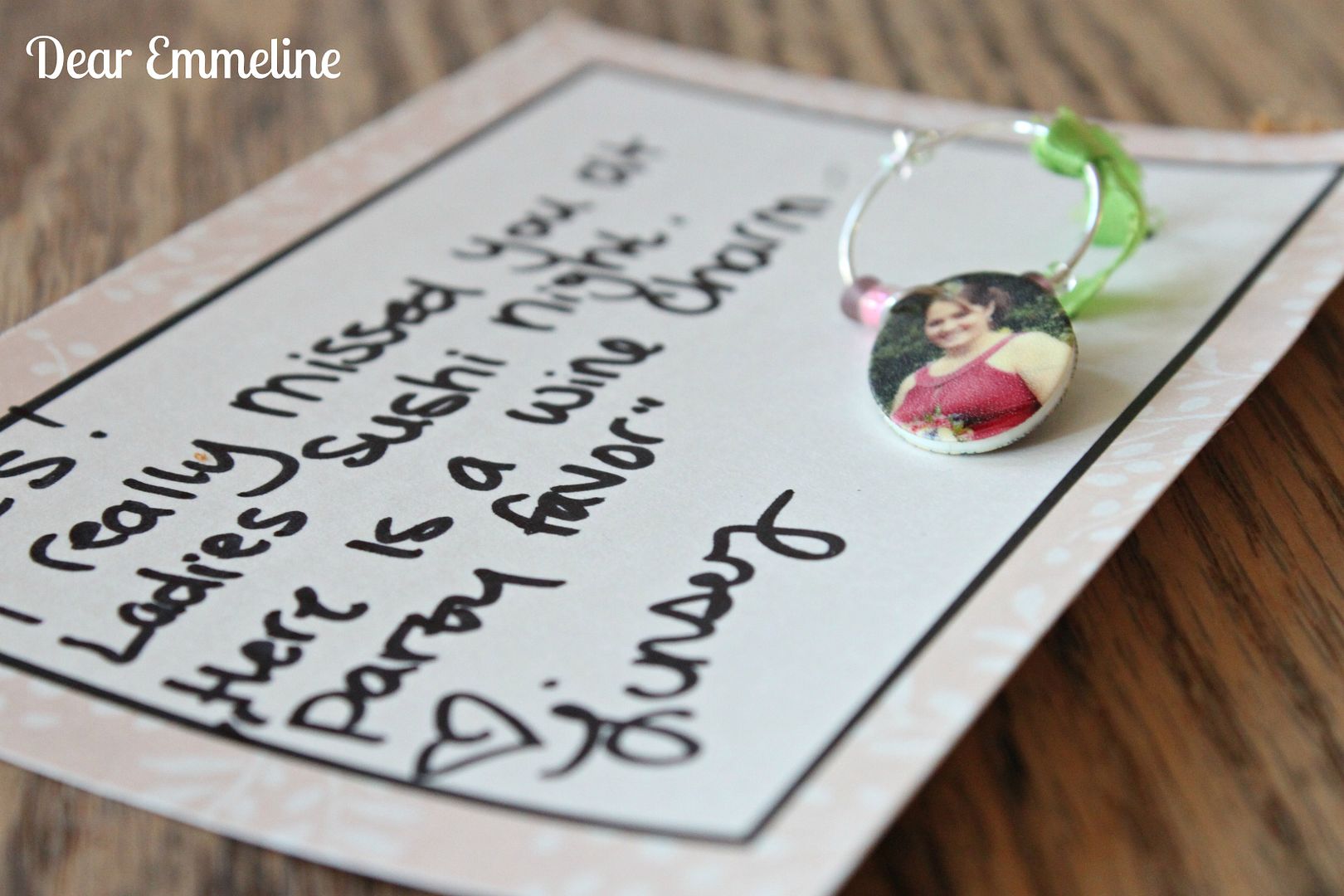 I thank God for this thoughtful woman and wanted to share her personalized wine charms with you.
Linsey sells her charms as well as jewelry and collage art in her Etsy shop Middle Sister Creations.
They come in sets of 8 wine charms and are personalized with the buyers own images! Linsey is even offering a holiday discount at her shop right now good for 10% off your wine charm purchase. Just enter the code SAVE10 at checkout.
Pick up a set as an engagement, wedding, or housewarming gift. Or wrap up a set as a hostess or holiday gift this season. They make a thoughtful and personalized gift for anyone (over 21!) in your life!
Disclosure: I was not paid or compensated for this post.
Linsey is my friend and I wanted to thank her for her thoughtfulness and share her wine charms with my readers because I sincerely feel they would make an excellent home or gift item.
The holiday discounts in her shop are not being held in conjunction with this post.