Finishing our master bedroom, loft craft room, and kitchen/dining/living space are my top home priorities for this year.  I've been working on picking out color schemes and wall paints.  Yesterday I settled on and picked up a gallon of Gray Owl by Benjamin Moore for the kitchen.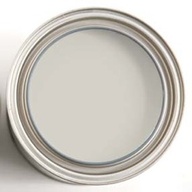 On New Year's Day hubs ripped down the vertical blinds, patched holes, and planked the kitchen wall. I picked out curtains on Sunday and primed the walls on Tuesday evening so they are ready to paint! I'll share pictures and details of the whole process once it is finished!
While perusing interior decorating fabrics at Joann Fabrics I decided to share some of the ones that jumped out to me.  Can you tell what colors I'm leaning towards?
Here's what I'm thinking:
Tones of blue, green, and gray will be the basis for our open kitchen, dining, and living room areas.
We are debating dark or light walls for our master.  If we go dark I'm looking at Charcoal, Chocolate, or Navy.  Dark walls means light and bright bedding and accessories in whites, creams, silver and gold metallics, with a touch of blue glass and possibly pops of red, mustard, or magenta! Light walls won't really change the color scheme a whole ton but I would plan on adding more wood tones and maybe a black Windsor or brightly upholstered chair or two.  Decisions, decisions (opinions welcome)! 😉
The loft is connected to the master so the colors will need to complement.  Since it will be my craft room I want it to be light and airy with lots of pops of color.  My main man also planked the loft's main wall and awkward nook built-in on Tuesday so we're ready to roll with paint in there as well.  p.s. Now that the wall is ready to go I'll also be sharing an easy way to cover but keep an unsightly large wall duct functional.  It might be a while before I get the post up (life is crazy) but I promise if you stick around…..it will come…..eventually!
If you want to stay up to date with all of our latest projects, I encourage you to follow along via email, Facebook, Twitter, and Pinterest.