A local lady brought me this sewing table with the hopes that I could fix it to be auctioned off to support a family in the area who lost their home to a fire.  The top surfaces had badly chipped and peeling veneer.  We came up with a plan to remove the existing veneer and replace it with either fabric or an image transfer.  Here's how it turned out.
After the entire top surface (both levels) was painted with white chalk paint I resized and printed an antique advertising card for J & P Coats Thread from The Graphics Fairy.  Apply one layer of Mod Podge onto the furniture surface and then place the image face down onto the Mod Podge.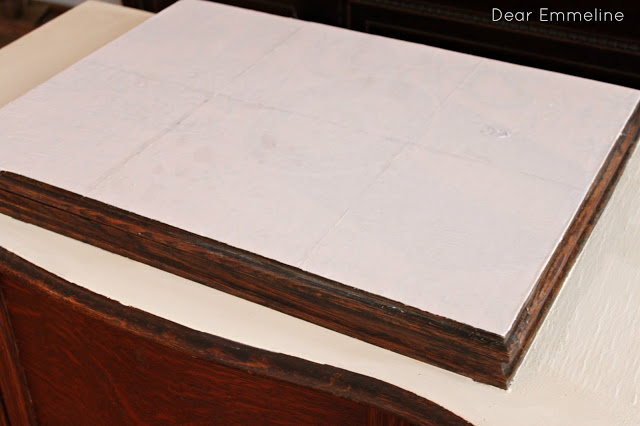 You can faintly see the lines of the paper.  I printed my image centered on 6 sheets to get the right size.
You can see some of the seams in the final product because my image was printed on 6 sheets of paper.  If this bothers you a trip to a print shop to get a larger printout will solve the issue of seams.  At first I wasn't sure about the seams but they actually grew on me because it kind of gives the illusion of a multi-piece antique print or sign.
Lightly spray the image with water to loosen the paper and rub your fingers around to peel it off.  In my case areas with too much water or too much rubbing peeled down to the paint.  Again I wasn't too upset with this little snafu because it added to the vintage charm.  I even got out a sanding block and purposely distressed those and other areas a bit more so it looked more authentically worn.
I painted the lower level with chalkboard paint to leave little measurement notes or number of cuts.  The sewing machine and all the parts were still with the table!
This was the first time I completed a Mod Podge transfer and I'm absolutely thrilled with the result!
Have you attempted a Mod Podge transfer?  How did it turn out?  Have you heard there is now a Mod Podge specifically formulated for transfers?  I still need to pick some up and give it a try!
Shared with: