Before we dive into the details of the painting process, I want to give you a good look at the cabinets before and how they look now.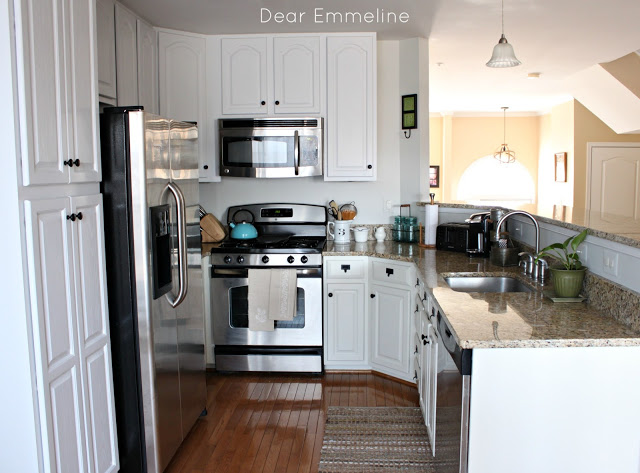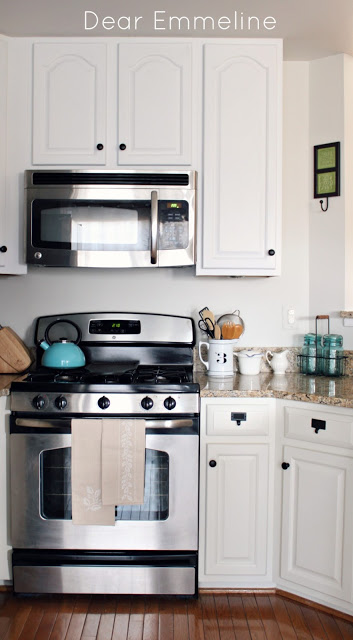 Big difference, right?
We painted the cabinets using Giani Granite's Nuvo Cabinet Paint.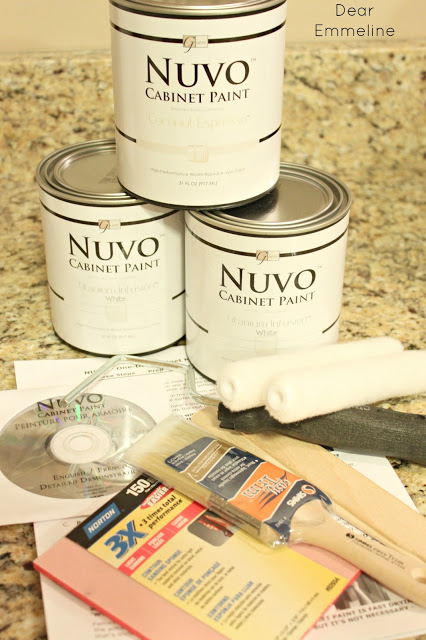 The top cabinets and large pantry cabinet are painted in Titanium Infusion: White and the lower cabinets are painted in Coconut Espresso: Creamy Soft White.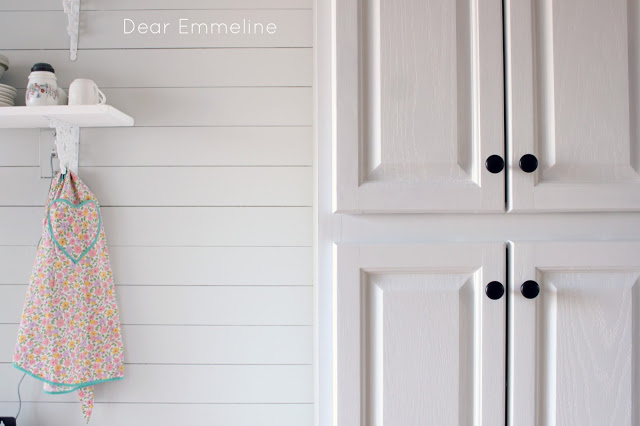 Titanium Infusion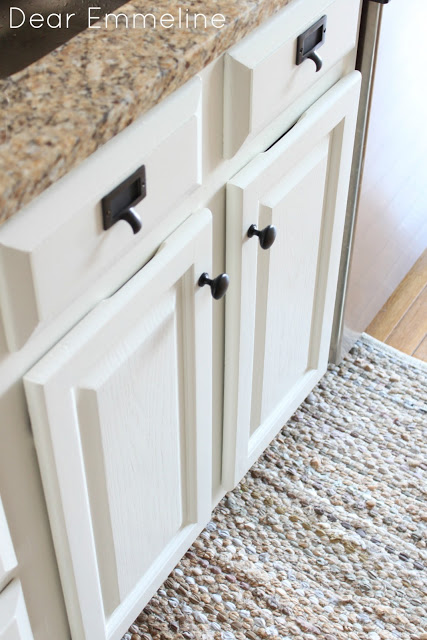 Coconut Espresso
From the pictures you can see there isn't a ton of difference in the two colors but Coconut Espresso definitely veers a tad more towards cream. We thought this would help tie the cabinets to our existing granite counter tops as well as camouflage tiny hand prints.  It also helps tone down the bright bright white of the uppers and helps keep the kitchen from feeling too sterile.
Each Nuvo Cabinet Paint Kit comes with paper and video directions as well as 2 quarts of paint, a sanding pad, angled brush, a quart sized paint stirrer, and a small roller with handle.  You can also order additional cans of the paint separately which is great if you have a larger than average kitchen!  Nuvo Cabinet Paint is made to adhere to wood, metal, laminate, and melamine cabinets.
So here's what we did.
First we scrubbed cabinets with Windex (recommended in directions).  Let me just tell you that this is no easy task!  We have killer tall cabinets and I don't think they have had a good thorough scrubbing EVER.  The details on the cabinets above the oven felt like they had a gummy coating (cooking oil I'm assuming) which was hard to remove even with the Windex and a ton of elbow grease.  You may want to bring out a heavy duty cleaner for those cabinets.  I would also recommend wiping down the cabinets with a Deglosser/Cleaner
 or Paint Deglosser
 to help ensure proper paint adhesion.  Giani does not recommend this in their instructions but if you want your freshly painted cabinets to last its an easy step to help.
Nuvo Cabinet Paint is quick drying water-based acrylic paint so the directions state you can simply tape off your cabinets and paint the doors without removing them.  We have inside flush mount hinges so we decided to remove the doors to paint the frames.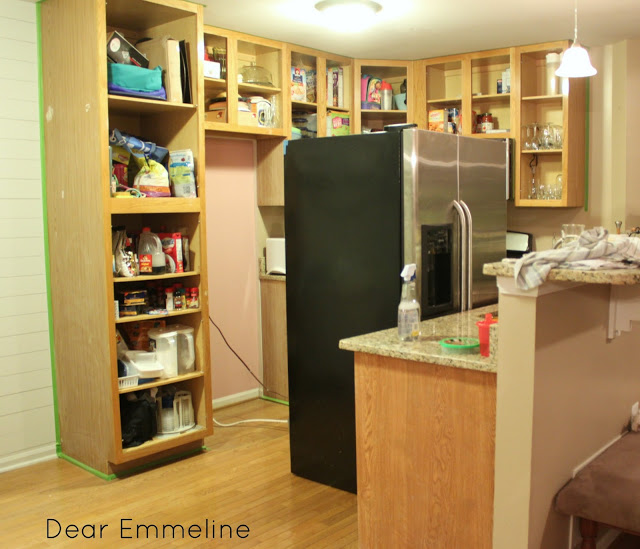 We put the doors back on after the frames were fully painted and painted them while hanging.  This allowed us to paint both sides of the door at one time making the total process quicker.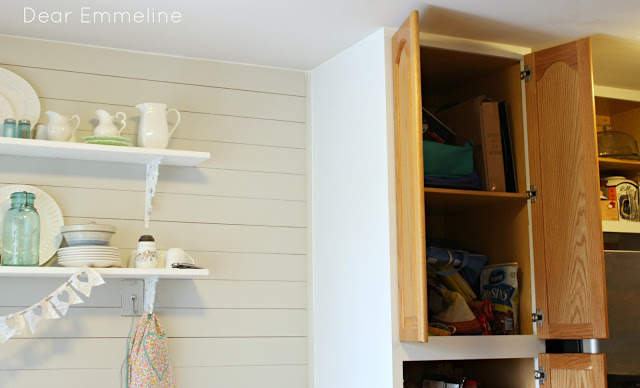 We used 3 coats of paint to get full coverage.  2 coats would most likely be sufficient for flat cabinet surfaces but our wood has a lot of grain.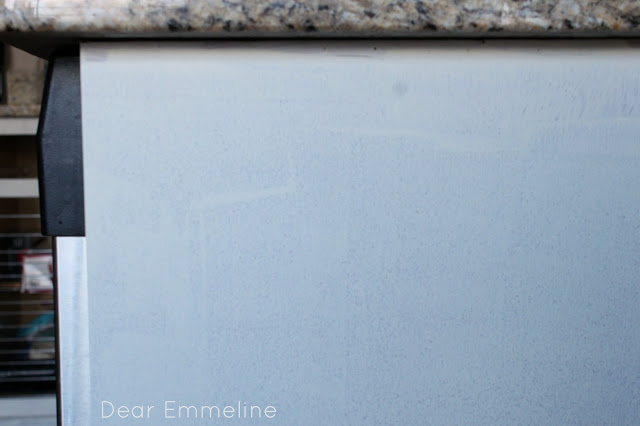 1 coat with roller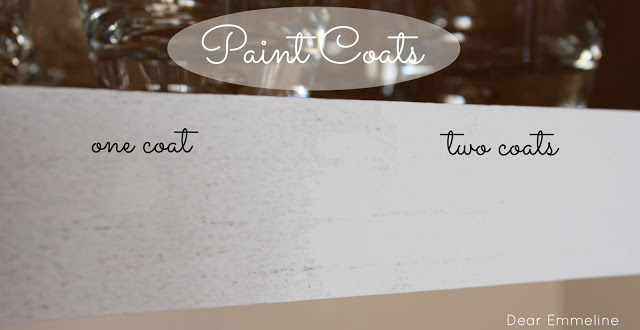 first and second coats with brush
The paint goes on smoothly and seemed to self level.  Even when we used a brush there were minimal brush strokes visible after the paint dried.
We were told the cabinets did not need an additional top coat.  In the few weeks we have had them painted and when we replaced the hardware we have noticed that not having a top coat seems like a bad idea.  Just like any other paint, if it gets banged or scratched the paint is going to chip.  After we touch up a little area that someone (undetermined who!) decided to gouge with a mechanical pencil we will be taking the time to give the cabinets a Satin Polycrylic Protective Finish
.  If you want your finish protected I would recommend doing the same.
Feel free to visit the other posts in our kitchen makeover series:
Painted Cabinet Reveal
Hardboard Plank Wall
Easy Conduit and Knob Curtain Rod DIY
Side Kitchen Reveal
Disclosure:  Thank you to Giani Granite for supplying the Nuvo Cabinet Paint Kit for this cabinet makeover.  All opinions and suggestions are my own.  This post contains Amazon affiliate links.