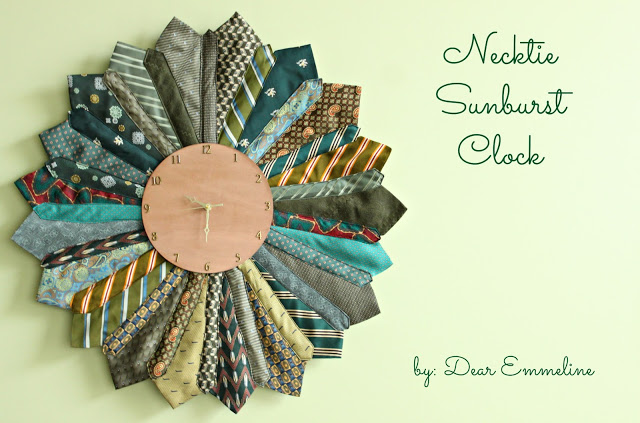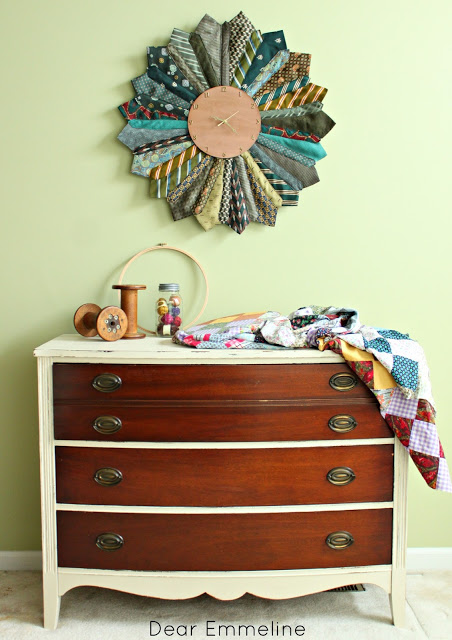 Our challenge: to sew something, anything with emerald (green) fabric. I've been wanting to make a necktie sunburst for a while now so this seemed like the perfect excuse. My husband and I hit up the local Goodwill stores and asked everyone we know for castoff green ties. We rummaged up just enough! I only had ONE tie leftover!
1. Collect neckties! I needed 21 for my sunburst.
2. Cut the wide end of each tie 12 inches in length from the bottom of the point. Cut the narrow end of each tie 12 inches in length from the tip of the point.
3. Line up and overlap the wide ties to create a circle.
4. Place a small tie over each large tie seam as seen below.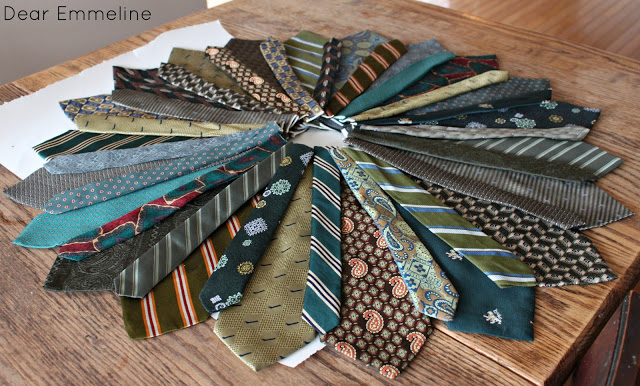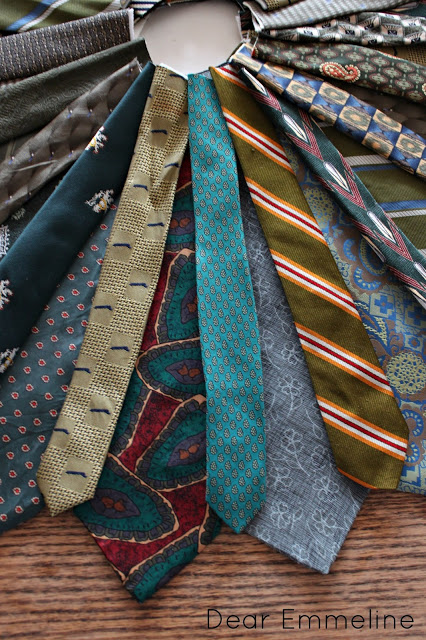 5. Pin each small tie up one side and down the other so you can sew the entire sunburst together continuously.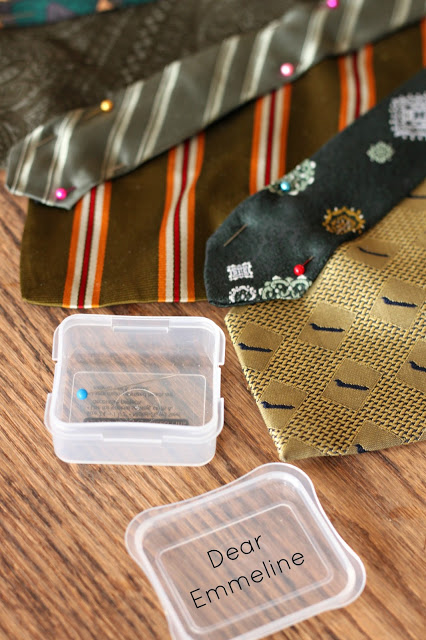 Make sure you have enough pins! I had one container and once again had just enough. Only 1 pin left!!
6. Start at the top tip of a skinny tie (don't forget to back stitch a few stitches in to secure the thread) and sew along the edge of the skinny tie. I had my needle set to the left side and lined the edge of the tie up along the middle of the presser foot.
7. When you reach a turn leave the needle in the fabric, lift the presser foot, turn the fabric so it's lined up in the direction you need to sew, lower the presser foot, and resume sewing.
8. Stitch down until you get to where the 2 skinny ties meet. Leave the needle in the fabric, raise presser foot, turn the fabric so you are sewing up the next tie, lower you presser foot, and resume sewing. Continue up and down each tie until you make it back to the start. SEWING DONE!!
9. Place a clock kit base under a thin wood clock face (Clock Kit: Joanns $7.99, Wood Clock Faces: AC Moore $1.19)
10. Feed rectangular dowels through 3 skinny ties (top, left, and right). These will support the ties when up on the wall.
11. Sandwich the dowels between the bottom clock face and a 2nd finished clock face. When you tighten down the clock parts the dowels will be secured.
12. Use industrial strength craft glue to glue on a saw tooth picture hanger.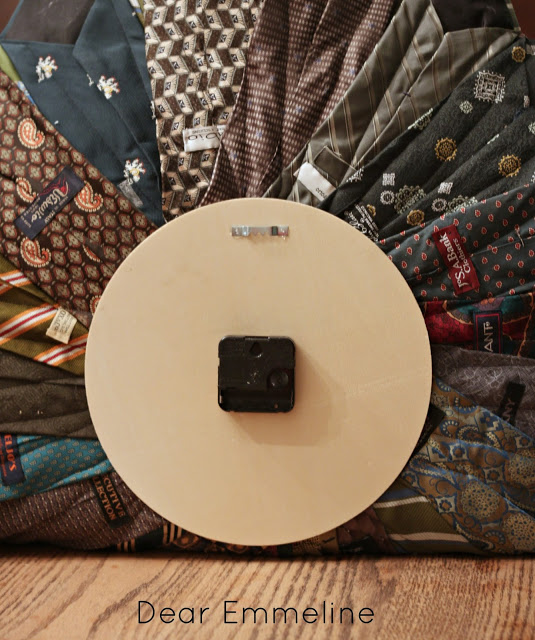 back side of clock
13. Push the ties out of the way and trim the excess on each dowel.
Now it's ready to hang!!