Yesterday I posted some snippets from E's Fancy Nancy
inspired
fourth birthday
porch party
! In the coming days I will be sharing several DIY projects from her party and first up is this easy ruffled cake DIY.
Know how you can easily make a spectacular looking ruffled cake? How about ruffled ribbon! Oh, and some easily camouflaged toothpicks.
Let's start with the toothpicks since you'll need them ready to go before you can ruffle the cake.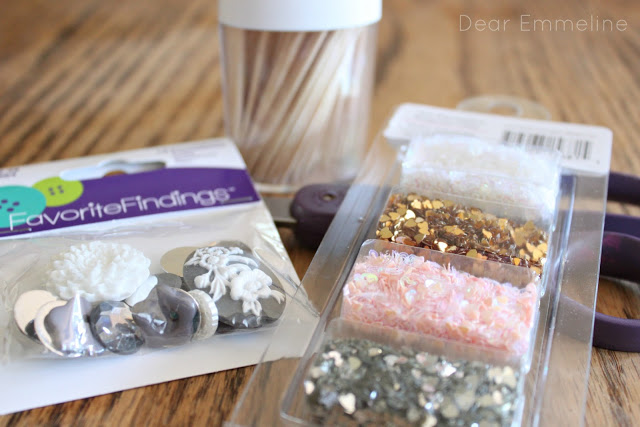 Camouflaged Toothpick Supplies:
8 toothpicks

scissors

fancy confetti, buttons, or gems (that match or pair well with your chosen ruffled ribbon)

glue gun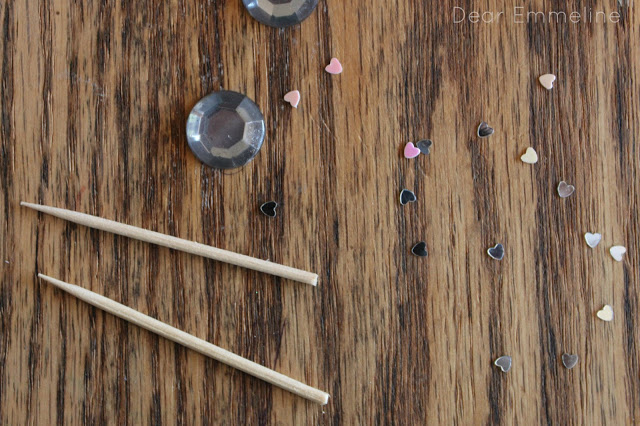 1. Trim one end of each toothpick.
2. Hot glue confetti, beads, or gem on to the ends of each toothpick. I used 4 toothpicks with gems and 4 toothpicks with mini confetti for 4 layers of ruffles.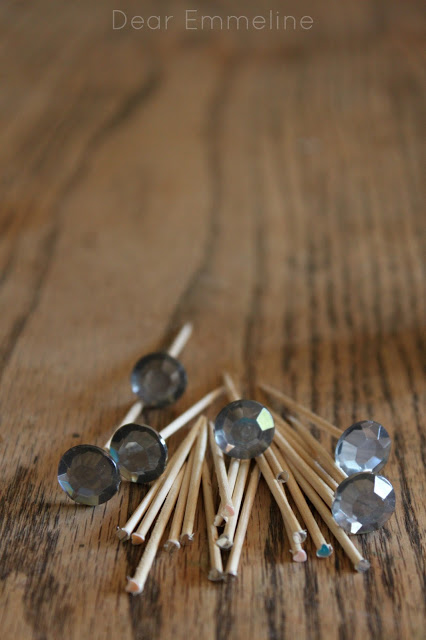 Ruffled Ribbon Cake Tutorial
1. Bake two 8″ round cakes.
2. Ice and layer the cakes. This cake was iced with a simple vanilla buttercream. Use a generous layer of buttercream between the cakes and then ice the outside. Place in the refrigerator so the icing will harden.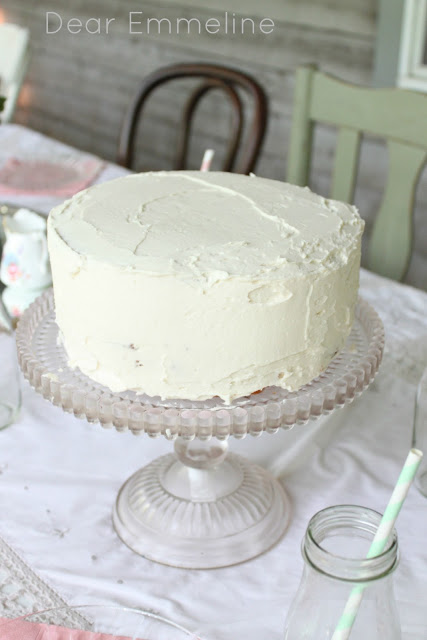 3. Starting at the top of the cake wrap a layer of ruffled ribbon around the cake. Use your decorated toothpicks to secure the ribbon at the back and front of the cake. Trim the ribbon so that it overlaps by about 1 inch.
A gem toothpick secures the overlapping ribbon ends.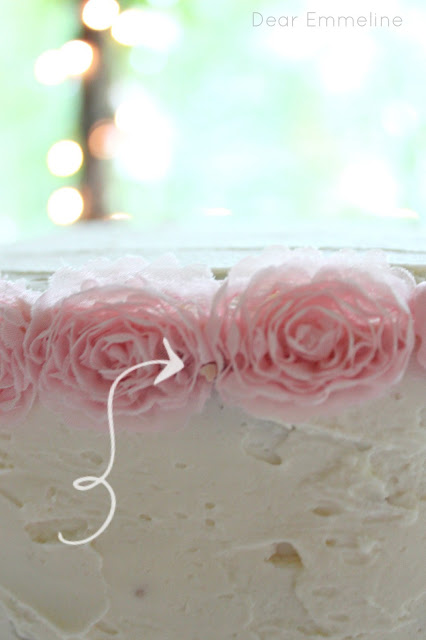 A tiny confetti toothpick secures the ribbon in the back and can barely be seen!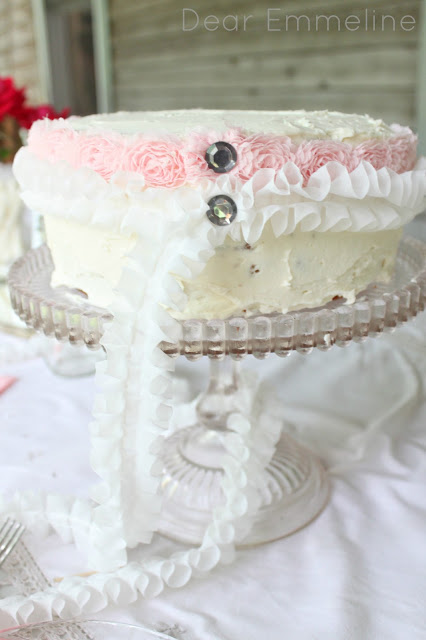 4. Secure a second round of ribbon below the first. The ribbon I used was very easy to poke the toothpicks through. If the ribbon you choose is not as easily punctured I would suggest measuring and pre-punching holes in the ribbon before wrapping it around the cake.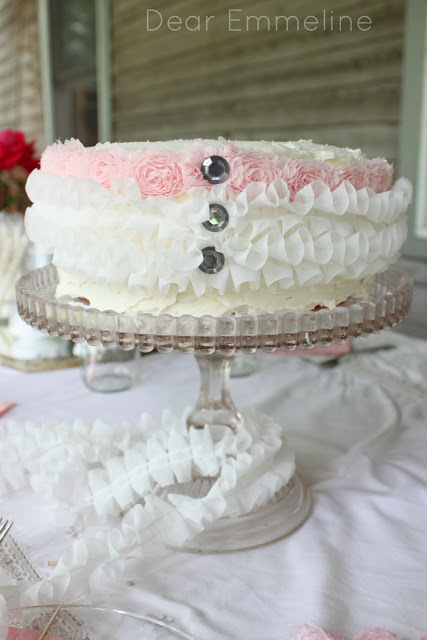 5. Continue adding layers of ribbon until you reach the bottom of the cake. My ribbon was a perfect fit but this might not always be the case depending on the width of your cake and ribbon. I used ribbon approximately an inch wide. Feel free to push the ribbon layers closer together if you need more than 4 layers. Keep in mind you will need 2 more toothpicks for each additional layer.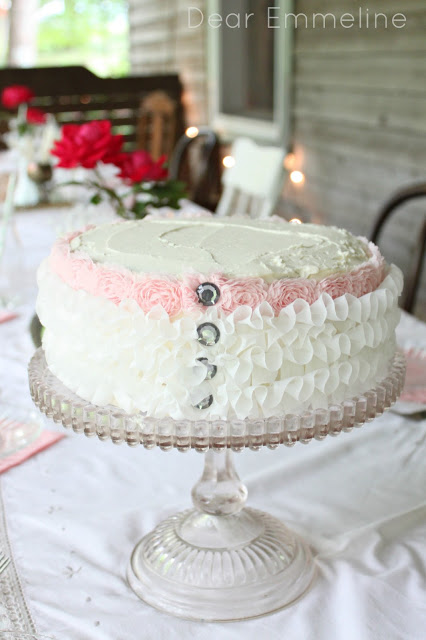 Simple and gorgeous! Just like stunning ruffled cakes from a high end bakery!
Just remember that after the candles are blown out you will need to unwrap the ruffles before you cut slices to eat.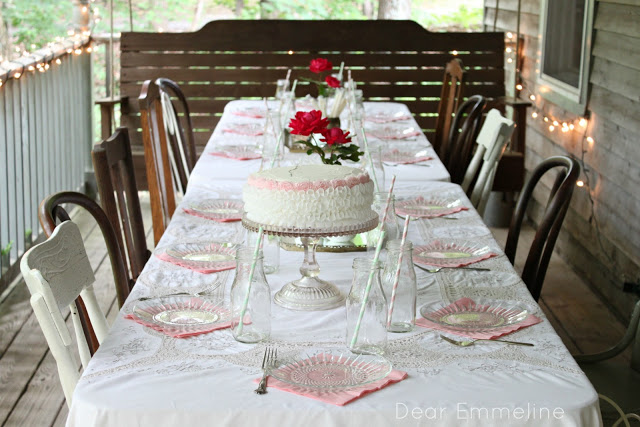 Note: I did not wash the ribbon before wrapping this cake but I would recommend for health and safety reasons washing the ribbon before using it on your cake.




Shared with: