How should I describe where little man's room is headed?
Perhaps something like Urban Forest or The Woodcutter's Loft.
His owls and mushrooms are here to stay!
But, I want the room to have a little industrial vibe too!
We ordered this
Industrial Sconce
from Urban Outfitters to add above his bed. I can't wait til it arrives!
He's still in a crib but he may need to be upgraded to a twin bed soon. I plan to move my childhood iron bed frame to little gal's room and her wood bed frame will move into his room. Of course the wood slats are painted white so I have plans to paint them (maybe a dark gray).
The walls are a blue color, probably best described as deep cornflower. We painted them to match a bedspread before the kids came along and decided to work with it when it became little man's room. Well I'm not really caring for it anymore and hope a medium to dark gray and a feature wall will really "boy up" the space.
I think his headboard wall needs to have a stone/river rock look exposed brick wall!
I'd love to remove his closet doors and wallpaper the closet in something like the Dotty (Yellow) Wallpaper from Ferm Living.
Or maybe paint an allover birch forest stencil from Cutting Edge Stencils.
Once the walls are taken care of I can finally hang his lemon yellow framed owl print seen here and this awesome vintage painted mirror I picked up on Etsy! It arrived in the mail yesterday and I LOVE it!! You know those items in your home that you can't see and not smile. This will be one of them for me!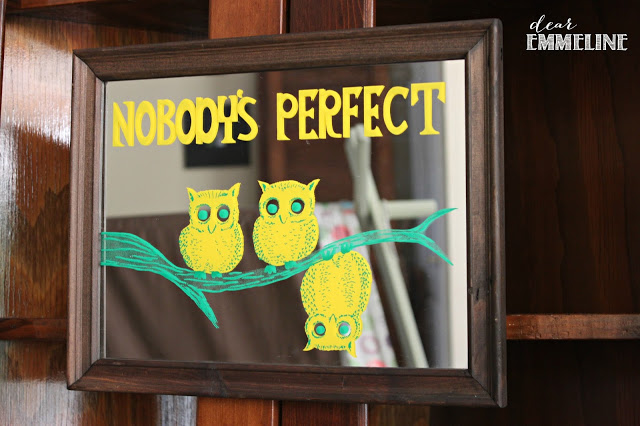 I also have a whole pile of brightly, modern colored flannel shirts. Think lots of grays with purples, greens, and blues. I plan to sew them up into pillows to toss all over his bed or maybe bundle them up like firewood logs.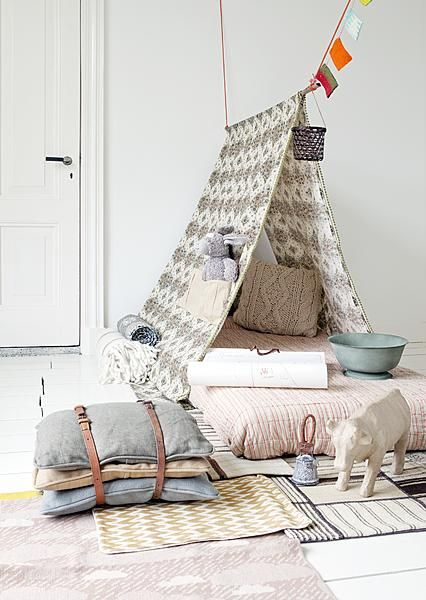 image found via Pinterest with no additional source
I'd love to lay down wood floors but it isn't in the budget. If the carpet stays a rug may be in order. I like the fallen leaves look of the leather shag rug that was offered recently at Joss and Main.
The plans are coming along in my mind and in my Pinterest boards and hopefully we can make them a reality sooner than later!
Do you think I'm crazy or do you think the fun, colorful, pattern filled, edgy, woodland meets city look will work?