I'm so excited to be a part of the Color My Home blog series over at
Simply Designing
.
Today I'll be over at Ashley's sharing an easy way to add a pop of summer color to your home.
DIY Maritime Flag Bunting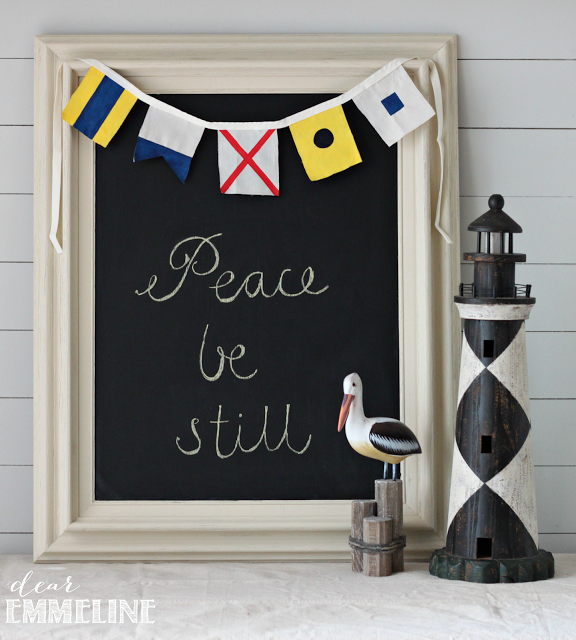 BUT,
before you head over there I want to give you a full tutorial on how I made a personalized lifebuoy wreath for my sister and her husband.
I planned on making this wreath for my sister's birthday last week but I ran into a little issue (which I'll tell you about in a minute) so it wasn't ready to give her when we saw her on her birthday. I ended up deciding to finish the project anyways and instead gave it to her as a belated housewarming gift.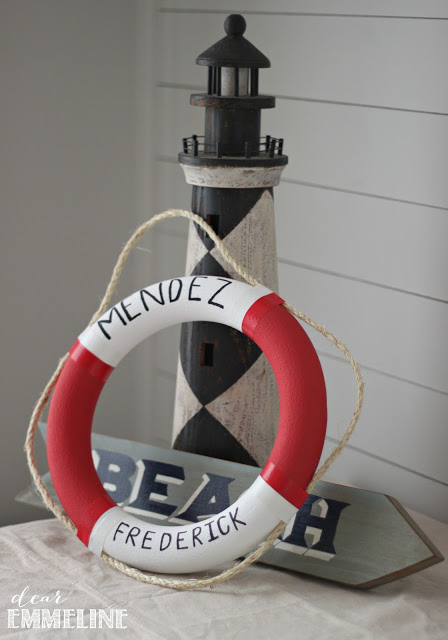 I saw this image of a vintage lifebuoy and I wanted to recreate the style in a personalized fashion.
Materials:
white, black, and red acrylic paint
paintbrush
sisal rope
red and white electrical tape
12″ round extruded foam wreath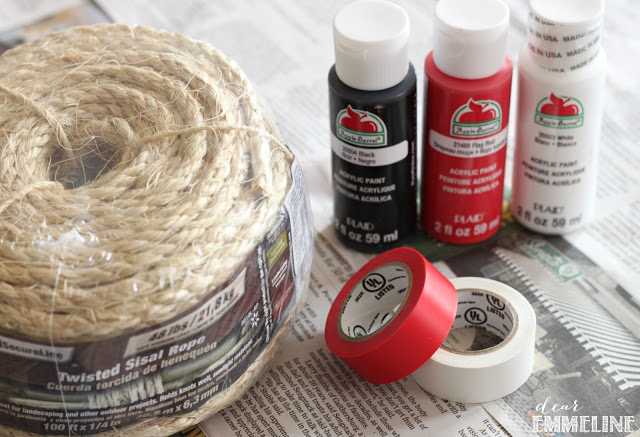 Before we begin I'm going to tell you about how I used a tip that's ALL over the web and tried failed to make my wreath form from a pool noodle. Unless I'm missing something this option does NOT work unless you plan to cover your form with something that masks the egg-ish shape it makes. No matter how I rigged it (which included shoving a small piece of PVC pipe into the connecting ends for stabilizing) the joint bumped out making a less than round shape. So spend the extra $1.50 and use a coupon at the local craft store to buy a premade, firm, perfectly round wreath!
Being thrifty doesn't always pan out! Rant over. Moving on.
Now that you decided to skip the noodle and buy a wreath we're ready to go.
1. Mark off the wreath in four equal sections. Paint 2 opposite sections white- all the way around the wreath. Allow to Dry.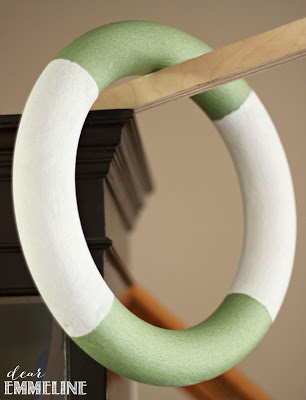 2. Paint the remaining 2 sections red. Allow to dry.
3. You can paint whatever you want in the white section of the wreath but taking my cue from the vintage lifebuoy I painted their last name in the top section (name of boat) and their home city (harbor city) in the bottom section.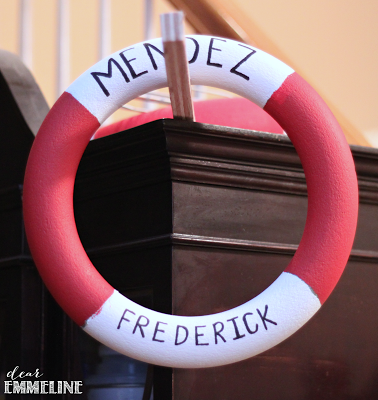 4. Measure the sisal to fit around the wreath with excess for each section.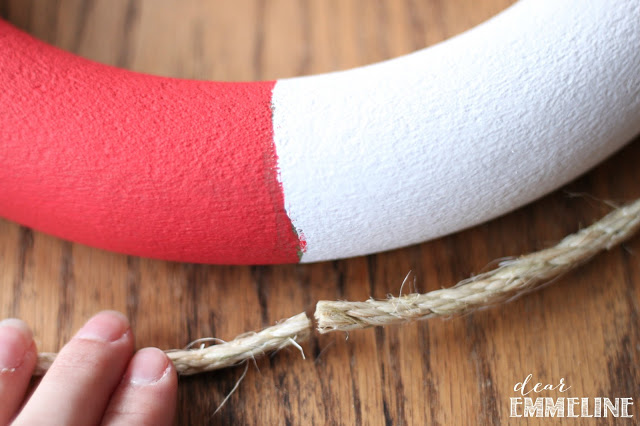 5. Starting where a red and white section meets (preferably on a bottom section) line up the sisal ends and tape. One round of white tape at the edge of the white paint and one round of red tape at the edge of the red paint. Continue this process around the wreath leaving a bit of slack in the sisal for the bottom 3 sections and a larger amount of slack in the topmost section.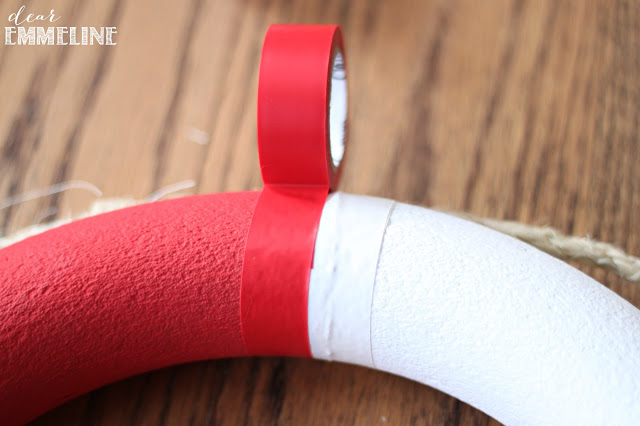 I think it turned out so cute! You can hang it inside or out on your front door.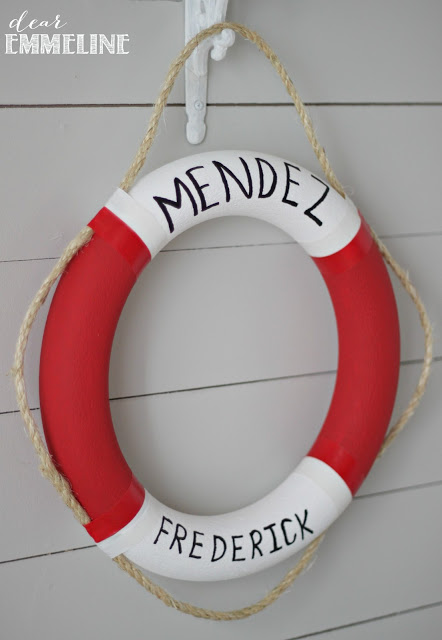 It looks equally cute just sitting and leaning up on some other decor.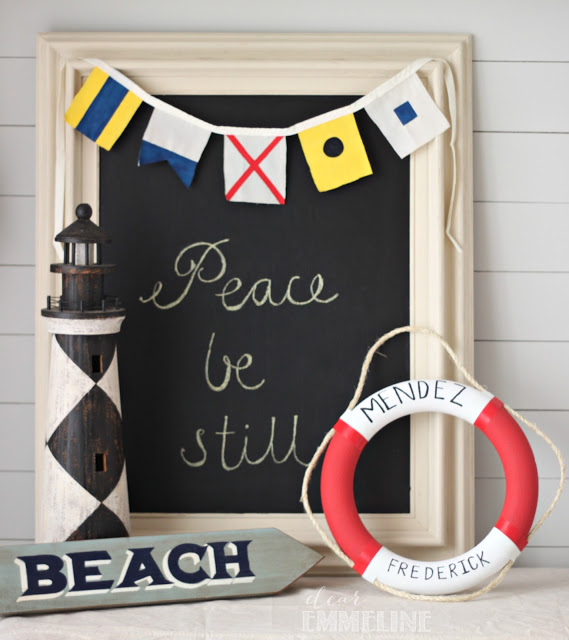 Do your summer plans include a trip to the sea?
We vacationed at the beach early in June so these little nautical bits are helping me keep the sites and sounds of summer fresh in my mind.
"Live in the sunshine, swim the sea, drink the wild air."
-Ralph Waldo Emerson