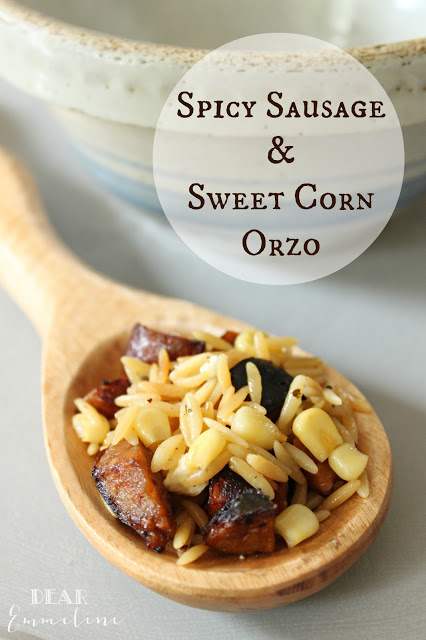 My mom makes a Mediterranean Orzo recipe that is one of my husband's favorite dishes. We started taking the same basic recipe (I have no clue where it came from…maybe the orzo box.) and throwing in whatever meat and veggies we had in the house. We loved this combination so much I thought it was worth sharing!
Spicy Sausage & Sweet Corn Orzo
serves 4
Ingredients:
2 T butter
1-1/3 cup orzo, uncooked
2-1/4 cup water
2 chicken bouillon cubes
1/2 t Italian seasoning
4 cooked and chopped spicy Italian sausage links
frozen sweet corn (as much as desired)
chopped spinach (We were out so it isn't pictured but I recommend it for color and nutrition.)
Feta cheese
Directions:
1. In skillet over medium heat, melt butter.
2. Add orzo and cook approximately 3 minutes, stirring frequently until golden brown in color.
3. Stir in water, bouillon, and Italian seasoning and heat to boiling. Reduce heat and simmer, uncovered for ten minutes, stirring occasionally.
4. Add in cooked sausage, corn, and spinach. Continue to cook until heated through, stirring to reduce sticking. Add in small amounts of water if needed to keep from burning but liquid should be absorbed before serving.
5. Top with feta cheese and serve.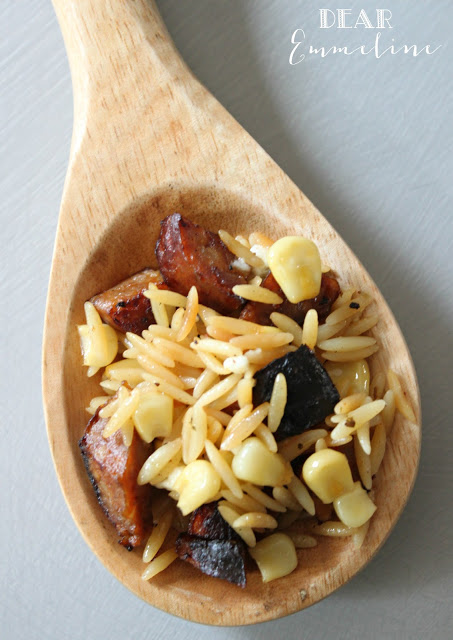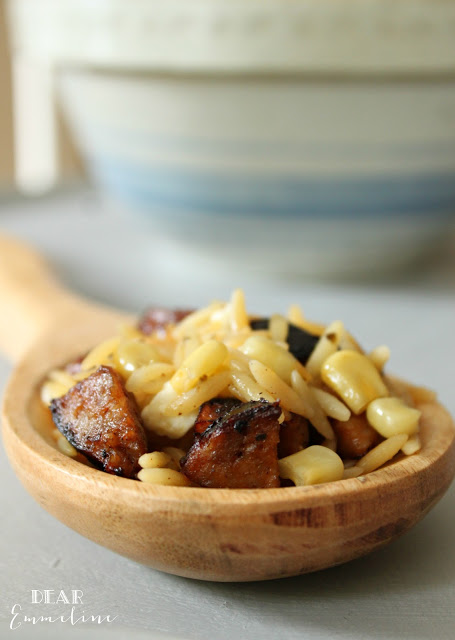 Shared with: