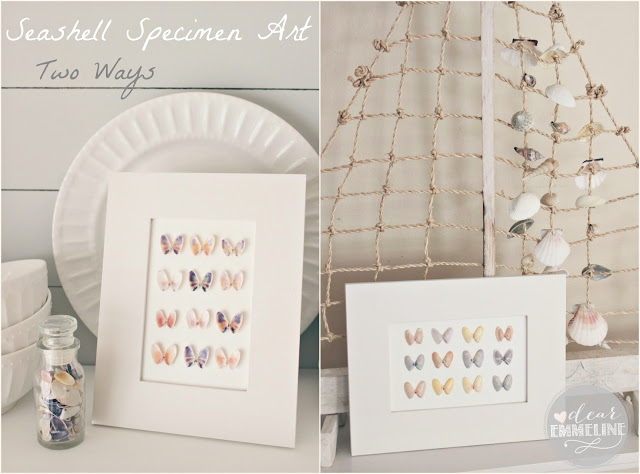 Happy August!  I don't know about you but I'm a bit in denial that it is August already!  School starts here in 19 days.  Can you believe it?!
I'm not ready for our summer to be over so I decided to preserve some of our vacation memories by making some artwork.  On our beach vacation this summer my daughter was thrilled that our beach had an abundance of pretty "butterfly" Coquina shells.  We spent several mornings walking down the beach searching for the most colorful ones we could find!
After the initial shell collecting this project is very simple and quick!
What you'll need:
-butterfly seashells (as many as you need to fill your frame + extras because some are sure to break apart)
-hot glue gun
-toothpick
-scrapbook or watercolor paper
-picture frame

How to make:
1. Lay out your collection of seashells.  Look at both sides of the shells.  Some shells are more colorful and patterned on the inside and some on the outside of the shell.  Decide which direction you want your shells facing.  Way 1: Inside of shells facing down or Way 2: Inside of shells facing out.  I think way 2 looks more like butterflies but the coloring of the shells may really determine which direction they will face!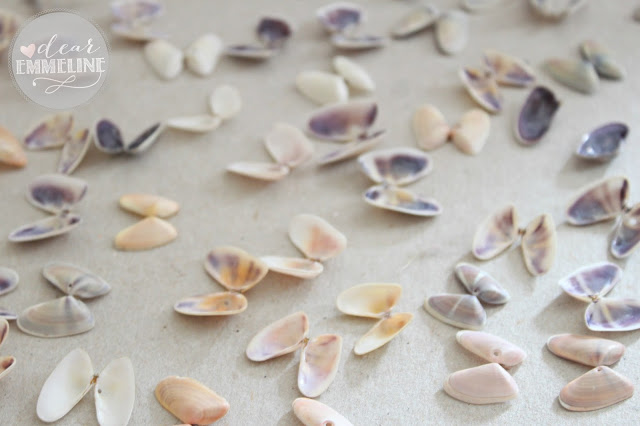 2. Use the cardboard in the frame as a stencil to cut out your scrapbook or watercolor paper.  A paper with a slight texture, pattern, or color will work perfectly.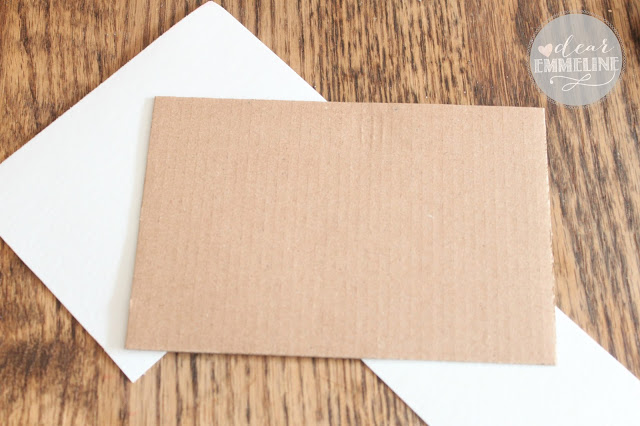 3. To keep from marking up the paper I placed it back into my frame and flipped it onto the table face up to determine shell placement.  Simply lay out the shells directly on the paper and rearrange until you get the spacing and color placement you desire.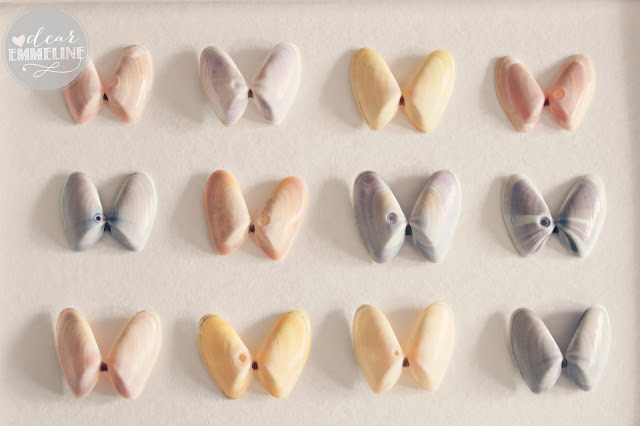 4. Regardless of which direction your shells are facing (up or down) simply add a dot of hot glue over the joint of each shell and place it back in it's spot on the paper.  If the shell joint breaks you can still use it just be sure to dot each piece with glue and line up the joining spot carefully.  Gently press the shell into the paper to secure.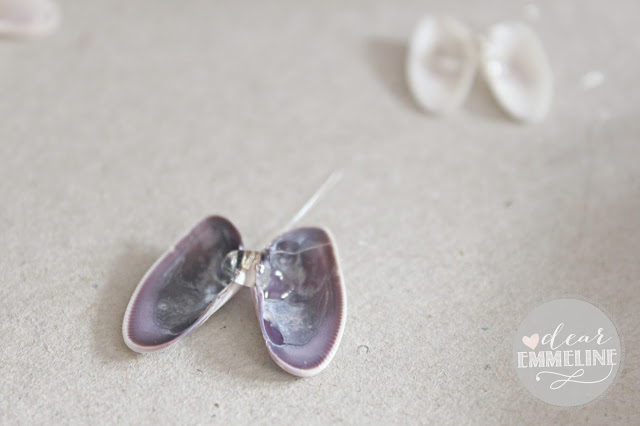 5. While glue is still hot use a toothpick to lift out any excess that seeps out from under the shell.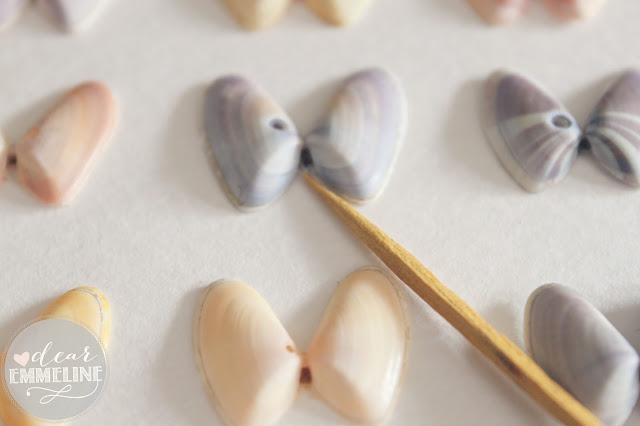 Enjoy your beautiful vacation memories!  Year round if you'd like!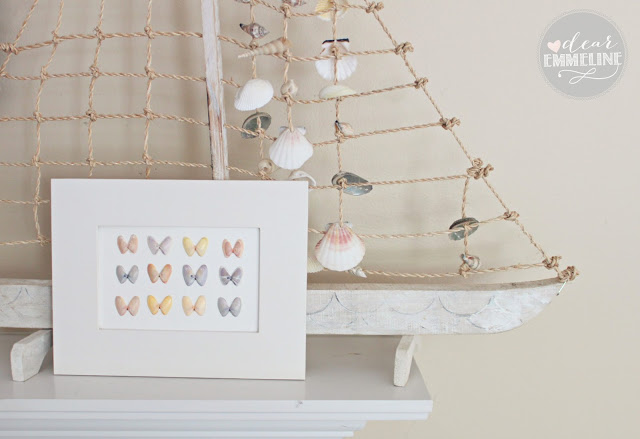 Way 1: inside of shells face down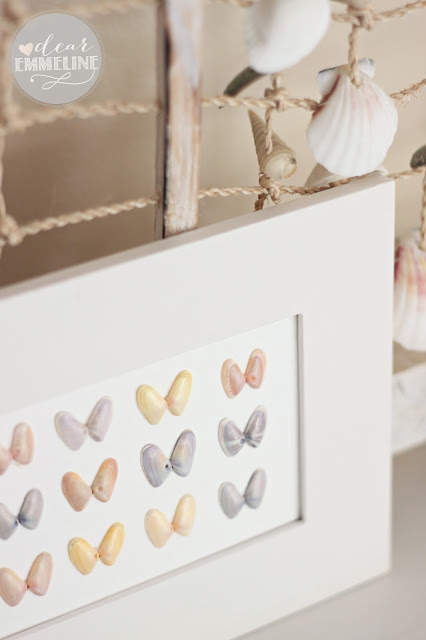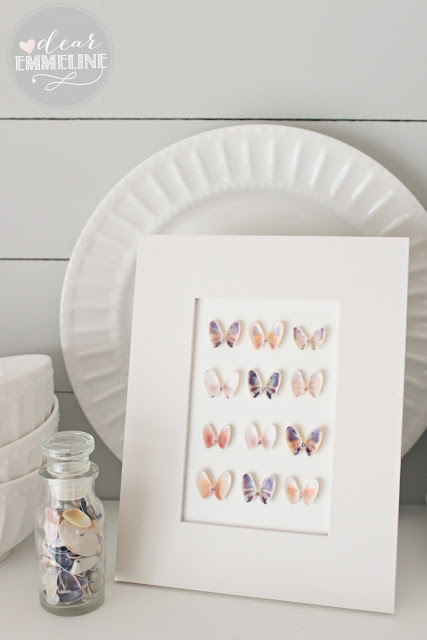 Way 2: inside of shells face up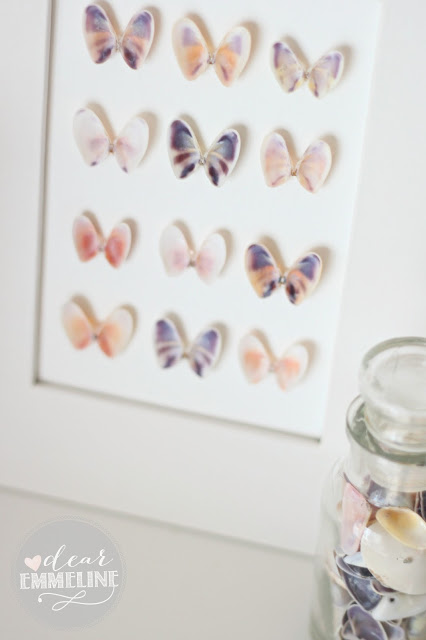 If you're interested in another simple way to preserve your vacation memories visit my friend Jenn at My Fabulous Life to see her beautiful
bottled memories
!