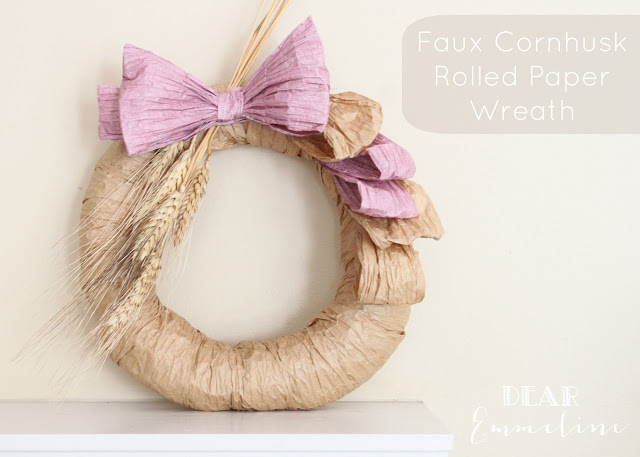 I finally started doing a little fall decorating. I say finally because it seems like everything fall has been going strong on the web for weeks! It's hard to jump in when we've had near 100 degree weather all week and the school year only just started.
I made this rolled paper wreath with a nod towards fall but think it is a great transitional decor item since it is in a lighter color palette.
Here's what you'll need: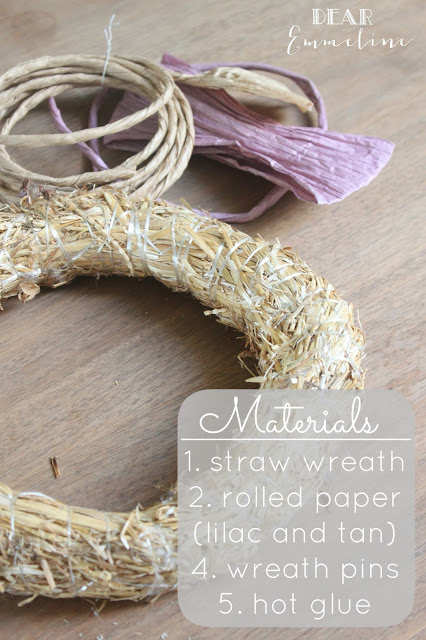 …and of course so wheat if you'd like!
1. Start by securing the end of the tan rolled paper to the wreath with a wreath pin. Unwrap the rolled paper and continue wrapping it around the wreath until you get back to the start. Cut the rolled paper and secure the loose end with another wreath pin.
2. Create loops by cutting 6-8 inch lengths of the lilac and tan rolled paper. Unwrap each length and secure each loop with a wreath pin.
3. After you have the desired amount of rolled paper loops attached feel free to add a cluster of wheat for a nice fall touch. I used a single wreath pin to attach a small cluster of wheat.
4. Using some lilac rolled paper create a bow. I used approximately a 12 inch strip of (unrolled) paper and bent the end in to center so they were slightly overlapping. I then used another small length of rolled paper (cut in half lengthwise) to tie around and secure the bow.
5. Use a small dab of hot glue on the center of the bow to attach it to the front of the wreath.
What do you think? Do you think the tan and lilac rolled paper looks as similar to cornhusk as I do?!
Disclosure: The Amazon links above are affiliate links. If you purchase your own twisted paper via these links I'll receive a small percentage of the sale which helps me to continue to bring new projects to my readers!
Shared with: