Recently my grandfather moved out of his condo to a senior living center. I inherited a few items he didn't want to take with him including this mildly rusty metal kitchen cart.
The blocks cleaned up the cart quite nicely and then I gave it a few coats of spray paint to make it good as new.
If you're curious to see my full product review, progress shots, and information on the specific paints I used to achieve a smooth glossy finish, stop over and visit me at The DIY Club.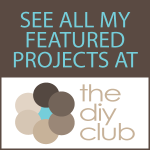 Shared with: