This little chair had seen better days! I found it a a flea barn for a few dollars and thought it was just the sweetest. I knew a coat of paint would give it a whole new (and even cuter) look but it got pushed to the corner and assumed a life of servitude. She worked quite well as a plant stand but my children eventually found her and pulled her out for her intended use.
Once the kiddos had laid claim to her I decided it was about time to fix her up.
I used about a quarter of an Annie Sloan Chalk Paint sample pot in Duck Egg. One quarter pot was enough for 2 coats!!
Next, came some free hand painting of Scandinavian inspired motifs. The motif on the chair started as a copy of a traditional cookie stamp and then I added the dots to tie in to the top motif.
The upper motif was found on an ornament I loved in Google image search.
When painting with acrylic craft paint the outside edges of the design can tend to have more depth than the centers. To remedy this and give the chair a worn in feel I lightly rubbed a fine grit sanding block over the paintings until the paint was smooth and a little worn.
To finish her off I used General Finishes Toy Maker's Finish from Rockler. Today over at The DIY Club I'll be sharing how I applied it and what I thought!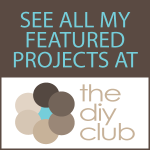 Disclosure: As a resident blogger at The DIY Club the General Finishes Toy Maker's Finish was provided by Rockler free of charge.