Say hello to our "new" armchair!
We actually have two but only one is finished.
Here's the side by side comparison of the before and after.
A friend who also refinishes furniture decided she was never going to get to the upholstery, so even though she had spent the time to paint the arms and legs she decided to sell them to make some space in her wok area.
The old upholstery was shiny, sagging, and stained. Even if it had been in good condition, it's not my fave! I picked out a cream linen like fabric with flocked floral print from Joann Fabrics and used some of the leftover gimp from our sofa for the trim. Beats sewing up double welt cord any day!! The blue paint was pretty but since we decided to keep the chairs for ourselves I knew I wanted them to have rich weathered looking wood.
The Kona colored stain settled in the grooves giving a rich light to dark stained finish which I am absolutely in love with! My husband's even planning to re-stain our dining table top since we love the finish so much!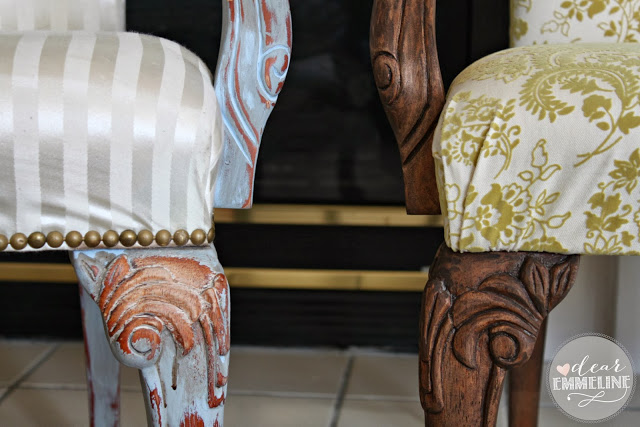 Here's a little patch that's stripped to give you an idea of all the stages.
I can't get over how the stain went on perfectly, deepening in the grooves and edges creating such a lovely aged patina. Now you can really see all the gorgeous carved details!
I didn't take any pictures of the upholstery process but plan to on the second chair now that I have a better idea of what to do. I had a bit of trouble getting the fabric to lay nicely around the front curves so I came up this double folded corner as the solution.
Doesn't the curve of the front chair legs pair nicely with the curved legs on the sofa?!
Shared with: