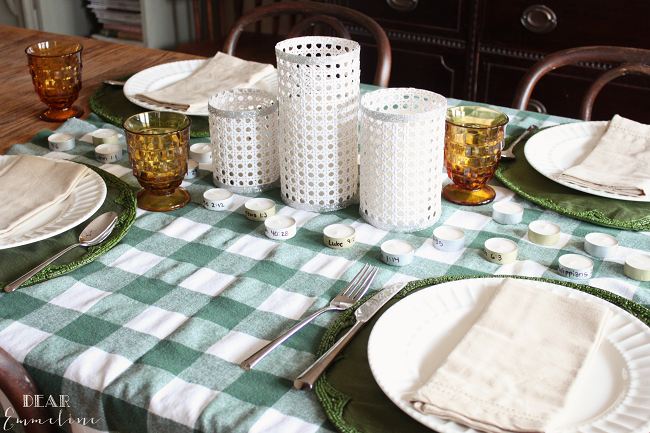 The main ingredient in my version is chair cane! I had this roll laying around from a furniture redo and thought it would be perfect to replicate a punched metal look.
To make your own cane luminaries you'll need:
-chair cane
-scissors
-spray paint
-E6000 glue
-clips/clothespins
-ribbon (for trim)
-hot glue
1. Determine the height and perimeter of cane needed to encircle candles. Cut cane.
2. Do as I say, not as I did, and spray paint each side of the cane before assembling.
3. Place bead of E6000 glue along inner 1/4 inch edge of one end of the cane and outer edge of opposite cane end. Allow to cure for several minutes (per package instructions), overlap and press beads of glue together. For extra security use clips/clothespins to hold ends together until dry.
4. To finish top and bottom ends of luminaries hot glue on a pretty ribbon trim!
Note: For safety purposes I would recommend using battery operated candles or making the cane luminaries to fit around glass candle holders.
Minus my poor decision to leave the spray painting until my cane was already in tubes, this project was very simple and quick!
I played around with them some yesterday and may move them to my mantle. I'm still putting the mantle together and am undecided.
Thank you so much for joining me today! I hope you've been enjoying our 25 Days of Christmas series. Stop back tomorrow for even more inspiration or use the interactive advent calendar to follow along!
***
If you've missed any posts, catch up using the project gallery below.
Shared with: