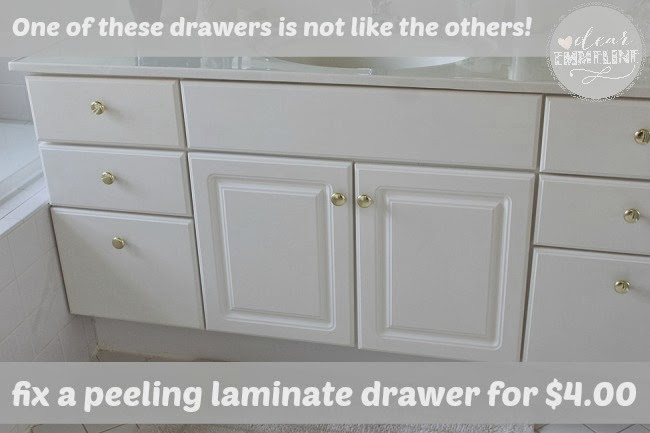 Can you guess which drawer front got a facelift?!
Hopefully not!
Unfortunately, I don't have a before picture since we've been in a whirlwind trying to get the house ready to put on the market.
The top leftmost drawer, one of my drawers, had a small piece of laminate chipped off when we bought the house. Over the past 5 years, more and more of the laminate coating was chipped (and peeled) off by my little wreckers.
Before we could get the house on the market we HAD to solve the problem of this drawer. Half was covered with white laminate and half was peeled back to the brown board underneath.
So here's where I tell you how INCREDIBLY easy this was to fix for about $4.00!!!
(If you don't already own a clear top coat your original investment will be a bit more but you'll use so little you can seal a ton more projects!)

HOW TO FIX A PEELING LAMINATE VANITY DRAWER
1. Pluck off yet another piece of laminate. Don't be shy eventually you'll be chipping it all off!

2. Run the piece of laminate (wiped clean if possible) over to the closest home improvement store and have it color matched. A sample pot is more than enough paint for a drawer or two.

3. Remove the rest of the existing laminate from the drawer. Once it starts peeling the rest should come off pretty easily. Yank it, tug it, or use a putty knife to scrape it off.

4. Give the drawer a light sand to remove any glue bits that might have clung on.

5. Paint the drawer with your color matched sample pot. I suggest using a small brush for the edges and a small roller for the front. The less brush strokes the closer it will look to the original drawer. Allow paint to dry and apply additional coats as needed.

6. Seal with a clear topcoat. We used General Finishes High Performance Polyurethane Top Coat in Satin
. It's water based therefore non-yellowing!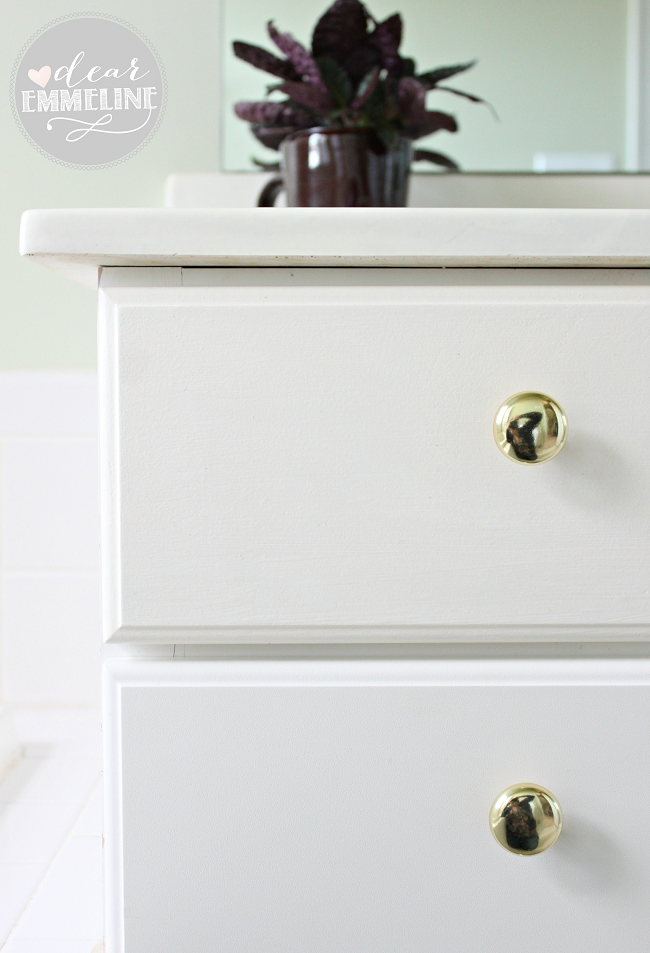 Way easier, cheaper, and less time consuming than dealing with replacing the entire drawer/drawer front.
Now fess up! Did you guess the right drawer? If you did, be honest, was it a lucky guess?!
Disclosure: The link you see above. It's an Amazon affiliate link. Use it and I'll get a little kick back. Every little bit helps to support and continue the content we bring to you!