Today we're moving upstairs to the 3 bedrooms, full bath, and walk up attic space.
At the end of the hall on the left is the official master sweet (it has 2 closets) which we will be using for the boys' room. Since boy number two is on his way we thought it would be nice since they'll be sharing a room to at least give them their own closets.
This room is the last one on the agenda to fix since the baby will bunk with us for a while and mini man #1 is still young enough to bunk in his big sister's room for a bit. Right now it houses all the overflow items that we needed out in order to list our townhouse as well as family pictures and items that still need to be removed.
It's a disaster! I know!
Across the hall is the upstairs full bath. We'll be downsizing on bathrooms and losing a dedicated master bath but I am surprisingly A-OK with this. Three full and one half bath at the townhouse was such a pain to keep up with. We all used one bathroom for several weeks and I much preferred it. Now my sentiments might change once the kids are older and taking longer showers but for now I'm cool with it. Down the road we may turn the 2 half baths downstairs into one full bath since an extra shower outweighs the benefits of a third toilet.
Again, this bathroom is a shade of green and is in desperate need of an overhaul!
At the top of the stairs to the left is the third bedroom which will become our master bedroom. The attic access is off of this room and we plan to turn it into an office, craft room, sitting room, play room type deal. It's only fair that WE should have full time access to that space!!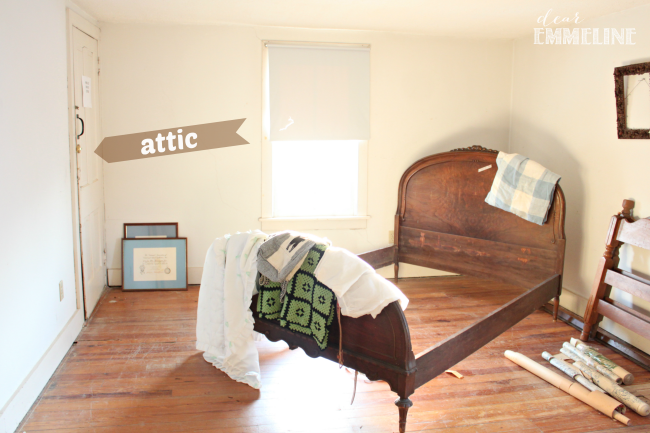 p.s. This bed is slated to go into little lady's room!
So up we head into the walk up attic.
Railing will be a must around the stairwell!
The attic is already framed and insulated since hubby's grandfather had planned on finishing it off before he passed away. Once some of the insulation is pinned back up it should be a pretty quick job to finish it off.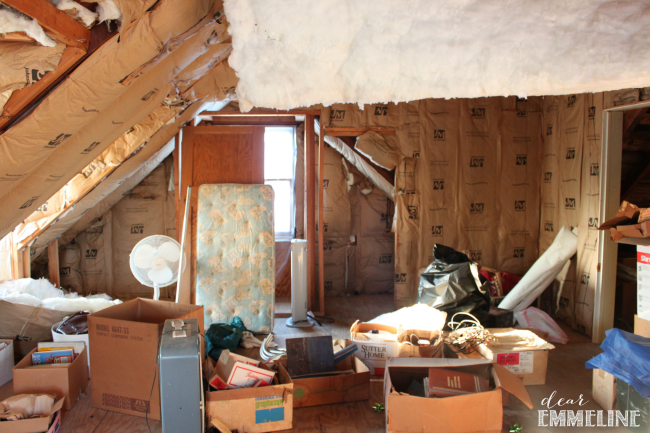 Male sure to duck the big piece of hanging insulation!
The three window bays will make such cool little nooks and you can't beat that natural light.
I'm also hoping that blue fan is still up there! It's amazing!
refinish/paint wood floors
finish armoire/build in storage to take place of closet
scrape textured ceiling
replace light fixture
replace light fixture
scrape textured ceiling
refinish/paint wood floors
replace lighting
tack up insulation
drywall
install lighting
install half walls/railing around stairwell
lay flooring
paint