Eleven days ago we welcomed our third beautiful child into the family!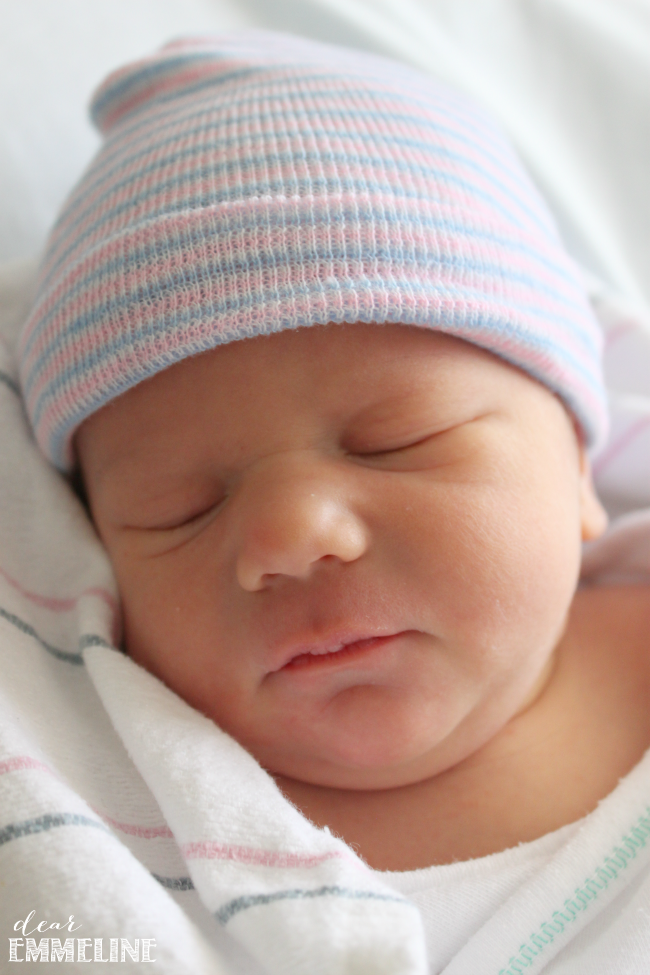 We are so grateful for his safe arrival and God's perfect timing and care could not be any more evident in Oliver's birth story.
To truly understand how miraculous we view the timing of Oliver's birth I have to back up and tell you about several events that led up to his delivery.
In April we found out my grandfather's health was rapidly declining. Two conflicting health problems meant that there was nothing they could do to treat the failing organs that would eventually take his life. We weren't given any sort of timing but from my mom's online research we knew it would not be long. It was a matter of waiting and hoping that it did not conflict with little man's arrival.
April 25th; my husband who was out working on the house with a friend and several family members came home early, SICK. We're not talking normal sick, we're talking sleep for 3 solid days, barely eating and drinking, chills, fever, cough, sick. After a weekend with a phantom husband I drove him to the doctor on Monday. Their diagnosis, combo respiratory and gastrointestinal virus, with instructions to rest. It will take 7-10 days to work its way out.
Wednesday evening after visiting my grandfather in the morning with my mom and little man, my grandfather passed away. The family decided to schedule the viewing and a family dinner for Sunday afternoon, hoping the baby would hold out and come closer to his due date.
Thursday, May 1st, a worsening cough and pain sends hubby back to the Doctor. A chest x-ray confirms our initial thoughts of pneumonia. Again, not just a normal case of pneumonia but what the doctor called a "very large mass of pneumonia" in both lobes of his lung. Home he came with a prescription and an injection of antibiotics. After 1 dose of medication his legs started locking up feeling heavy and tight. After calling the advice nurse he was told to continue taking the medication. After continued worsening leg pain and chest pain hubs made the call to stop the medication and call the doctor again. Saturday morning my dad drove him to pick up a new prescription while my mom, myself, and little lady attended a friend's bridal shower.
On the way to my grandfathers viewing on Sunday I started having pretty strong contractions. My first thought was "You have got to be kidding me". My stress level of getting through the viewing , a dinner with family, and possibly having a baby while my husband is completely incapacitated was completely overwhelming. The contractions continued throughout the day and by the time we made it to dinner they were happening every couple of minutes. Off to the hospital we went. After being in triage for an hour or so I was admitted and given a room. Turns out after starting my IV and being rechecked by my doctor that I was not as far along as the nurse had said AND my contractions started petering off. Ugh. Home we go.
Fortunately, being sent home allowed hubs to make it to a 3rd doctor's appointment he had scheduled during the weekend since the pain was not lessening and he could barely walk. His appointment on Monday, May 5th resulted in a second afternoon appointment for an ultrasound and CT scan. We dropped little man off at a friend's house, picked up little lady from preschool early and headed to his appointment. Frustratingly, the doctor put the order in wrong so they wanted us to come back 2 hours later. A crying 39 weeks pregnant woman and irate ill man must be pretty persuasive because hubs called his doctor to correct the order and the medical professional running the scans went to ask permission to work overtime through lunch so he could still be seen. Results immediately confirmed multiple blood clots in both legs and a clot in each lung. He was immediately taken to an urgent care area of the medical facility for further testing and to await transport to the hospital. My mom, daughter, and I spent the entire day sitting in the less than comfortable chairs and floor waiting for any news on what was to happen next.
The doctors were able to secure a bed for hubby at the hospital I would deliver at just in case. My dad drove down to pick up my daughter and my mom and I followed the ambulance to the hospital. We hung around the hospital for the evening but left in time to make it home for a full night of rest. The next day we went back to the hospital to hang out for the day. Hubs was pumped full of medicines and blood thinners and had lots of samples taken to determine if he has a genetic blood clotting disorder. 4.5 years ago he had a blood clot in one leg with no determined cause. We still think that the clots may be the result of a reaction to the initial medication for treating the pneumonia. Many friends and family members had horror stories about this particular medication.
Tuesday evening we left the hospital around dinner time so my very tired mom and I could get some rest and decompress from the physical and emotional stress of the past week. Hubs called to tell us that he would most likely be discharged the next day if all of his vitals were stable. At 4:00 am, May 7th, I woke up to strong and steady contractions. I called to get permission from my doctor to head in to the hospital. Actually the call went more like "I'm heading to the hospital. My husband is already there, so if it's false labor again, fine, because I was already going to be going down there anyway (The hospital our health care works with is 45 minutes away). I called my husband and he confirmed with his nurses that if I was admitted he could come down to my room for the delivery and they also decided to expedite his discharge. Triage confirms, steady strong contractions and halfway there in terms of dilation. I will be staying this time. I immediately began crying. THIS IS HAPPENING!!
We called hubs from triage to tell him I would be staying and he tells me they'll bring him down to my room after he gets his next injection of medication. Just after 9:00 am hubs gets to my labor and delivery room AND probably no more than 5-10 minutes later I have the heaving urge to push. Just like baby number 2, I have gone from nothing to ready to go way quicker than expected. Maybe 20 minutes of pushing later and our little Oliver was here! We had a few harried minutes of unresponsive baby blue man due to a tightly wrapped cord but no sooner did they call in NICU than he began responding to stimulation and started screaming his face off. Most beautiful sound I've ever heard!!
I was so shaky after delivery probably the combination of lack of food and drink, delivery, and finally being able to release some of the stress and emotions from everything going on. I am SO SO grateful and amazed at the timing and that my husband was able to make it to the delivery. I know he would have never forgiven himself if he had to miss it. He was discharged from the hospital later that evening after another dose of antibiotic but was freely allowed to travel back and forth from our hospital room and his hospital room throughout the day.
We are all home from the hospital and on the mend. Obviously, hubby's medical saga is not over. We continue to await the results of his hemoglobin testing but it appears that despite results he may be on blood thinning medication for the rest of his life.
His health has thrown a loop in the home renovation progress since he is not cleared to work yet. He has taken on the role of overseeing work being done by family and friends and hopes he'll be cleared to work soon.
Thank you to all our friends and family for the prayers and concern. We are so thankful to God for his care and faithful hand in the orchestrating of our lives.
Our sweet boy has been such a blessing during this crazy time.