Our narrow half bathroom renovation is DONE!!
And by done I mean construction is finished and it's completely functional and not that there is nothing else to be done in the room.  Eventually, we'll hang some art/decor across from the mirror and I also have plans to hang or build in shelving behind the toilet.  If you notice this tiny little bath is short on storage.
Before I share more pictures and details let me remind you how the bathroom looked when we bought the house in February.  Yikes!  Dark, dirty, and dated.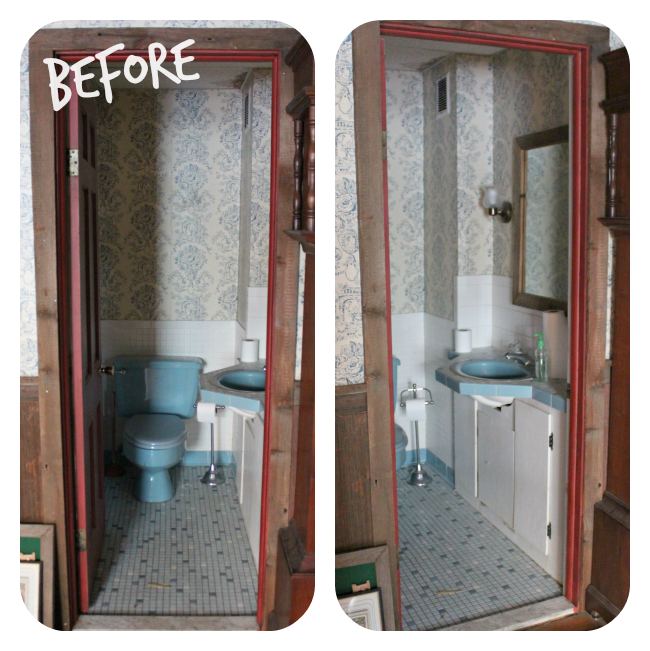 Enjoy the tour.
We picked up the matte white Hexagon and Dot tile from Home Depot.  I often see it grouted with a darker color but since I prefer grout that matches the tile we went with white grout as well.  Hopefully the addition of a grout additive will help keep it from staining.
The Harriet Console Table was purchased from Joss and Main's a Sprig of Mint sale.
We purchased our Millenium Lighting Neo-Industrial Wall Sconces off the shelf at Lowes.  While I can't find a current link to the bronze at Lowes online they do also offer the fixture in chrome.
We found the perfectly sized slimline sink at Ikea.  It is the Lillangen model (23 5/8″ x 10 5/8″ x 5 1/2″).  It has a modern edge but it also reminds me of an apron front sink so it fits perfectly for an updated farmhouse look.
We loved the Bol Faucet by Kohler for the same reason.  Its design was inspired by an apothecary mortar and pestle.  It also has a shape reminiscent of an old hand cranked water pump.  It was a splurge but my plumber hubby has nothing but good things to say about the Kohler brand.
Another (semi) splurge was the Arcadia Subway Mosaic tile purchased from Wayfair.  At $15.00 sq ft it is by no means a super expensive tile but for a larger area it would have made the project fairly expensive. Thankfully, we were only tiling a small space and only needed to order one box of tile.
The second half bath and kitchen are up and functioning as well.  I hope to be sharing those spaces soon.
All that's left on the "before we can move in to-do list" is to put back together the full bathroom.  We're hoping it will be ready enough for us to move in by mid July!!
*For renovation peeks between posts, be sure to follow @dearemmeline on Instagram.