Hello friends.
I'm back today with another Fab Furniture Flippin' Contest Project.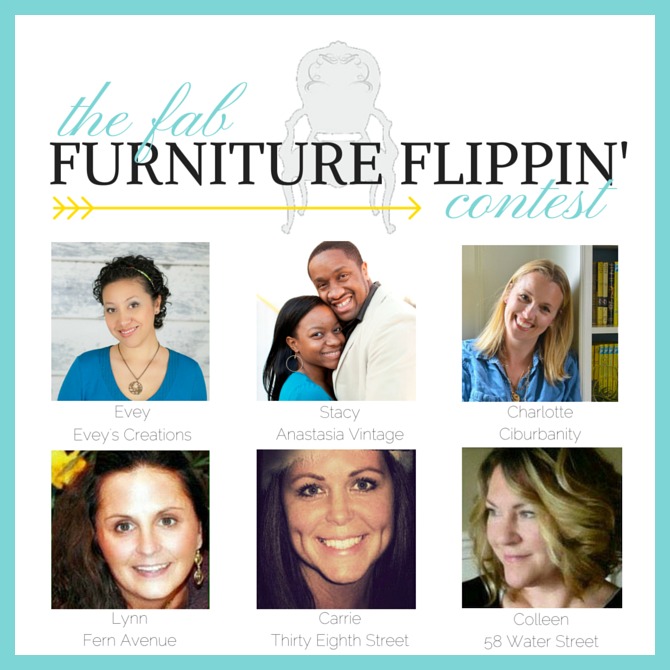 If you've never heard of it, the Fab Furniture Flippin' Contest is a monthly contest hosted by the six ladies pictured above. Contestants create a themed furniture project with a little help from the monthly product sponsor. The projects are judged and awesome prizes are up for grabs.
The theme for March is "Mix and Match" and this month's sponsor is Fairfield World. Fairfield World offers an array of upholstery products like, foam, batting, and pillow forms. Each participant was allowed to select product from Fairfield World for their March project. In addition Spoonflower offered discounted product to participants.
To meet the Mix and Match theme we decided to complete a double dresser built-in for our daughter's room.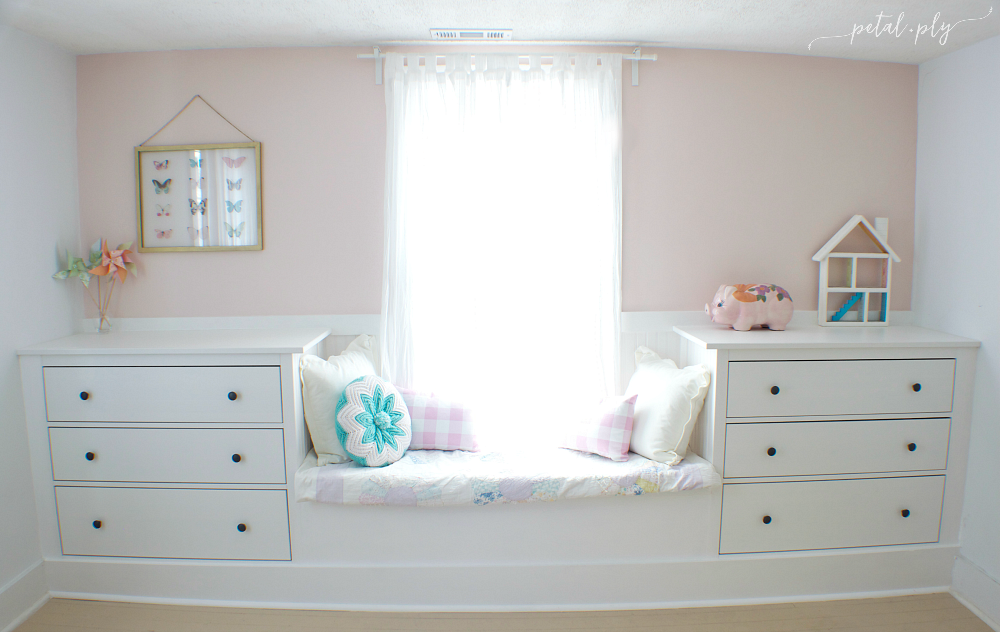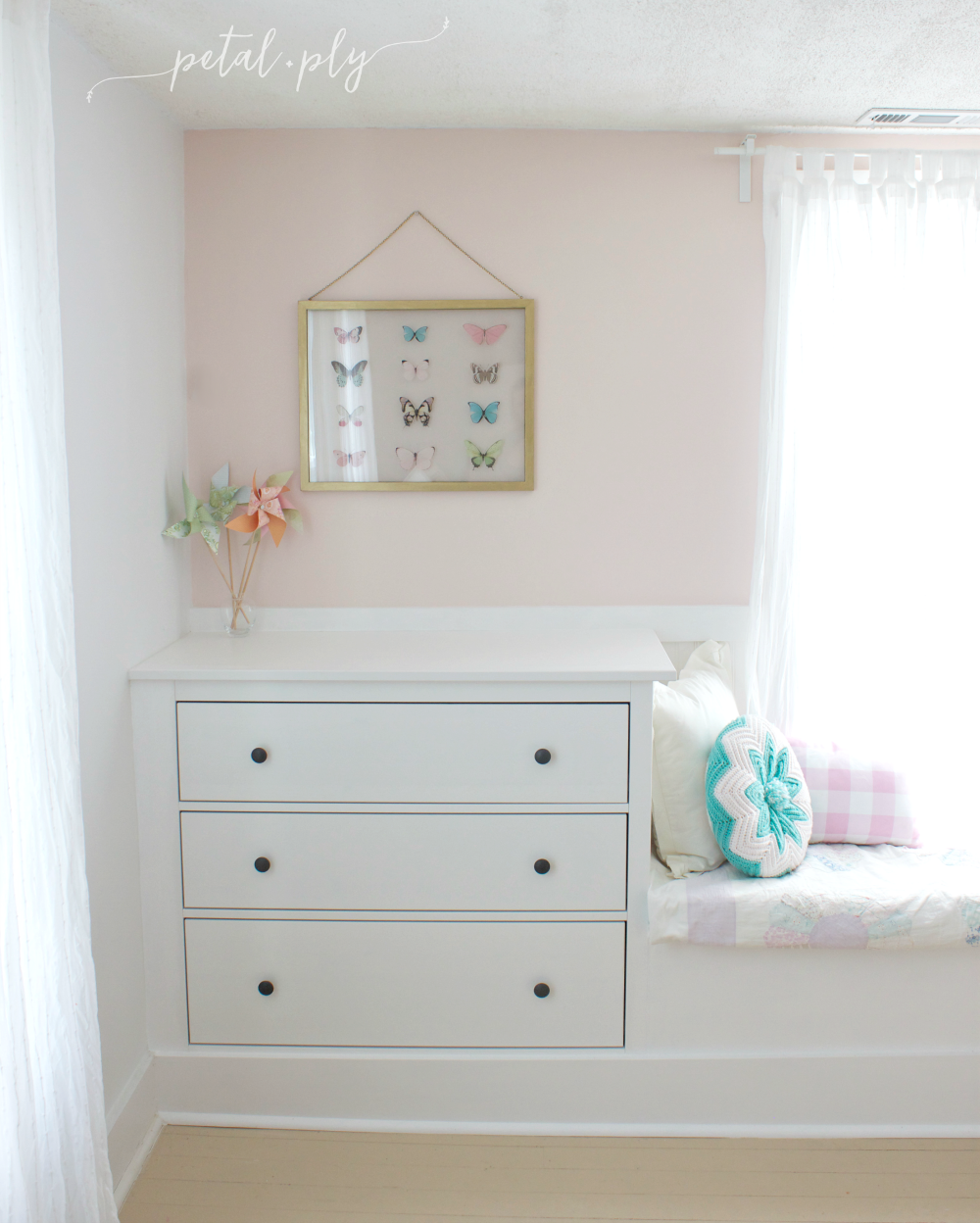 I had planned the project prior to knowing the contest theme and we already had purchased and put together two white stained Ikea Hemnes dressers.
Knowing the contest theme and having a deadline gave us the motivation to put the pedal to the metal and get this project finished!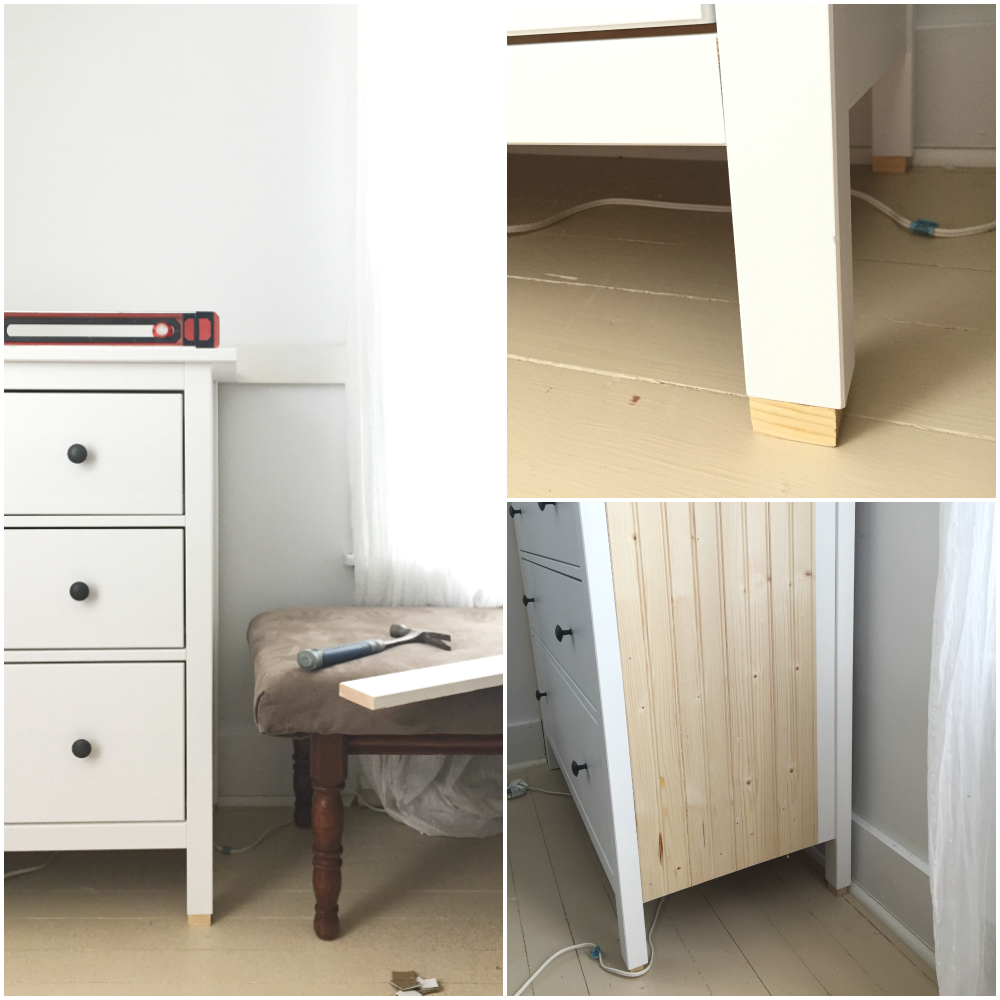 Our home is old. It was built around 1910 and the floors are very out of square in some places. The first step in this project was shimming the dressers to make sure that they were sitting level. We added a trim board behind each dresser to act as a backboard and to cap off the bead board that lines the window bench.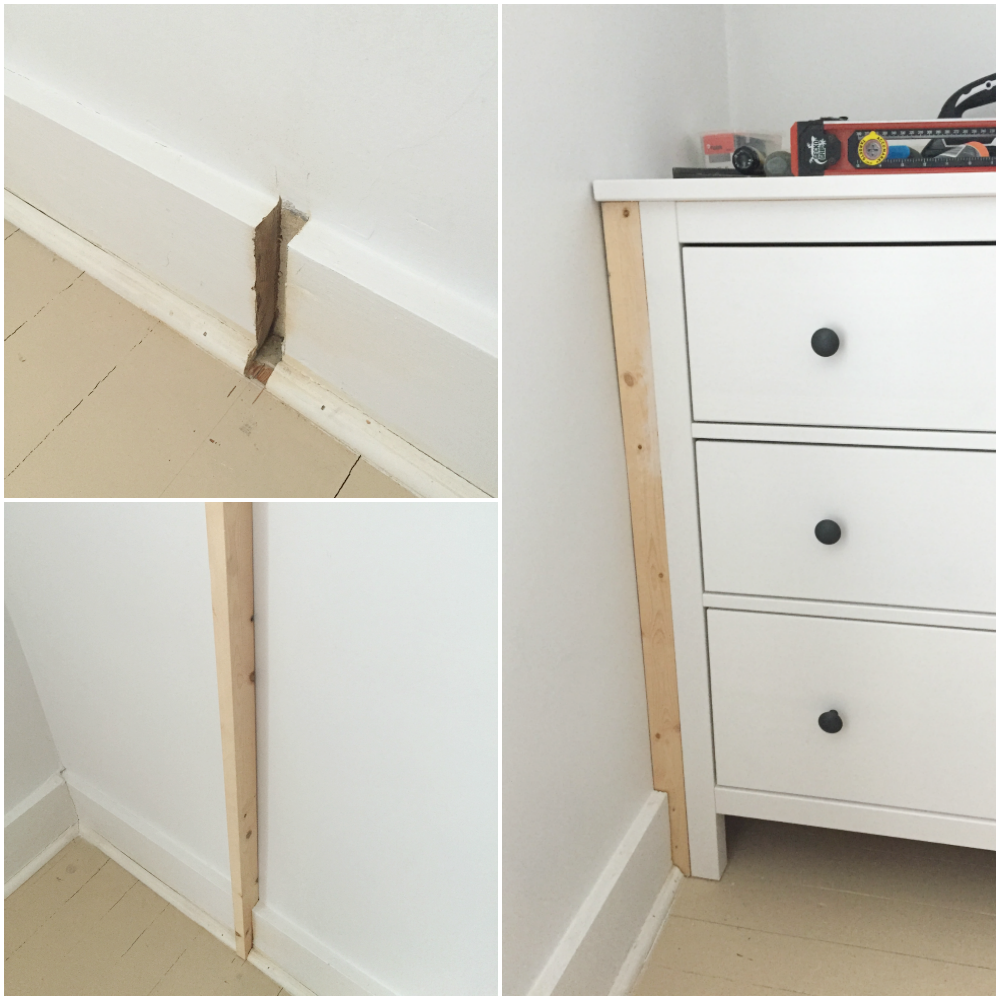 To fill in the gaps between the dresser legs and the wall my husband cut a notch in the baseboard trim and nailed a 1×3 in place. After the dressers were set they were also nailed to the wall and to the filler boards to keep everything solid and sturdy.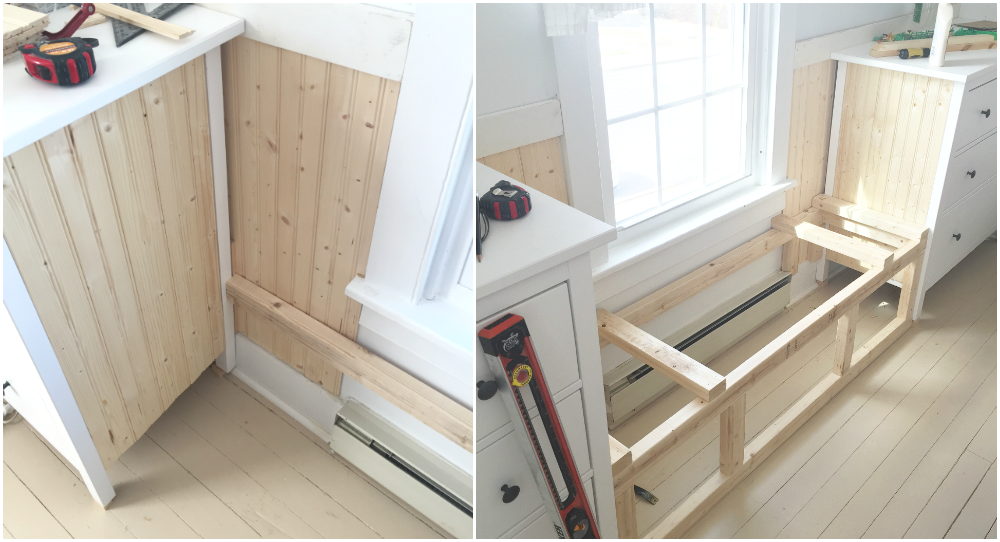 Between the dressers a window bench frame was built with 2×4's. Stain grade plywood was cut to size to cover the frame and create a lid that opens for extra storage. Three strips of L trim were added to create a clean, soft edge on the front to the bench.
Baseboard and quarter round trim covers the dresser bases and unifies the built-in.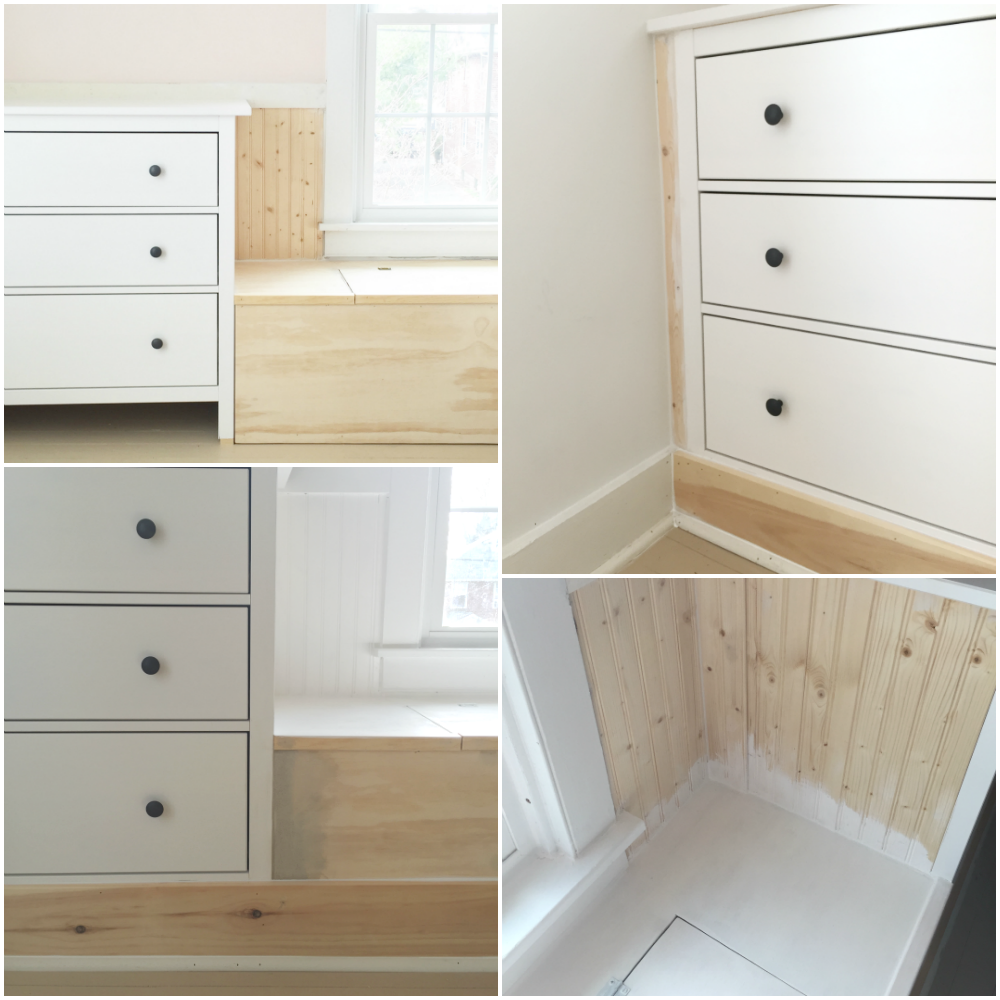 All the seams were either caulked or filled and sanded before I hand painted them with a custom mixed white latex paint.
I actually didn't repaint the dressers!!! Yay. Time saved, product saved, and you CAN'T even tell! I'll have to spill the beans on exactly how I managed to spare myself that task in another post. Let's just say it required grabbing up every white paint chip at the store and then coming up with a custom blend to get a near perfect match.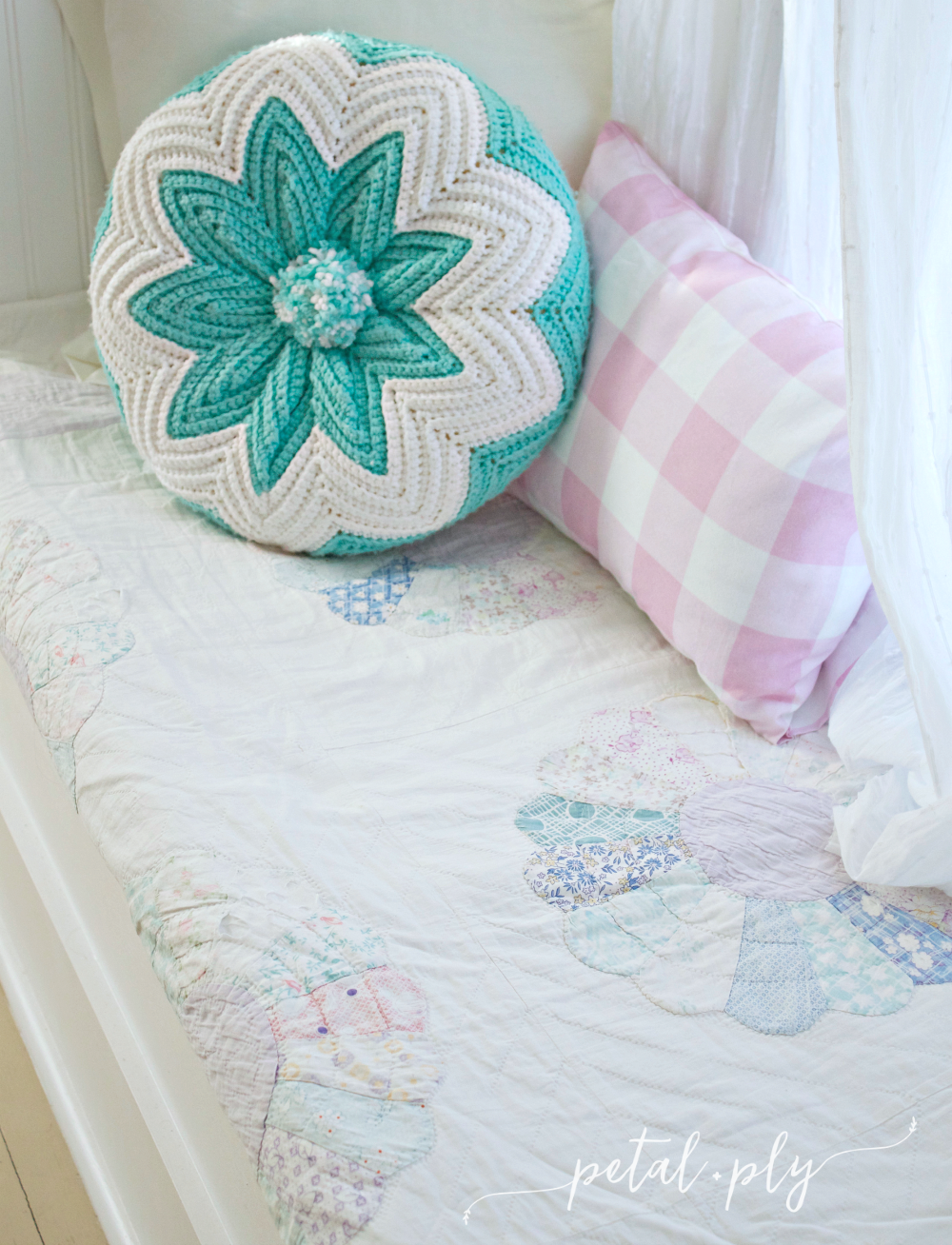 I topped the window seat with 2″ foam from Fairfield World and intend on using this gorgeous vintage quilt to make a proper cover. I snagged the quilt to use as a cutter quilt at an auction for nearly nothing. It has some pretty noticeable discoloration and staining around the edges but fortunately I have enough clean fabric for a whole cushion cover.
As a cute little pop of color I purchased (at a discount) pink buffalo check fabric from Spoonflower to cover two 12″x16″ pillows from Fairfield World.
The crochet pillow is a vintage piece I found on Etsy and the two cream pillows I recently won in a giveaway.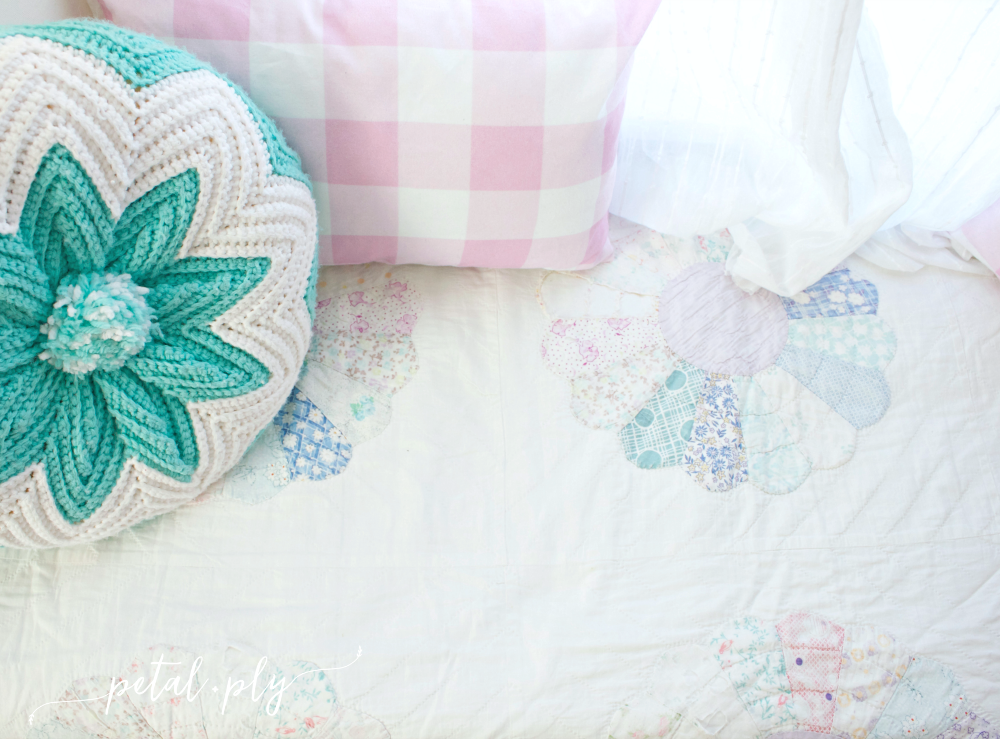 As I child I always wanted to have a window bench. Instead I had to settle on positioning my bed in front of a window, which I did for a time.
I am so ecstatic for my daughter to have the perfect little sunny dreaming spot I always wanted.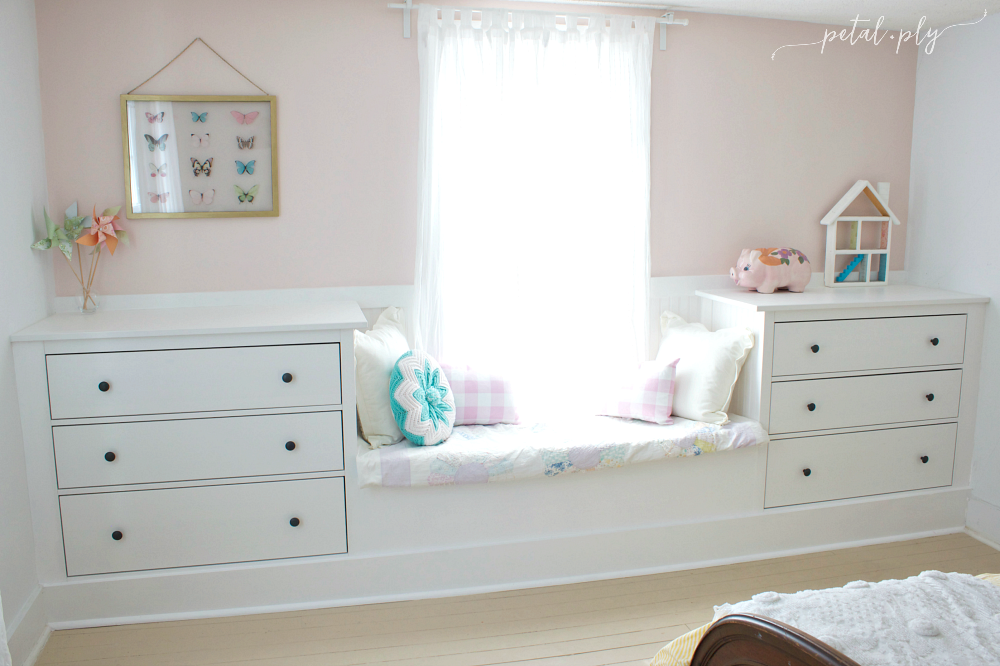 Be sure to stop over at Colleen's and Charlotte's (our featured hosts) to see their Mix and Match projects and find the links for the projects of all this month's challenge participants.
The Fab Furniture Flippin' Contest is open to entrants who have signed up through the group Facebook page. If you are interested in becoming a member and having the opportunity to participate in future contests please contact info@fabfurnitureflippincontest.com to find out how.

Disclosure: Some or all of the hosts of The Fab Furniture Flippin' Contest receive monetary and/or product compensation from the sponsoring brand, Fairfield World, in order to complete their themed projects. The participants of The Fab Furniture Flippin' Contest received product compensation from the sponsoring brand, Fairfield World, in order to complete their themed projects. Fairfield World will also provide the prize package for this month's contest winner. Contestants were also able to order up to 3 products from Spoonflower at a 50% discount.