**This post is sponsored by HomeRight. Finish Max affiliate link provided below.**
Happy Friday friends!!
Who's happy that the weekend is upon us? I know I am! This is a full weekend for us. Tomorrow evening we'll be heading off to a meeting and dinner at our church and on Sunday evening my daughter and I will be going to a birthday party at our local cheap seat theater. We've heard the they'll be showing the movie Trolls. Neither of us have seen it and I'm really excited to. It looks super cute!!
Today's furniture makeover was completed as part of The Fab Furniture Flippin' Contest™. If you aren't familiar with The Fab Furniture Flippin' Contest™ it is a monthly contest where furniture flippers from all over the web come together to share themed furniture projects featuring a specific product sponsor.

January's theme, Spray It Pretty, features the Finish Max Fine Finish HVLP Sprayer by HomeRight.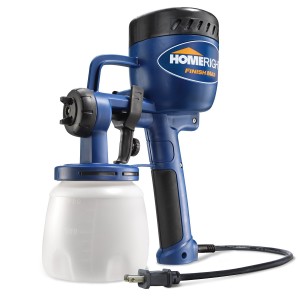 HomeRight carries a full line of power painting, automotive and home care products including paint sprayers and spray shelters. I turned my mudroom into a huge spray shelter for this project – since it's too cold to paint outdoors. It was a huge pain in the rear and didn't work as well as I had hoped. Needless to say I have now added a spray shelter to my wish list!
This was my first time using a sprayer on a furniture project. I read the directions on how to operate the sprayer, practiced with water on a piece of cardboard, thinned my paint and jumped into painting the first coat. Problem is I jumped a little too fast. I used an older can of chalk paint for this project and decided I did not need to filter the paint. BIG mistake. I had lots of clogging issues on the first coat. I had to clean the sprayer and unclog the nozzle several times. All of this was MY fault, it had nothing to do with the performance of the sprayer. On the second coat I filtered the paint (poured through cheesecloth) and I had absolutely no issues. It took me maybe 5 mins to spray the second coat.
There is a slight learning curve when switching from a brush to a sprayer but, wow oh wow, once you know what you're doing and how to properly prepare your paint, this sprayer makes painting much quicker.
Here are my top tips for using a sprayer successfully:
Make sure your paint is the proper consistency. It may take a bit of time to get it just right but do it! Use the included flow rate funnel. I suggest thinning the paint to the faster end of the suggested flow rate. If the paint is too thick the sprayer will "jam" up, too thin and the paint will run.
Even if you think the paint is free of debris pour it through cheese cloth into the sprayer. This will grab anything large enough to clog the spray tip. You do not want to stop and clean the sprayer once you've started painting. Ask me how I know.
Have an extension cord ready. The cord on the sprayer is very short.
Clean the sprayer immediately after painting. Once the paint starts drying it is much harder to clean.
Now, time for the reveal of my Spray It Pretty Project.
I'm so excited with how these end tables turned out. Look at how they started.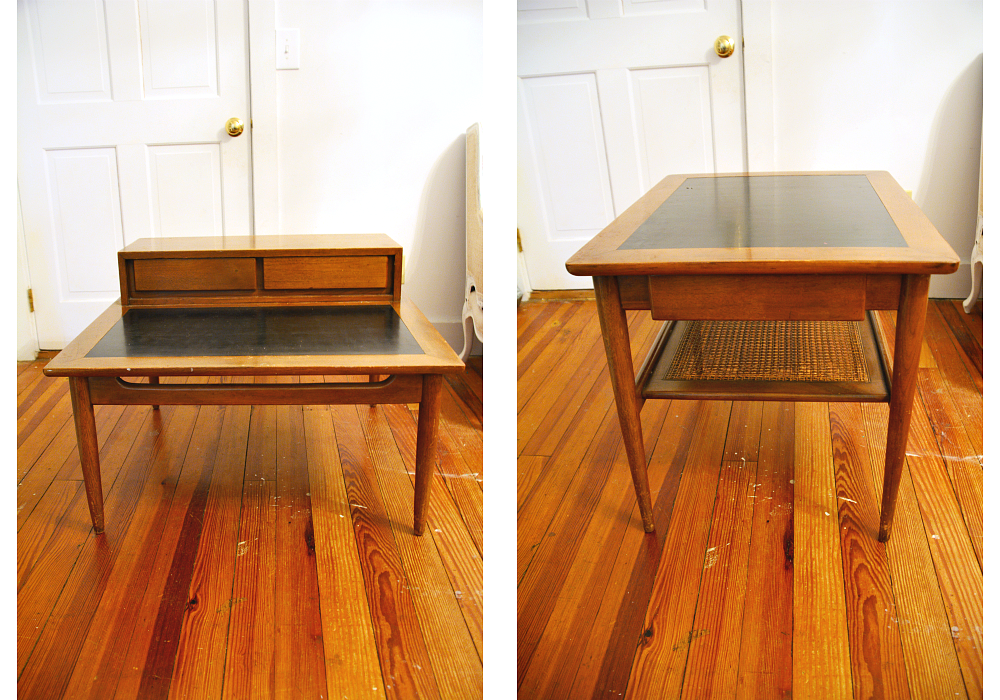 Very dark and sad.
I sprayed each piece with two coats of Annie Sloan Chalk Paint in Paris Grey. The sprayer let me ditch the brushstrokes common with chalk painted pieces and instead achieve a sleek smooth finish.
To seal I topped the paint with Minwax Wipe-On Poly in Satin.
Next, I covered the old scratched slate with DC Fix Grey Marble Adhesive Film. Contact film is easy to apply and this particular one is of premium quality. I lined up the film in one corner and used a flexible smoothing tool as I unrolled the film to ensure that there were no air bubbles. The film cuts easily with a hobby/craft knife.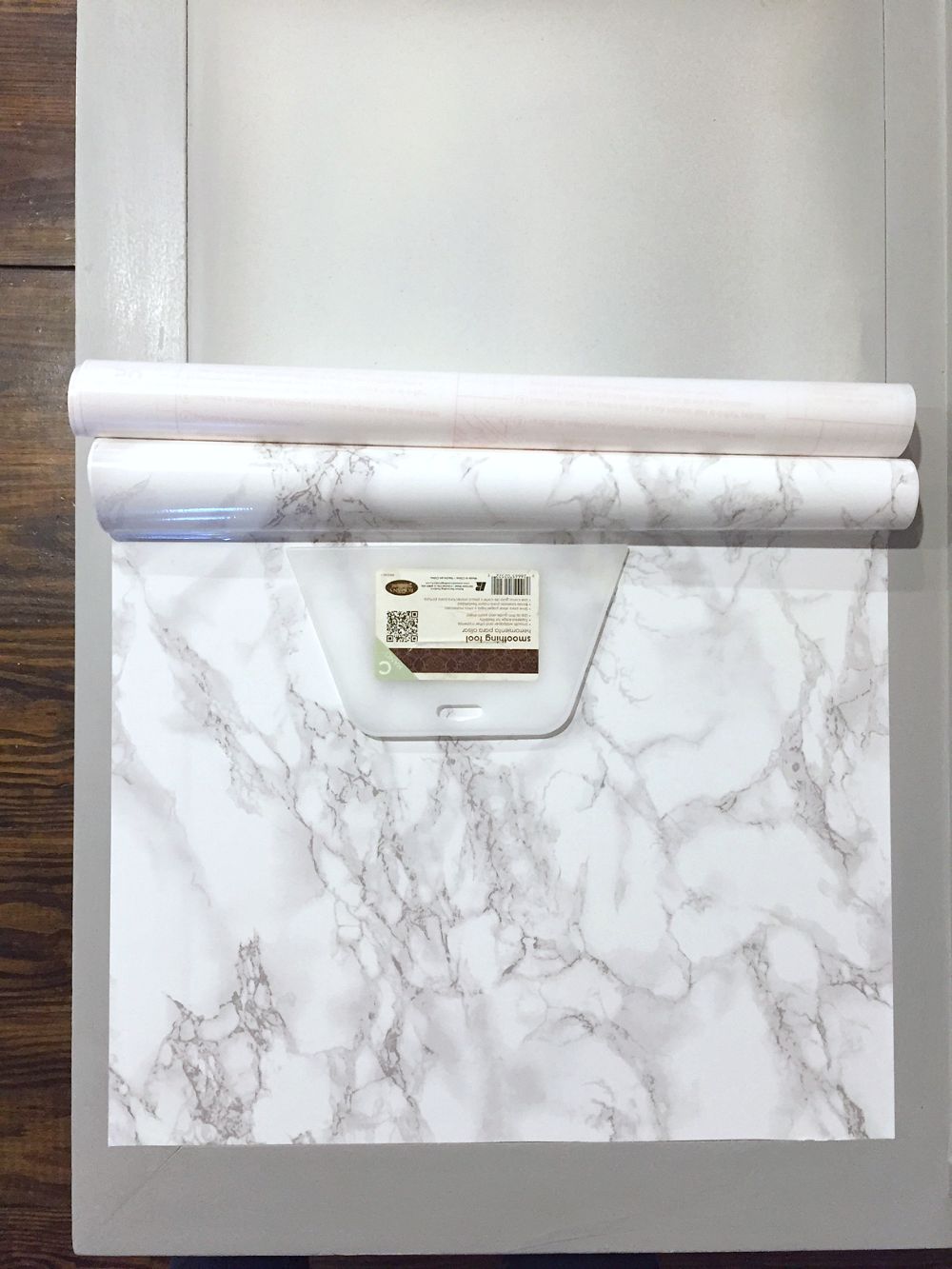 Everyone who has seen these end tables in person is amazed at how real the marble looks!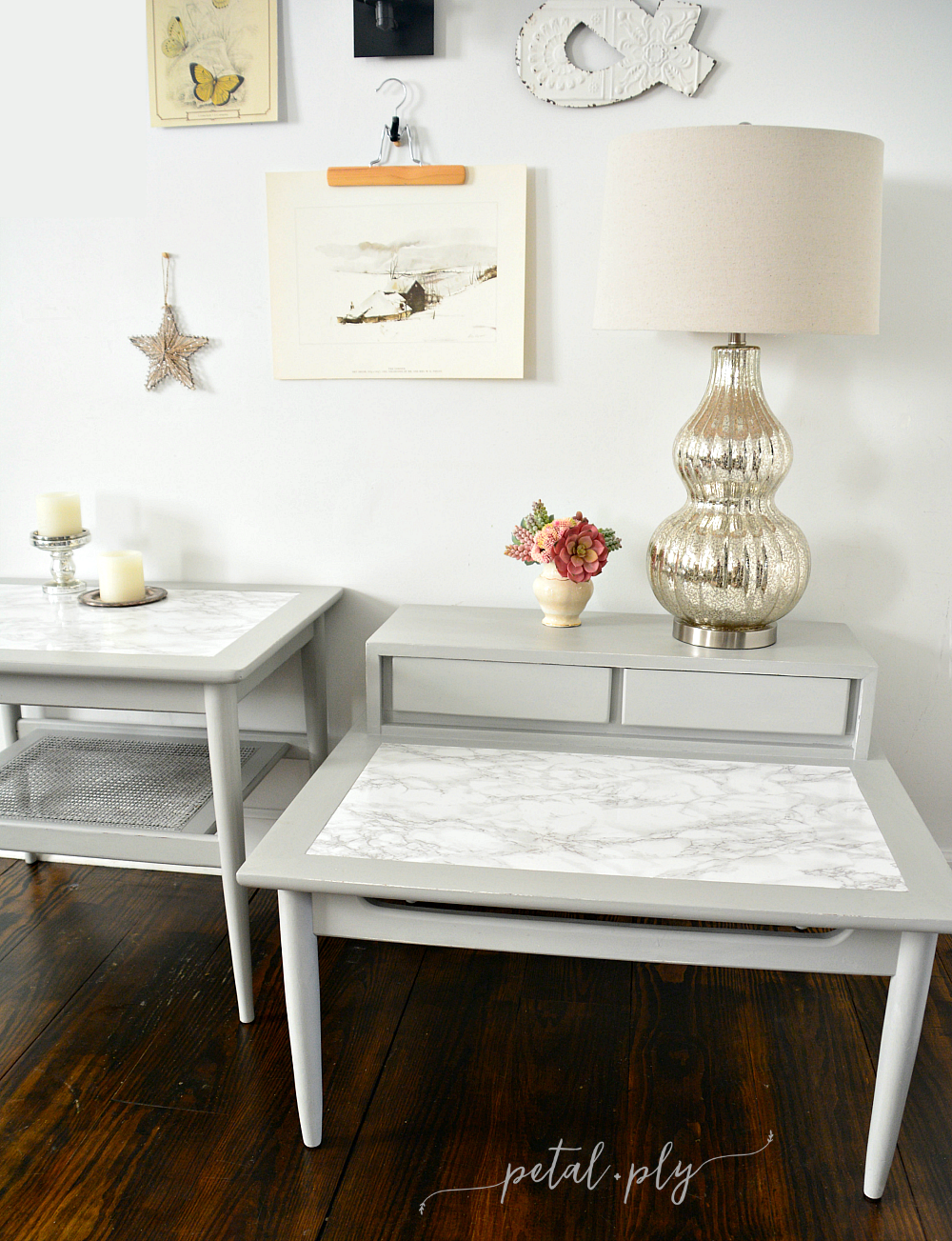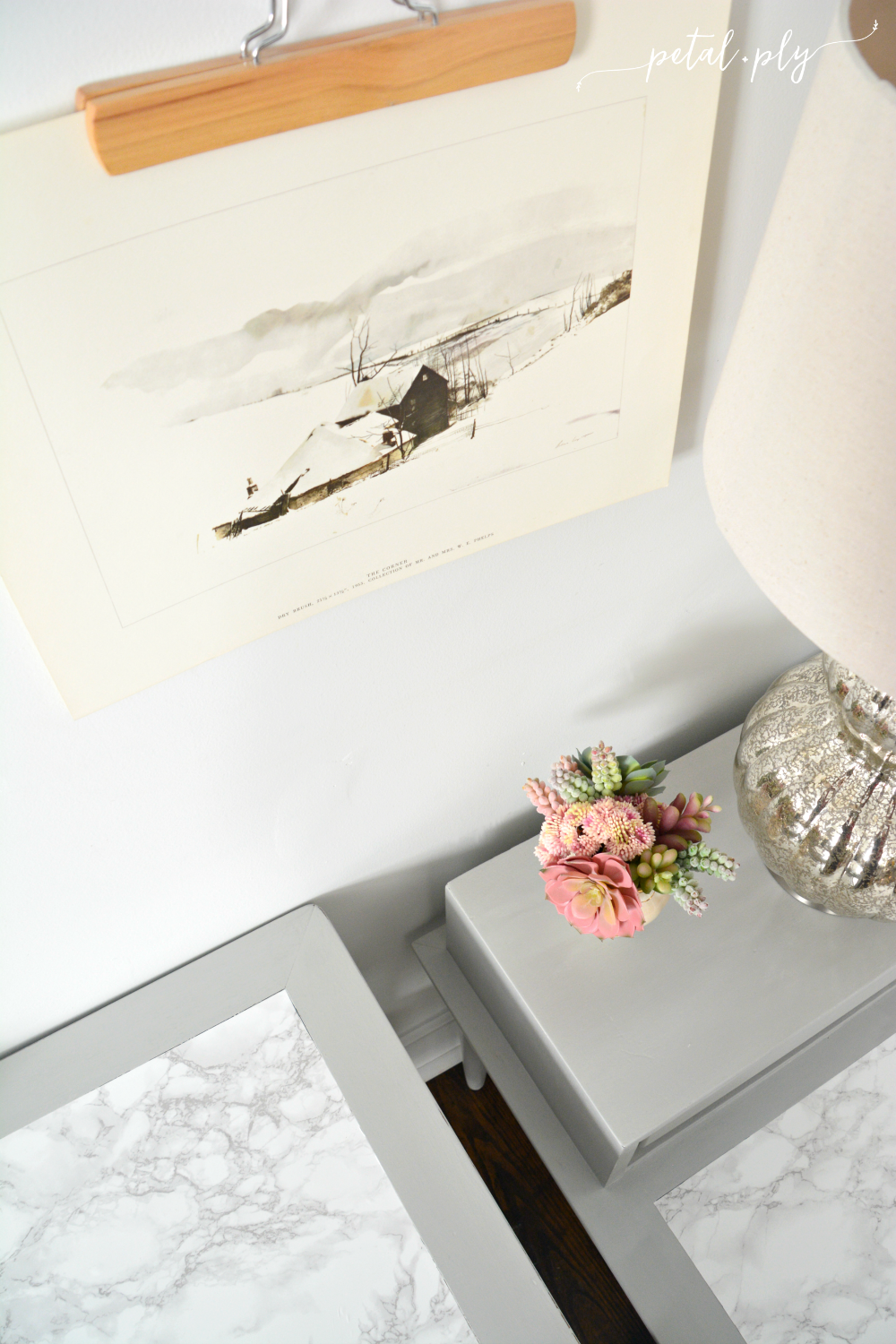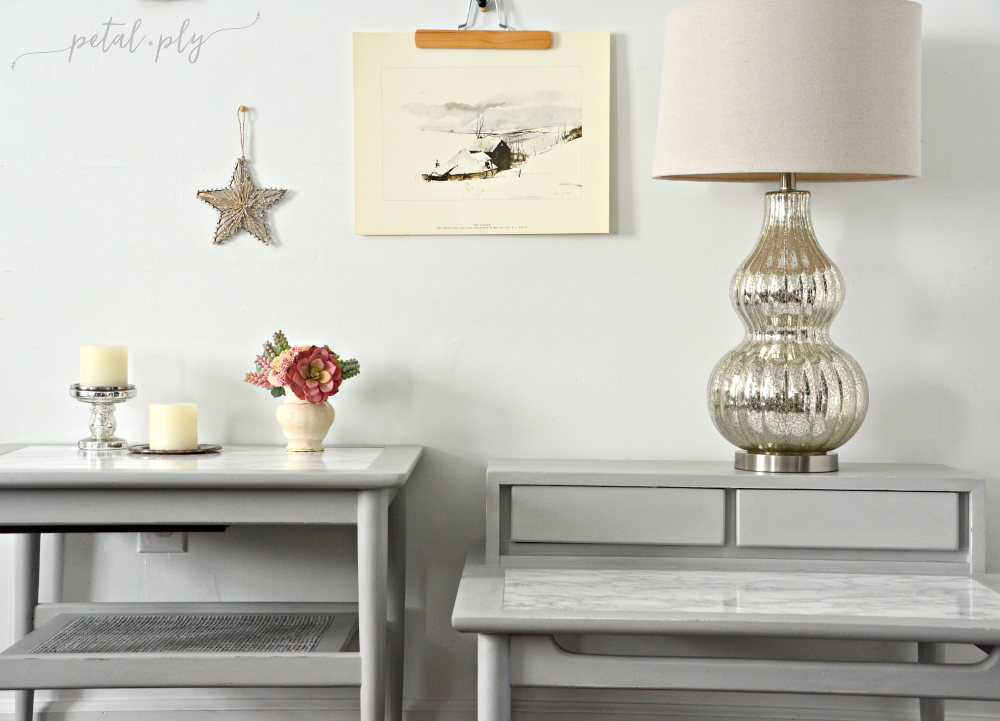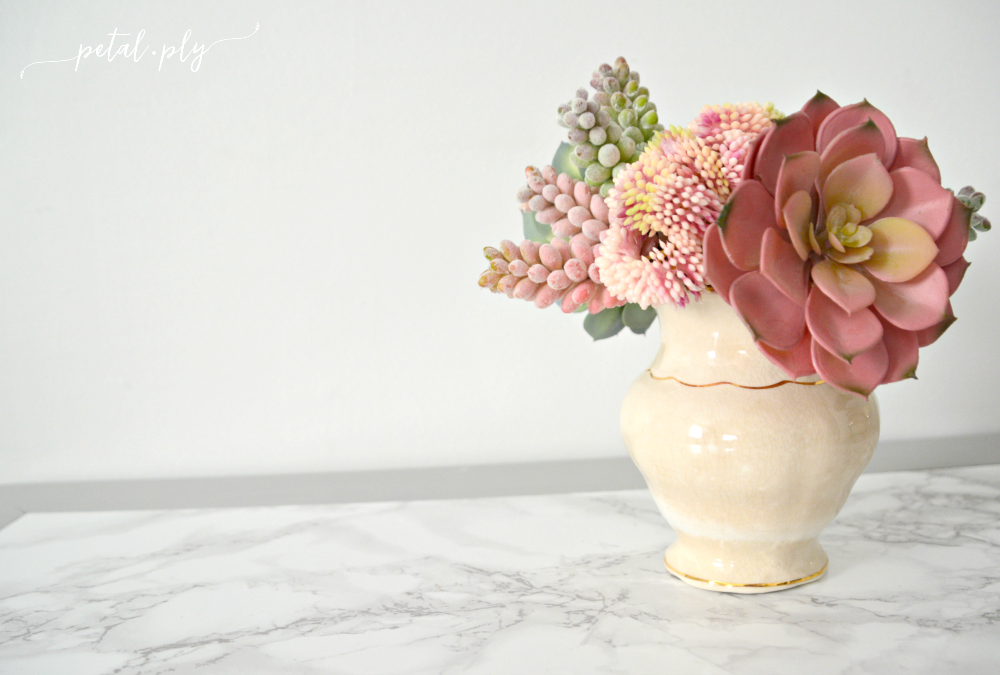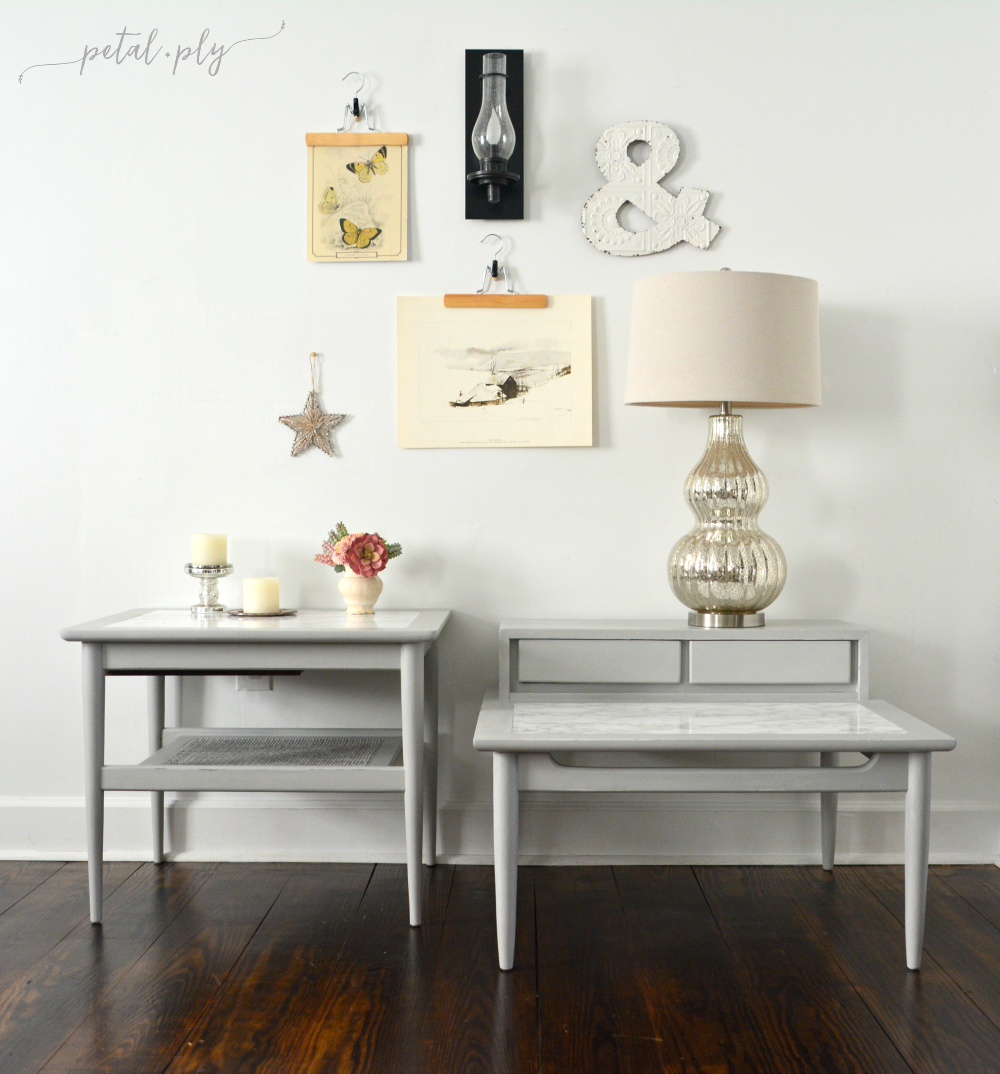 Care to see the rest of this month's Spray It Pretty with HomeRight furniture projects? Stop over at The Fab Furniture Flippin' Contest™ blog to find the links for each participant's. project.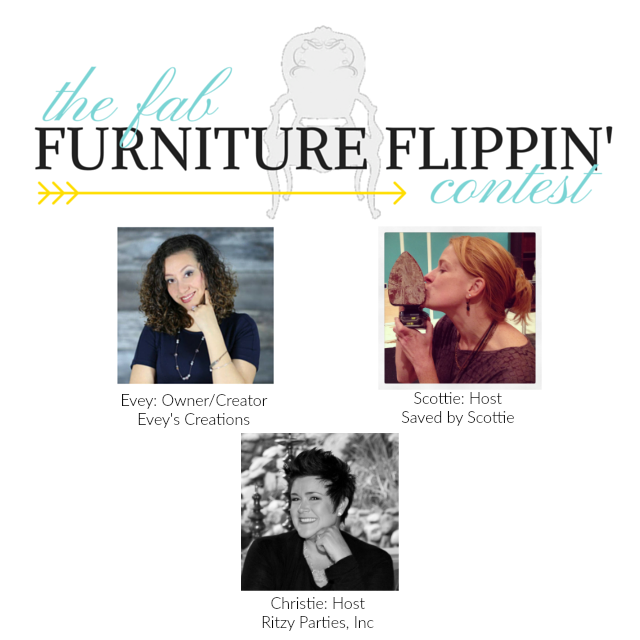 Interested in joining The Fab Furniture Flippin' Contest™? The Fab Furniture Flippin' Contest™ is open to entrants who have signed up through the group Facebook page. If you are interested in becoming a member and having the opportunity to participate in future contests please contact info@fabfurnitureflippincontest.com to find out how.

Disclosure: Some or all of the hosts of The Fab Furniture Flippin' Contest™ receive monetary and/or product compensation from the sponsoring brand, HomeRight, in order to complete their themed projects. The participants of The Fab Furniture Flippin' Contest™ received product compensation from the sponsoring brand, HomeRight, in order to complete their themed projects. HomeRight will also provide the prize package for this month's contest winner.