Happy Holidays!
This season we invited a new furry little friend into our family.
Meet Jingle!!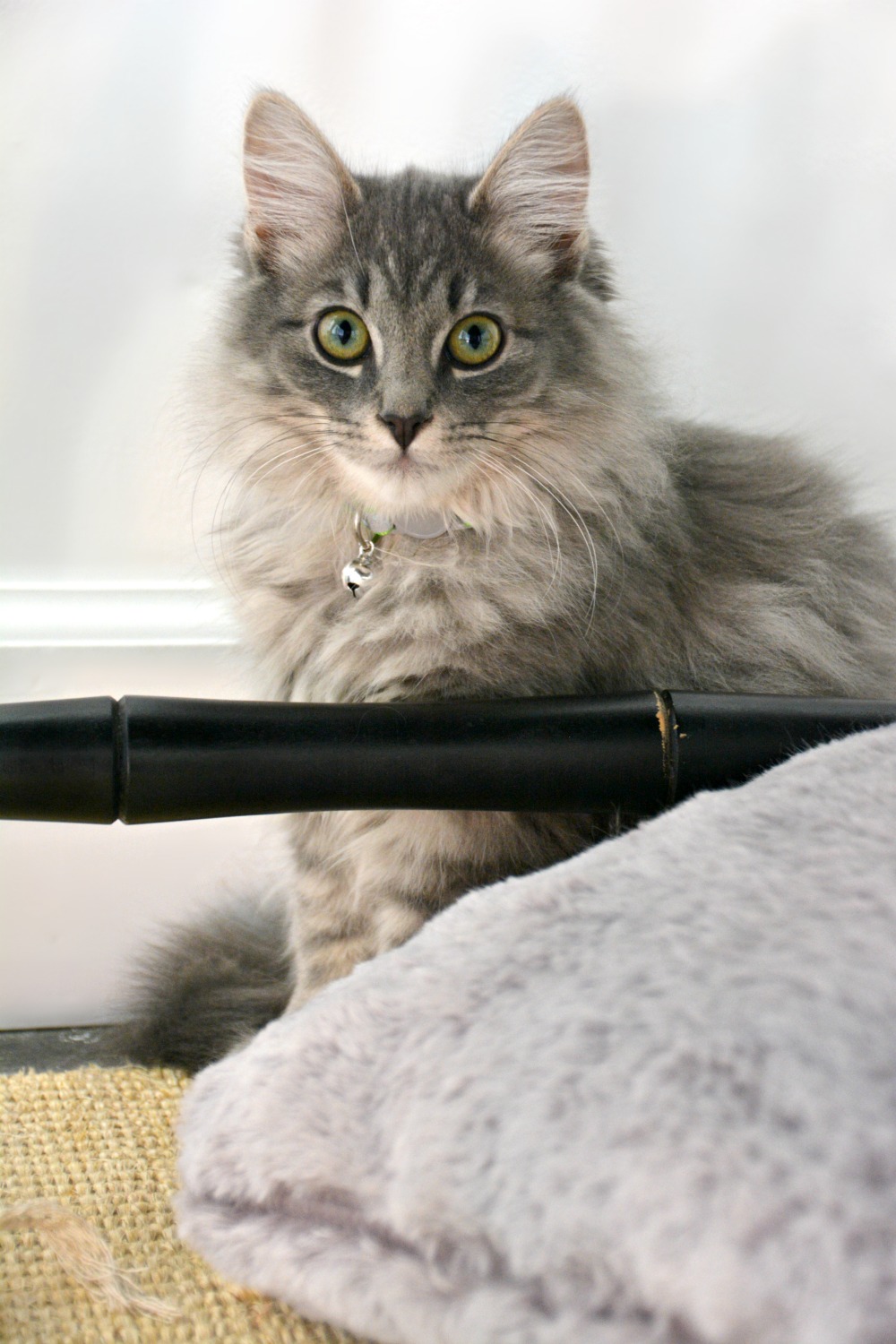 A few weeks ago while my youngest son and I were on one of our weekly trips to PetSmart (to buy crickets for our pet praying mantis) we stopped over to visit the kitties. One kitty in particular tugged my heartstrings. He was so cute and fluffy. I took a picture and brought it home to show the family. My daughter, who is typically terrified of any animal has been asking for a cat for the past couple of years. She also specifically mentioned that she wanted a gray cat. Earlier this year when a friend found a momma cat and litter of stray kittens on their property we discussed rescuing 1 or 2 of them. The litter were my favorite orange and white tabbies!! After lots of hurdles trying to figure out the rescue process, and trying to keep it affordable, the mother cat ended up moving the litter before any of the kittens could be rescued.

Buying this kitten was completely unplanned. While we had considered rescuing earlier this year we had set the idea on the shelf and had no plans of getting a cat right now. The fact that it turned cold and we could no longer find insects in the backyard for the praying mantis is the only reason we were in the pet store.
Jingle is a 17 week old kitten that we purchased at PetSmart via a local animal rescue. He's playful, fairly social, and was already litter trained. Win!
Isn't he so sweet?!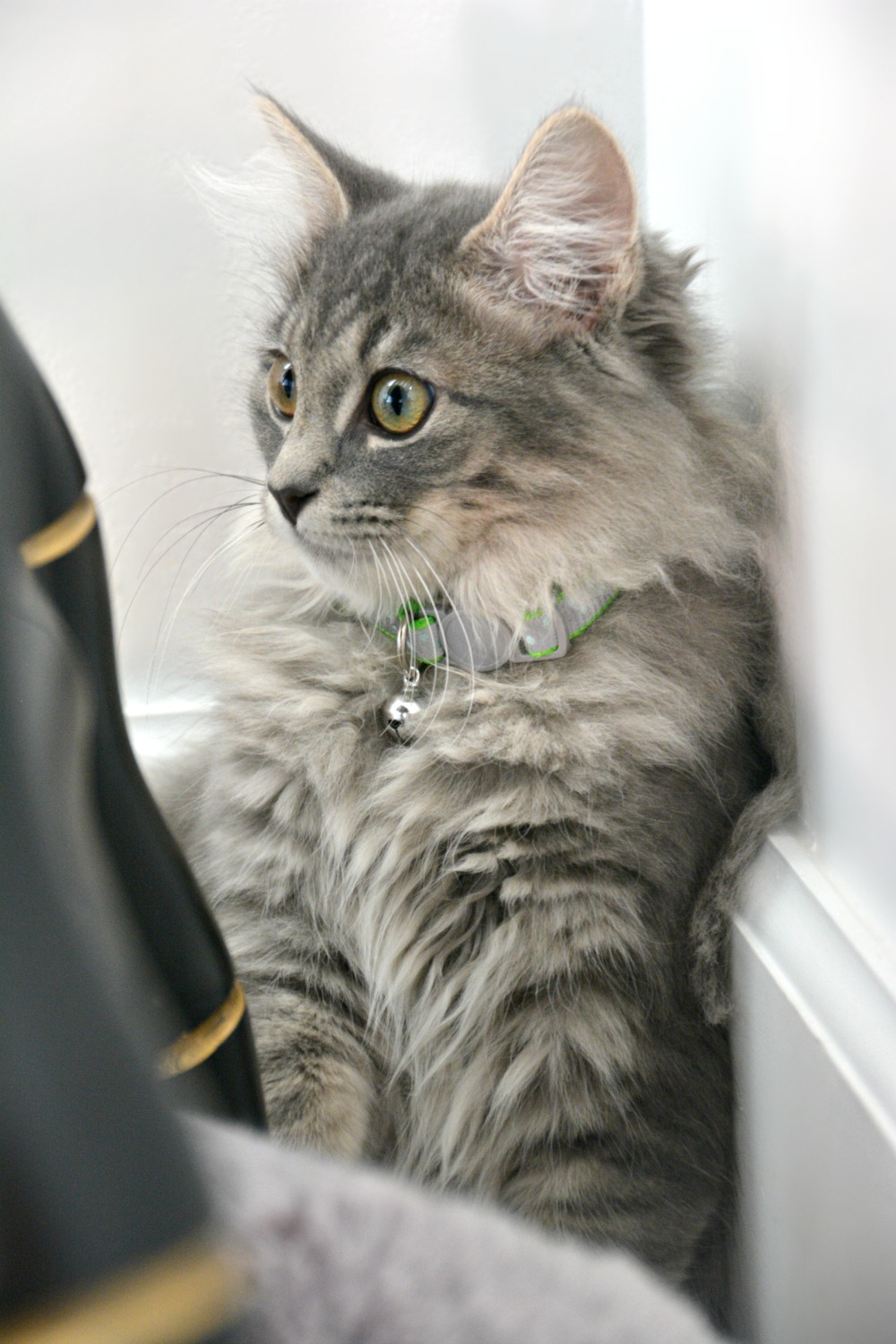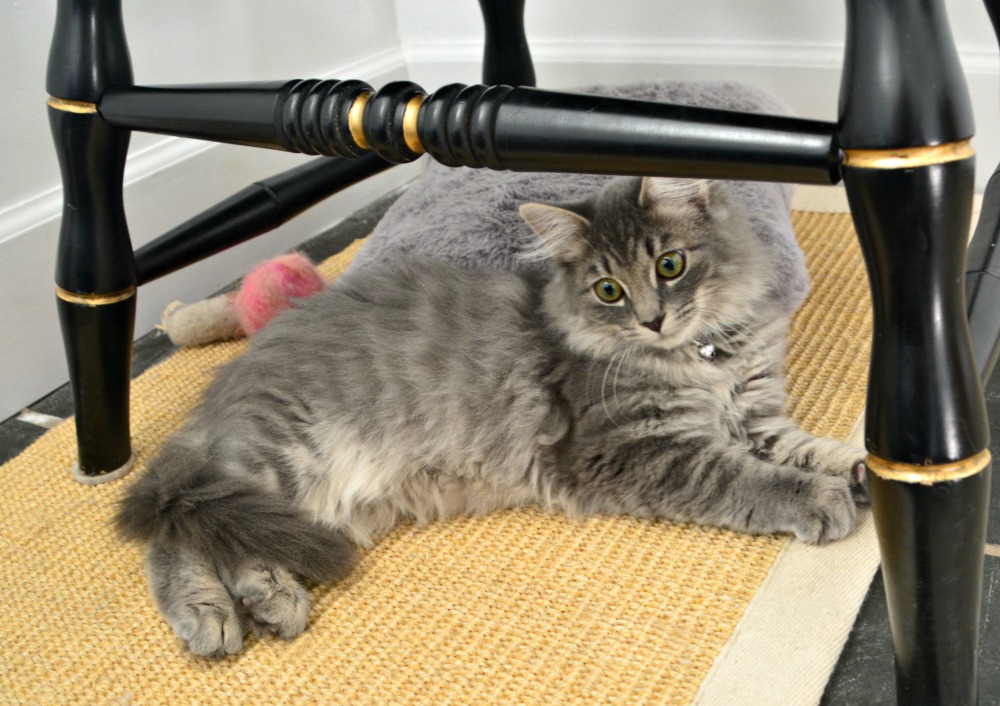 Owning a pet besides fish and insects is new for our family. In my research for cat beds, litter boxes, feeding bowls, etc. I found TONS of fun kitty cat products that would make great additions to any cat home.
I've compiled my 27 favorite kitty cat buys found on Amazon!
These items would make perfect gifts for your feline owning family/friends or to wrap up and gift to your own kitty.
AND, if you have Amazon Prime there is still time to order and receive products before Christmas.

The links provided are affiliate links. Buy products as normal (at no added cost) and we'll receive a small commission. Thanks for supporting our blog so we can continue to produce new content!
Super Soft Sherpa Cushion / Wood Bowtie Cat Collar / Mint Dipper Bowl
24″ Pet Teepee / Gray Felt Collapsible Storage Basket / Bamboo Grooming Slicker Brush
Faux Plant Hidden Litter Box / Feather Mouse Catnip Toy / White Litter Box & Scoop Set
Ceramic Drinking Fountain / Black Stripe Pet Carrier Tote / Scoopy The Cat
Set of 5 Natural Cat Toy Wands / Luxury Shag Donut Cuddler / Silicone Pet Food Can Covers
Pack of 4 Litter Scoops / Boar Bristle Cat Hair Brush / White Pet Gate*
Wood Litter Box Enclosure / Sheepskin Pet Rug / Wool Ball Toy Set
Magical Pet Hair Cleaning Brush / Stainless Double Bowl Feeder / Wicker Bed with Faux Fur Insert
Checker Pet Carrier Handbag / Gray Felt MEOW Bed / Woven Felt Storage Basket
*Tall gate may work well for keeping a kitten out of certain areas. Personally I would recommend stabilizing the gate to make sure a larger, stronger cat couldn't knock it over. Depending on a cat's leaping capability the height of this gate might not be sufficient.
Thanks for stopping in today.
Have a wonderful holiday season!