I don't know about you but cold weather makes me crave a nice hot bowl of chili.
I love pretty much every kind of chili but my favorite is white chicken chili.
As I was looking through my pantry the other day I noticed I had all of the pantry staples I needed to make a basic white chicken chili AND sitting with the cans of beans and green chilis was a lone can of pineapple.
My mom makes a delicious cheesy baked pineapple casserole so the wheels started turning…why couldn't I add pineapple into a pot of chicken chili? Pineapple and chicken are a delicious combo…baked pineapple and cheese makes a delicious combo…cheddar cheese on chili is a delicious combo…are you seeing how my mind was working?
I decided to go for it and I'm so glad I did!! This Pineapple Chicken Chili was yum-yum-yummy if I do say so myself! My eight-year-old even gave it a try and then requested a bowl to go alongside her grilled cheese sandwich.
This chili will make the perfect unique dish for a Super Bowl party or Chili Cook-off!
Grab your ladle and let's get cooking!!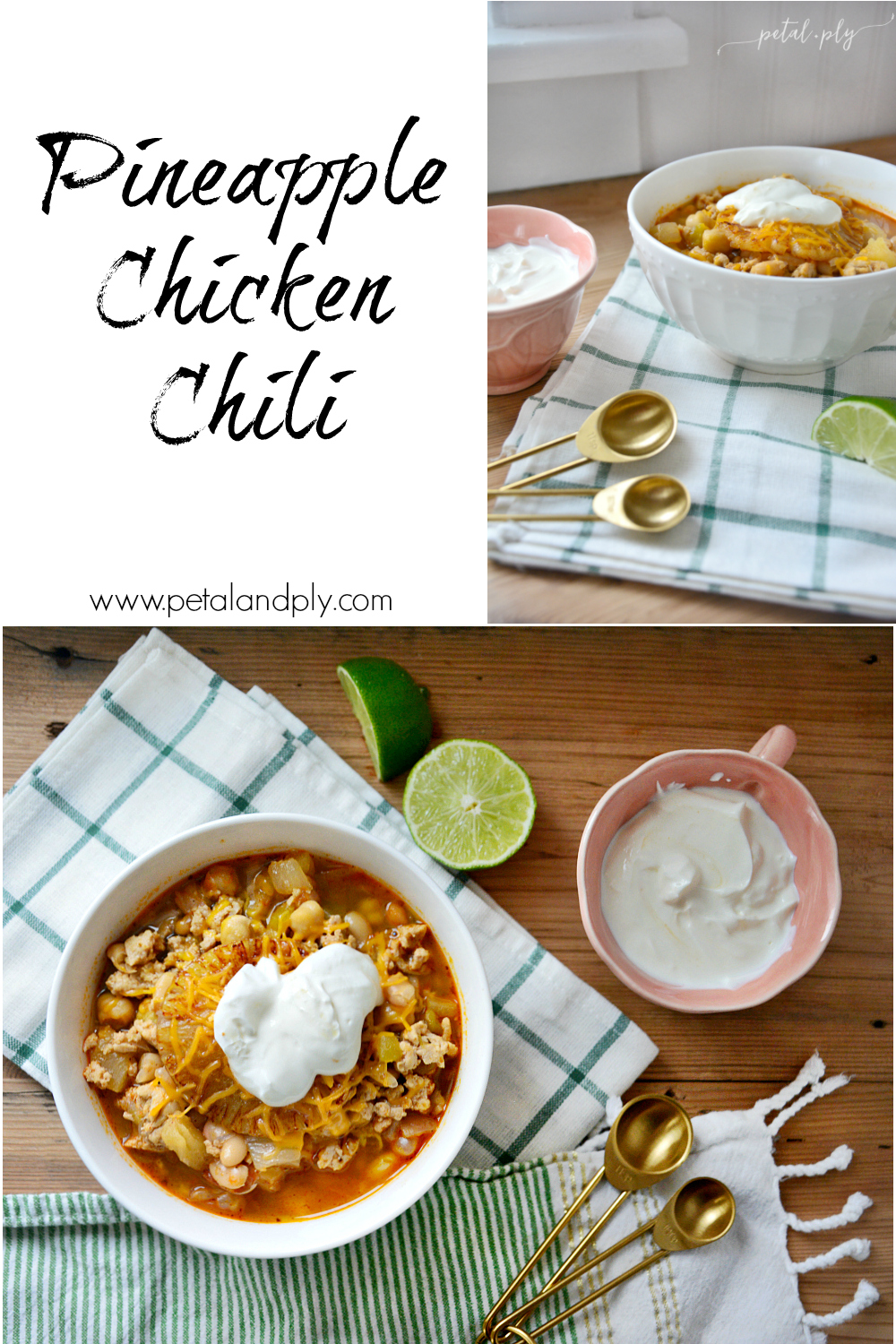 Slow-Cooker Pineapple Chicken Chili
Prep: 20 minutes      |      Total: 6 hours 20 minutes      |      Servings: 8
Ingredients
2 lbs ground chicken (seasoned with salt/pepper)
2 tablespoons cooking oil
1 large onion
1 clove garlic
1/4 teaspoon cayenne
1 teaspoon chili powder
2 teaspoons cumin
1 teaspoon oregano
3/4 teaspoon pepper
2, 15.5 oz cans great northern beans (rinsed & drained)
1, 15.5 oz can chick pea garbanzo beans
1, 7 oz can diced green chilis
1, 20 oz can pineapple chunks in 100% pineapple juice
2+1/2 cups chicken stock
8 grilled pineapple slices
Toppings
shredded cheddar cheese
sour cream
chopped fresh cilantro, if desired
lime wedges, if desired
sliced avocado, if desired
Steps
1   Heat 1 tablespoon oil in skillet on medium-high heat. Add ground chicken (+ salt/pepper to season); cook 6 to 8 minutes, stirring occasionally, until no longer pink. Drain and place chicken in slow cooker.
2   In same skillet, heat 1 tablespoon oil over medium heat. Cook onion, garlic, cayenne, chili powder, cumin, oregano, & pepper, stirring frequently, until onion is tender. Add to slow cooker.
3   Add 2 cans of great northern beans, 1 can chick pea garbanzo beans, 1 can diced green chilis, 1 can pineapple chunks & juice, & 2 cups chicken broth to slow cooker.
4   Cover; cook on LOW heat setting 6 hours.
5   Grill or pan cook sliced pineapple rounds before serving.
6   Top each serving with 1 pineapple slice, 1/4 cup shredded cheese & 1 heaping tablespoon sour cream. Sprinkle with cilantro. Serve with sliced avocado & lime wedges.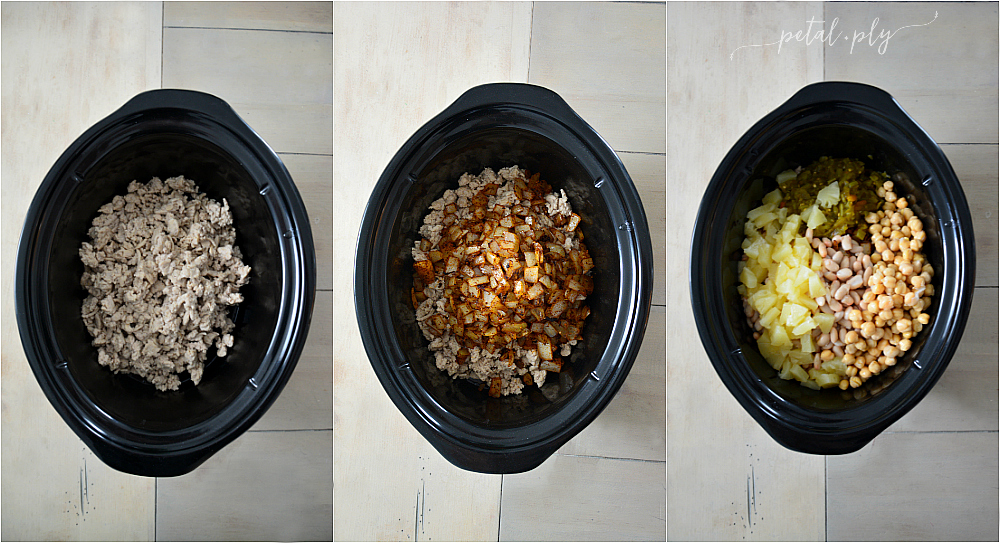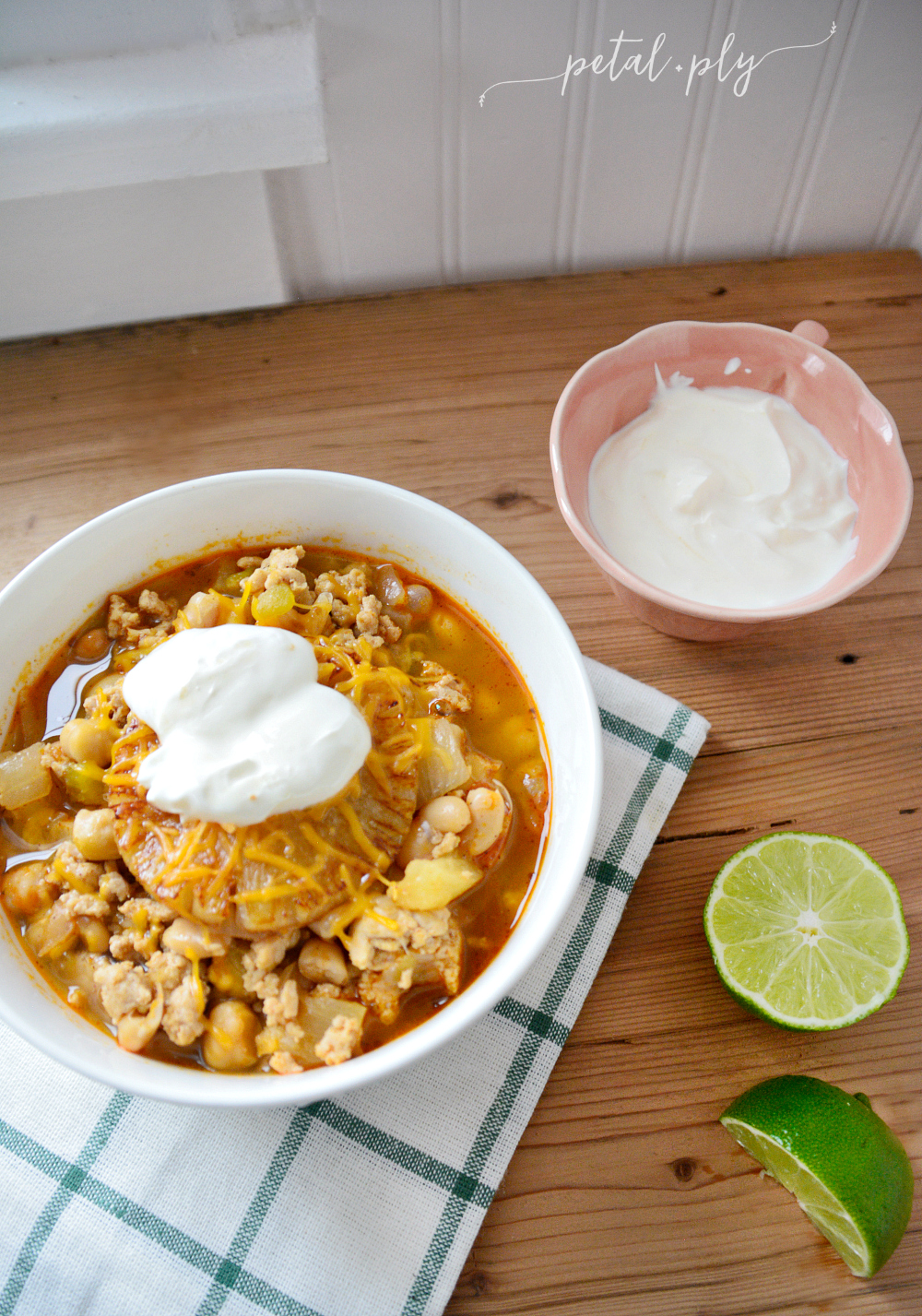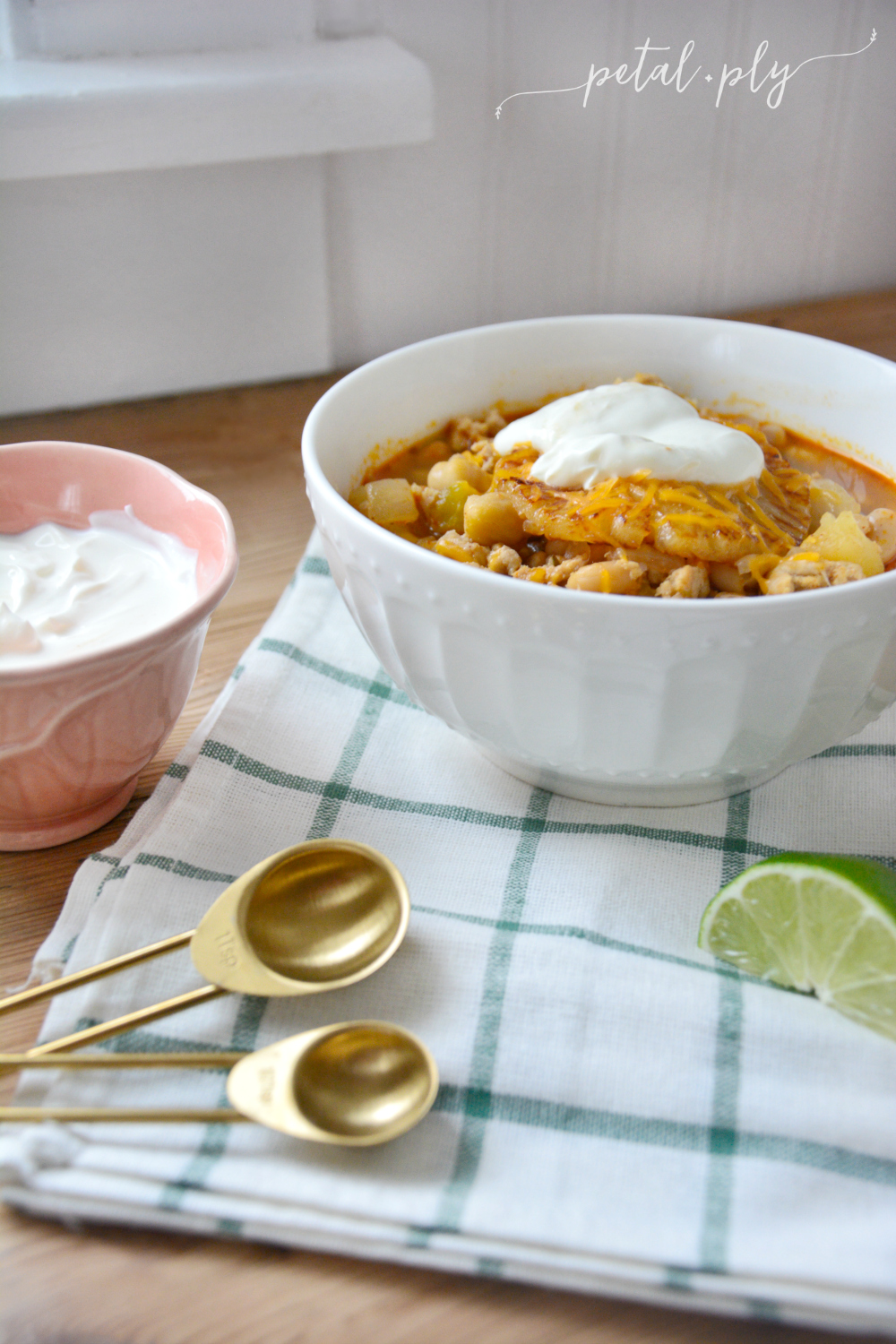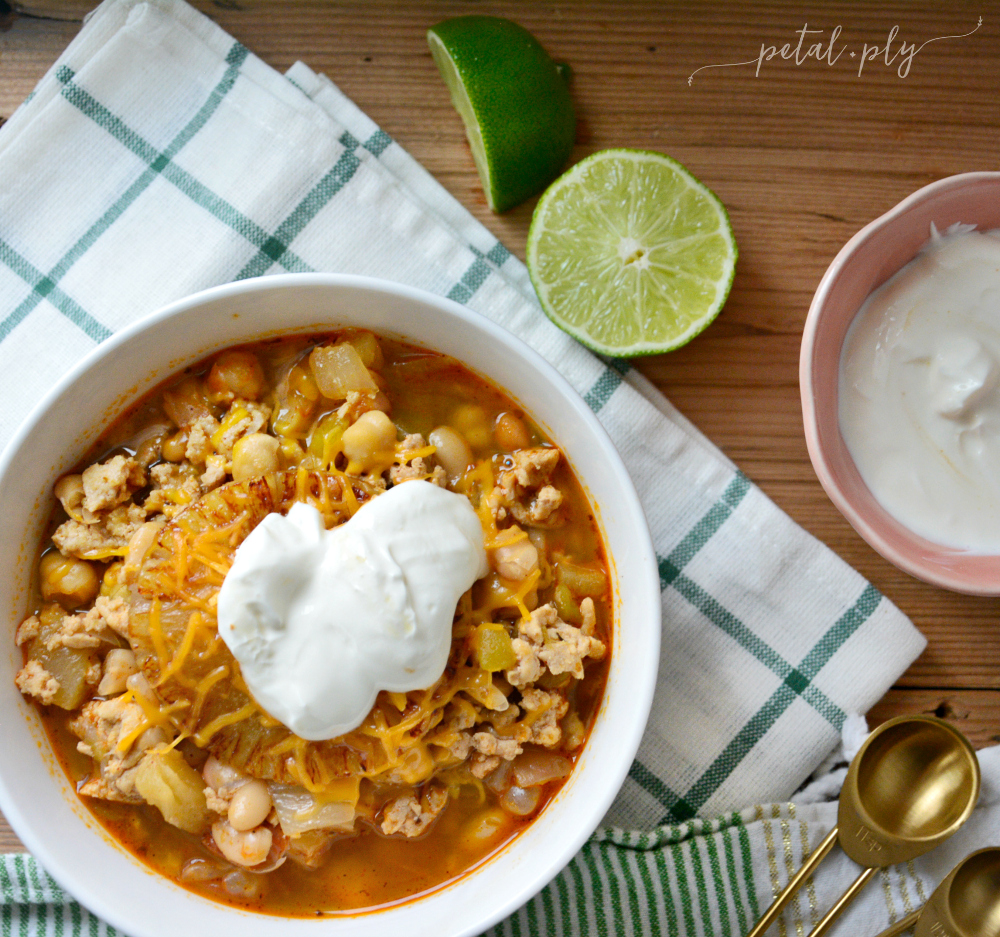 Please let me know if you made this dish and what you thought!
If you loved it will you please consider sharing?
bon appétit,