One more week!
That's all the time we have left until the final reveal of our Spring 2017 One Room Challenge™ family room.

We have been busily working on wrapping up the rest of our projects for the space. I am happy to report that it looks like we will indeed finish everything on time!
If you missed some of the previous posts in this series you can catch up with the links below:
Eclectic Botanical Farmhouse Family Room
Week 1 | The Design
Week 2 | Progress
Week 3 | Paint + Accessories
Week 4 | The Most Realistic Faux Fiddle Leaf Fig DIY
Week 5 | *Current Post*
Week 6 | Final Reveal
This week we worked on building, painting, and installing custom shelves and a bench flanking our fireplace. One side is complete and we have just a few hours worth of work to go on the other side (bench seat/shelving side).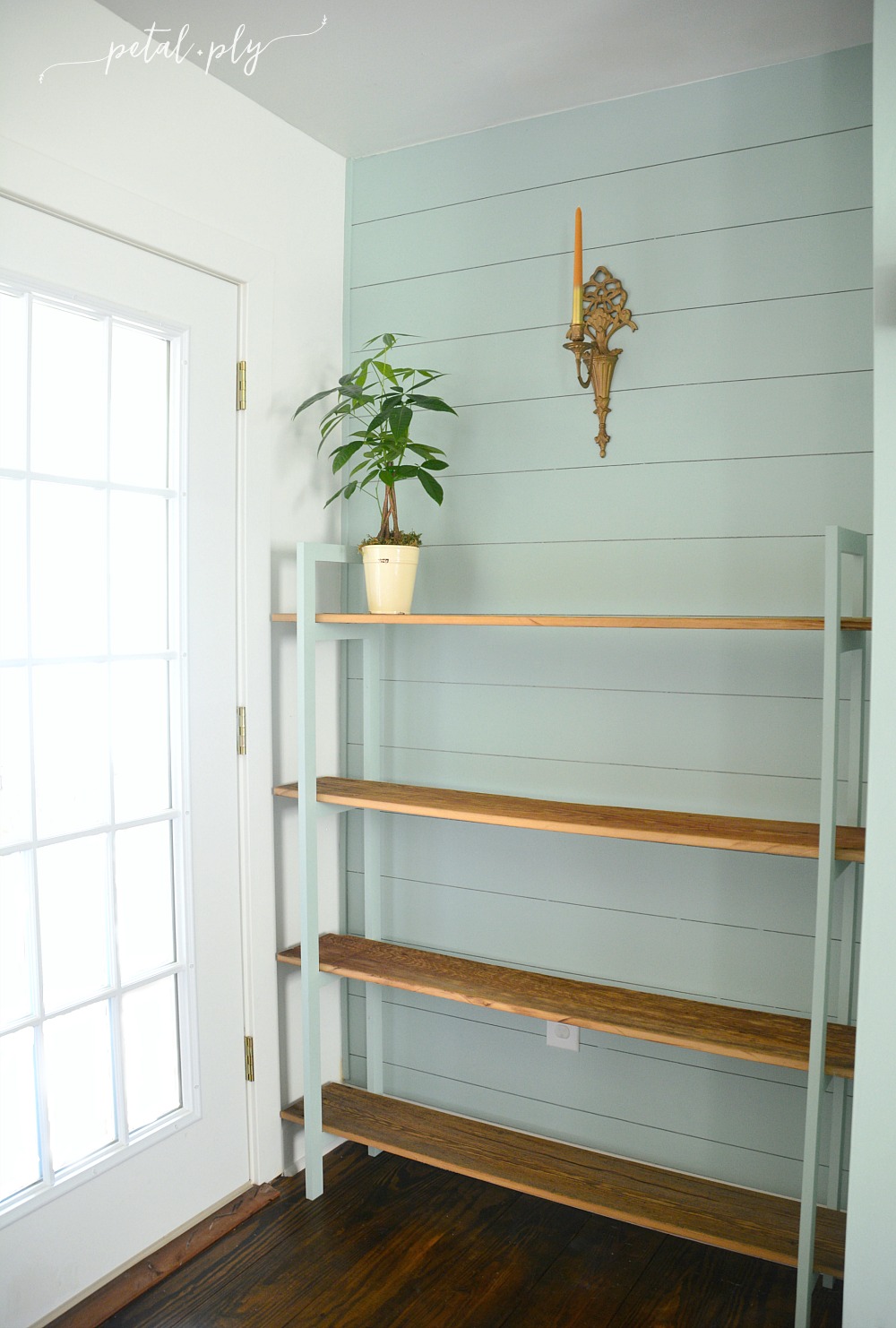 I also used my roll of pretty paper to cover some of the books that peek out from behind our TV. I turned all of the books around for a much more subtle and pretty backdrop.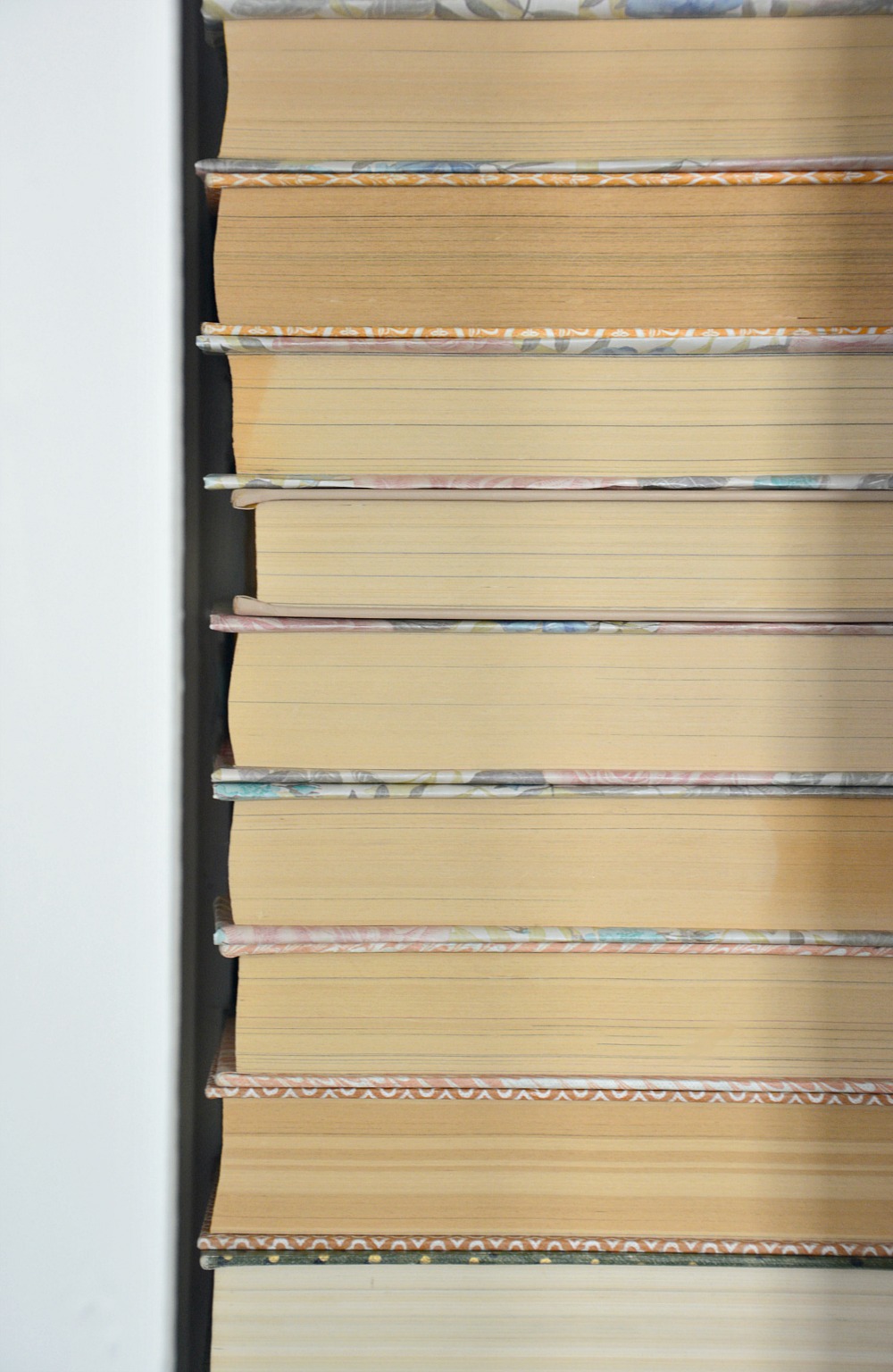 Out came the brown bottles. I've been slowly pulling out and cleaning up the decor I want to move into this room. Right now the brown bottles are on the mantle, up and away from little hands. I plan to buy some fresh flowers to display in them for the final reveal.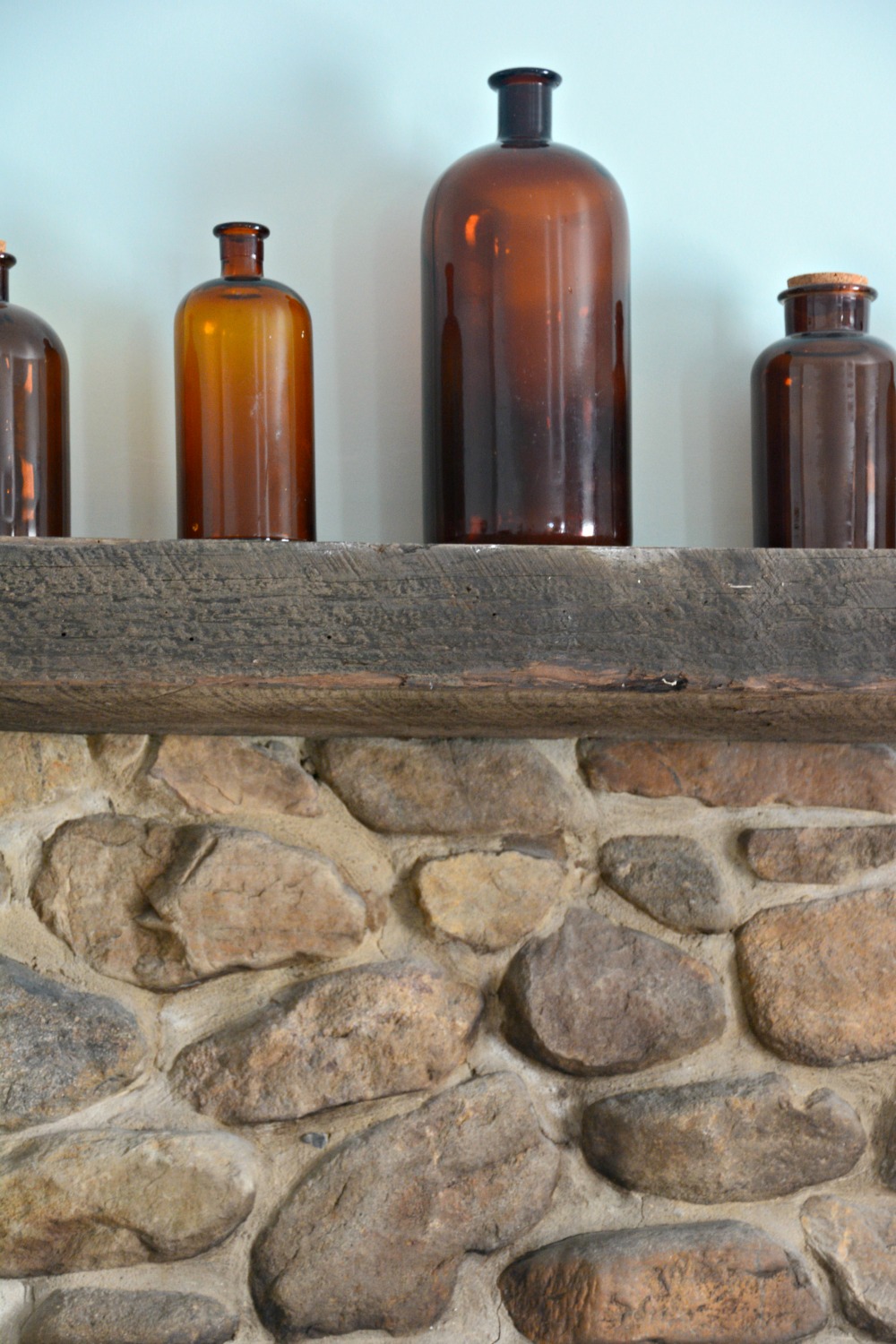 I'm excited about the pillow covers I made from a set of nubby napkins and fabric from some old linen drapes. They came together very quickly and look great. I've had these napkins for well over a year with the plan to turn them into pillow covers. Nothing like a 6-week challenge to finally give me the motivation to get it done!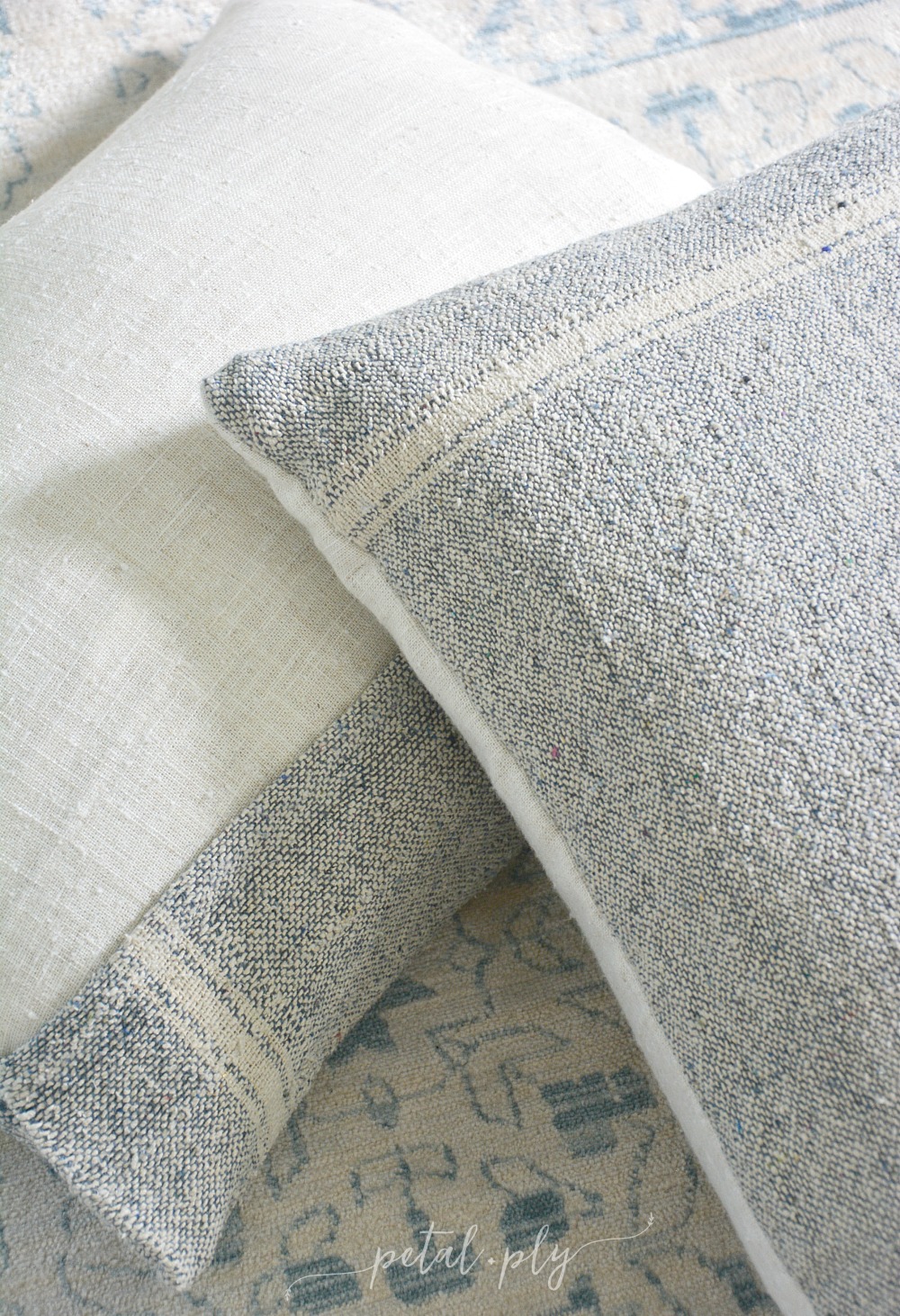 Now if only I could pick up the pace on upholstering a set of chairs for in front of the fireplace. I was hoping to buy a pair of new chairs, but sadly that expense isn't in the budget, so I'll be recovering a pair of armchairs that were given to us a few years ago. This floral fabric (which I already had on hand) will go on the back and the vintage look tan velvet will cover the front.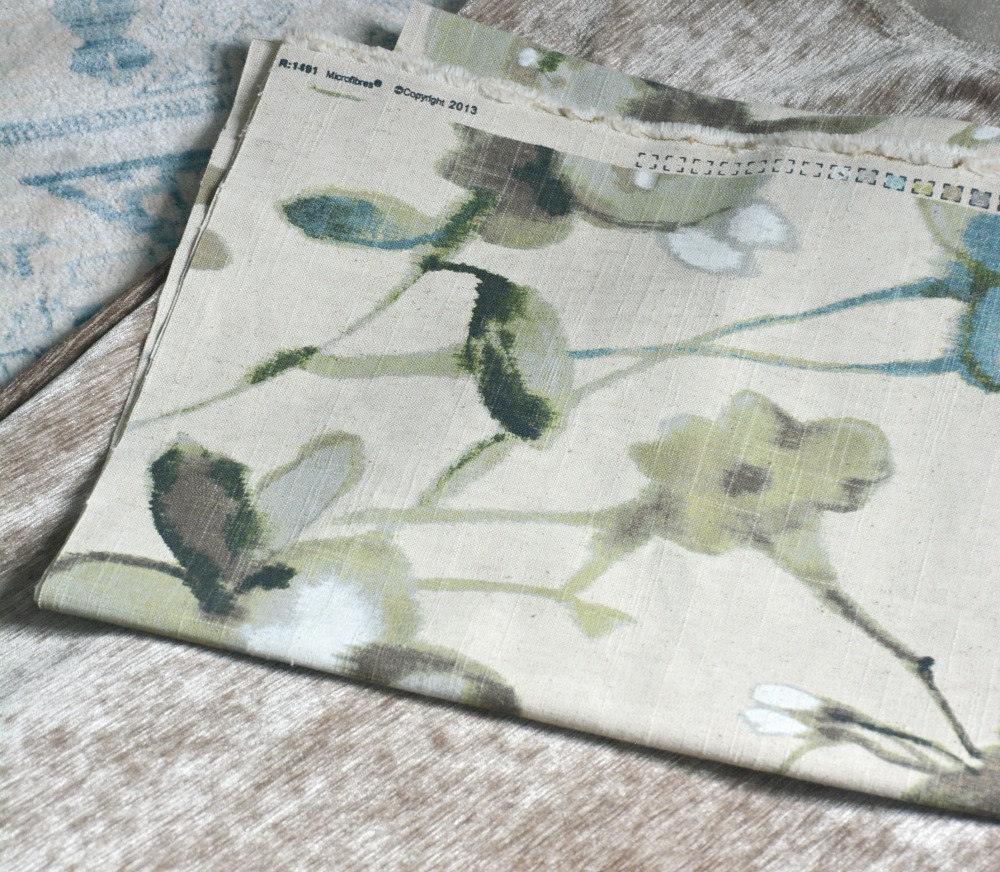 For me, the majority of this week was spent painting.
I painted and hung the old frame we turned into a shadowbox.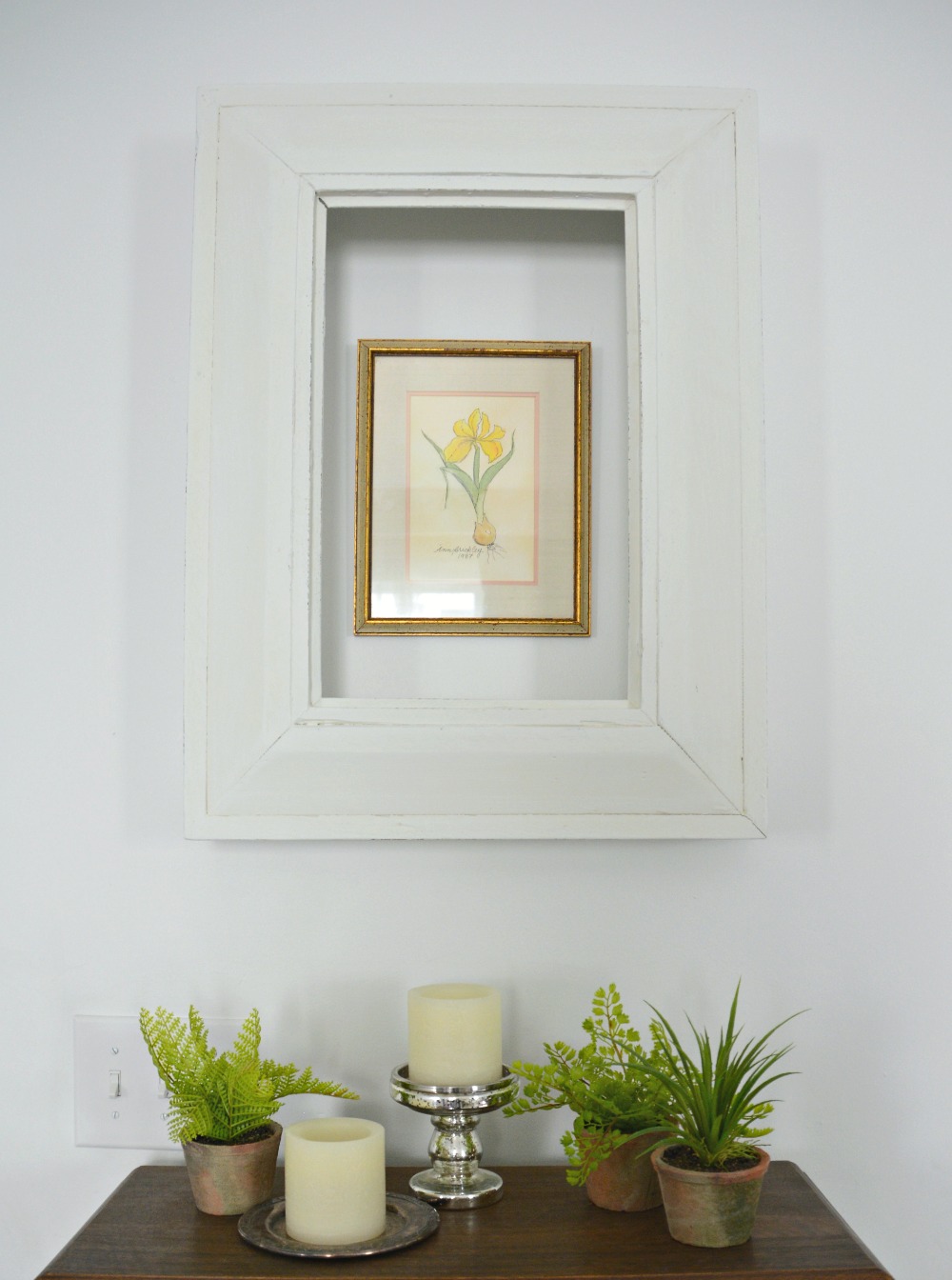 I finished painting the tufted armchair.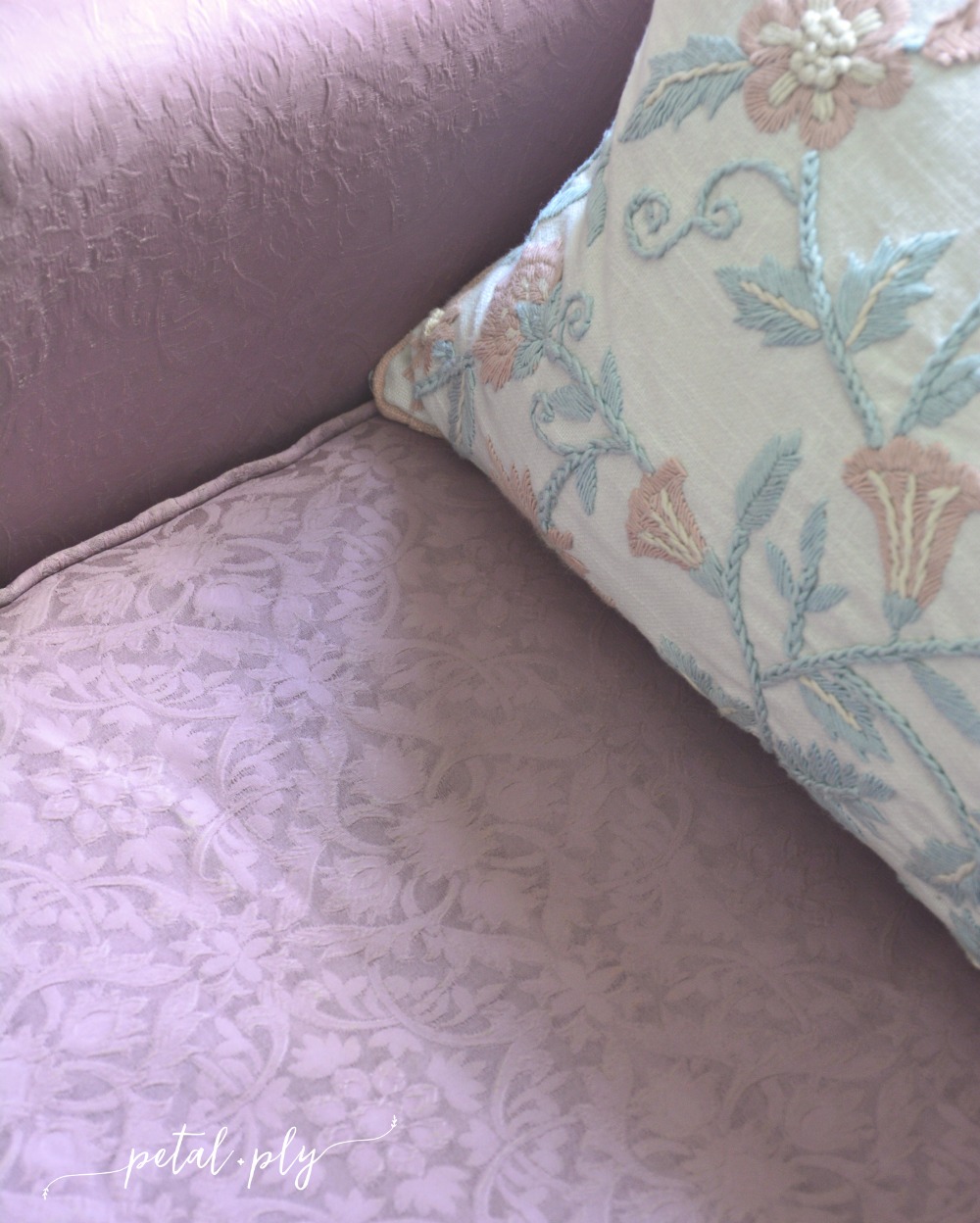 And, I got to work on painting the console table my husband built. I'm planning on distressing the base and I still need to pull out some white and gray paint to add patina to our faux zinc table top.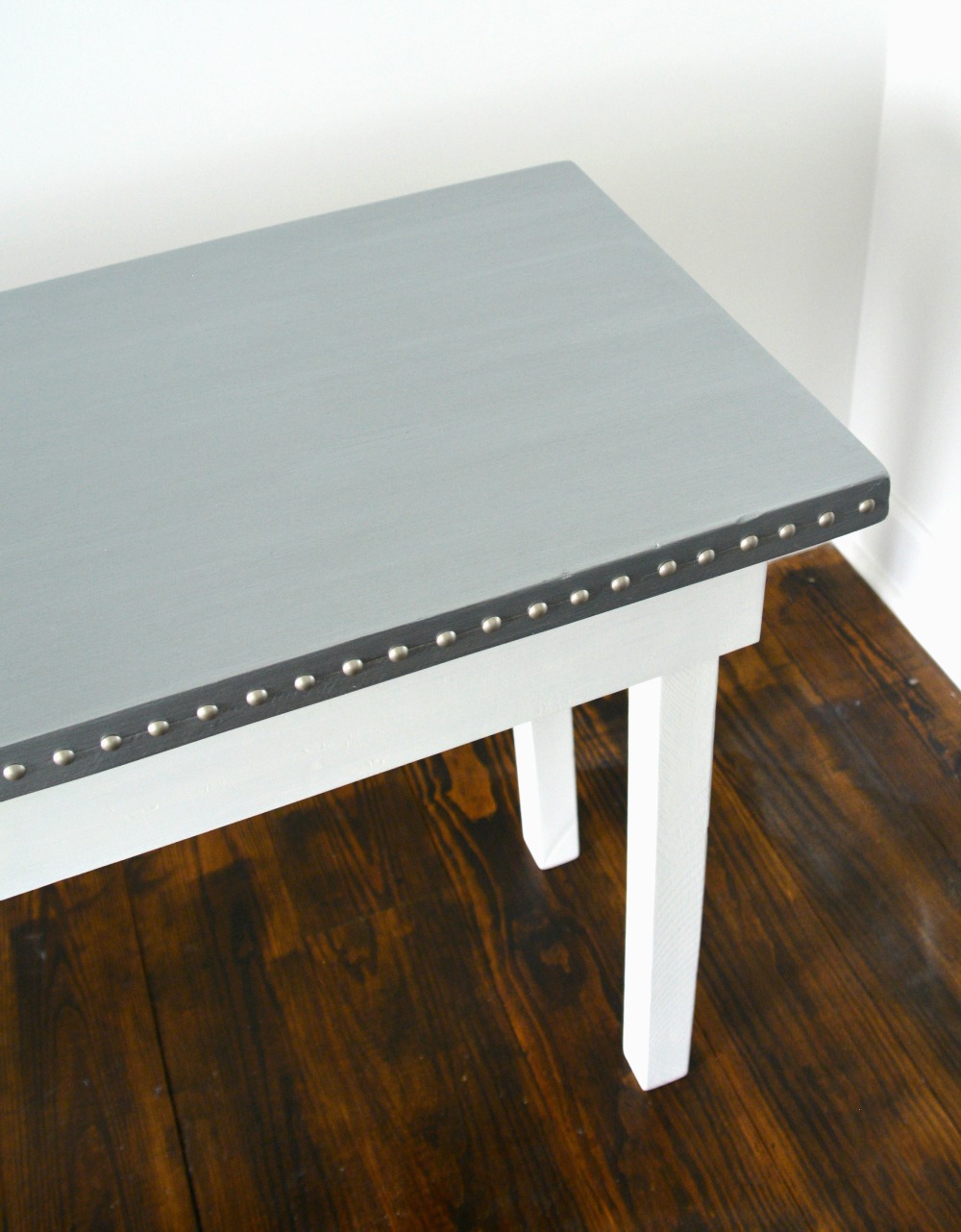 We are so close! Hooray!
We have almost finished everything on our to-do list:
install shiplap walls surrounding fireplace
install built-in shelving and bench seating surrounding fireplace
paint shiplap and built-ins
source plug-in wall sconces to flank fireplace   ->  to save $$ we've decided to repaint and use candle sconces we already own
build console table for wall beside french doors   ->  finish painting console table
build farmhouse style bench to place behind the exposed section of sofa
build, install, & paint window cornices
swap out curtains
patch together 2, 4'x6′ rugs to place in front of french doors
paint sunroom and bathroom doors
refinish art file
paint tufted chair upholstery
refinish end tables
replace coffee table
replace too small rug
source matching accent chairs for in front of fireplace  -> redo a pair we already own
add decorative wood trim to built in entertainment cabinet
sew a few new pillow covers
"plant" silk fiddle leaf fig
pull together finishing touches (style the room!)
This weekend I hope to knock out the last project on our list – reupholstering the pair of chairs we already own. That will give me time to style, photograph, edit, and write up the big reveal post for this Thursday, May 11th!! I feel like we're way ahead of pace from some of the previous ORC's we've completed! I'm so thankful that we really pushed it to get projects knocked out in the first few weeks.  I'm so excited to see all of the final reveals next week. To see how the rest of the participants are doing stop over at the Calling It Home blog.
Thanks again to our Spring 2017 ORC sponsors eSaleRugs and Best Home Fashion.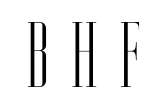 See our sponsors featured in these posts:
Fabulous & Affordable Area Rugs + Our One Room Challenge™ Rug Reveal
The Best of Best Home Fashion + Our One Room Challenge™ Curtain Reveal
Hope to see you next week for the final reveal!!