Today's the day!!
Time to reveal our boys' shared bedroom overhaul.
Over the last seven weeks we've been working on their bedroom as a linking participant in the One Room Challenge™ hosted by Linda of Calling It Home. Even with an extra week this ORC went by so quickly! I love how the boys' room came out. The furniture layout provides so much space for them to play!!

If you missed any of this series you can catch up here:
week 1 | Week 3 | Week 3 | week 4 | week 5 | week 6
Welcome in!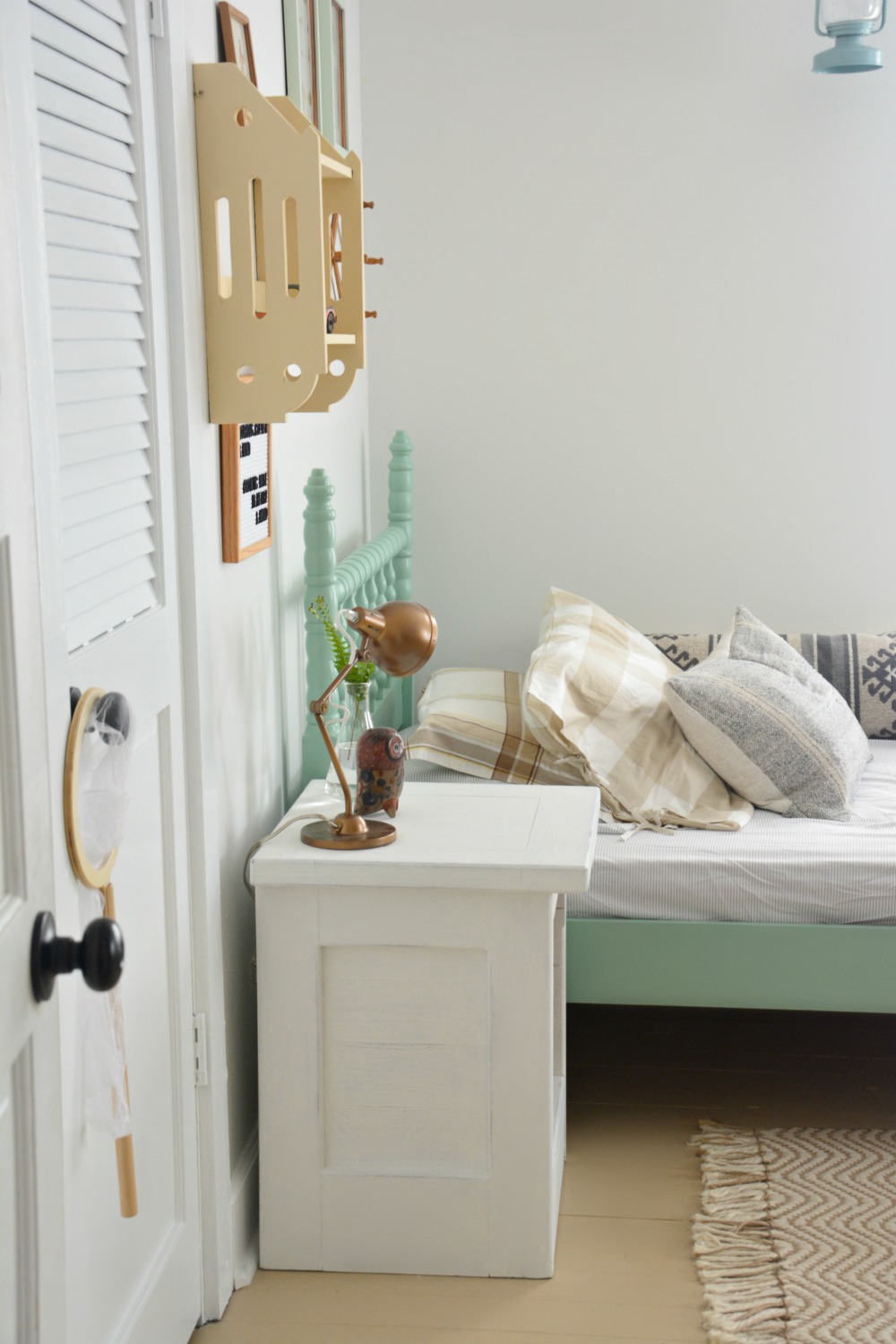 Before we get to far let's take a look back to this room three years ago.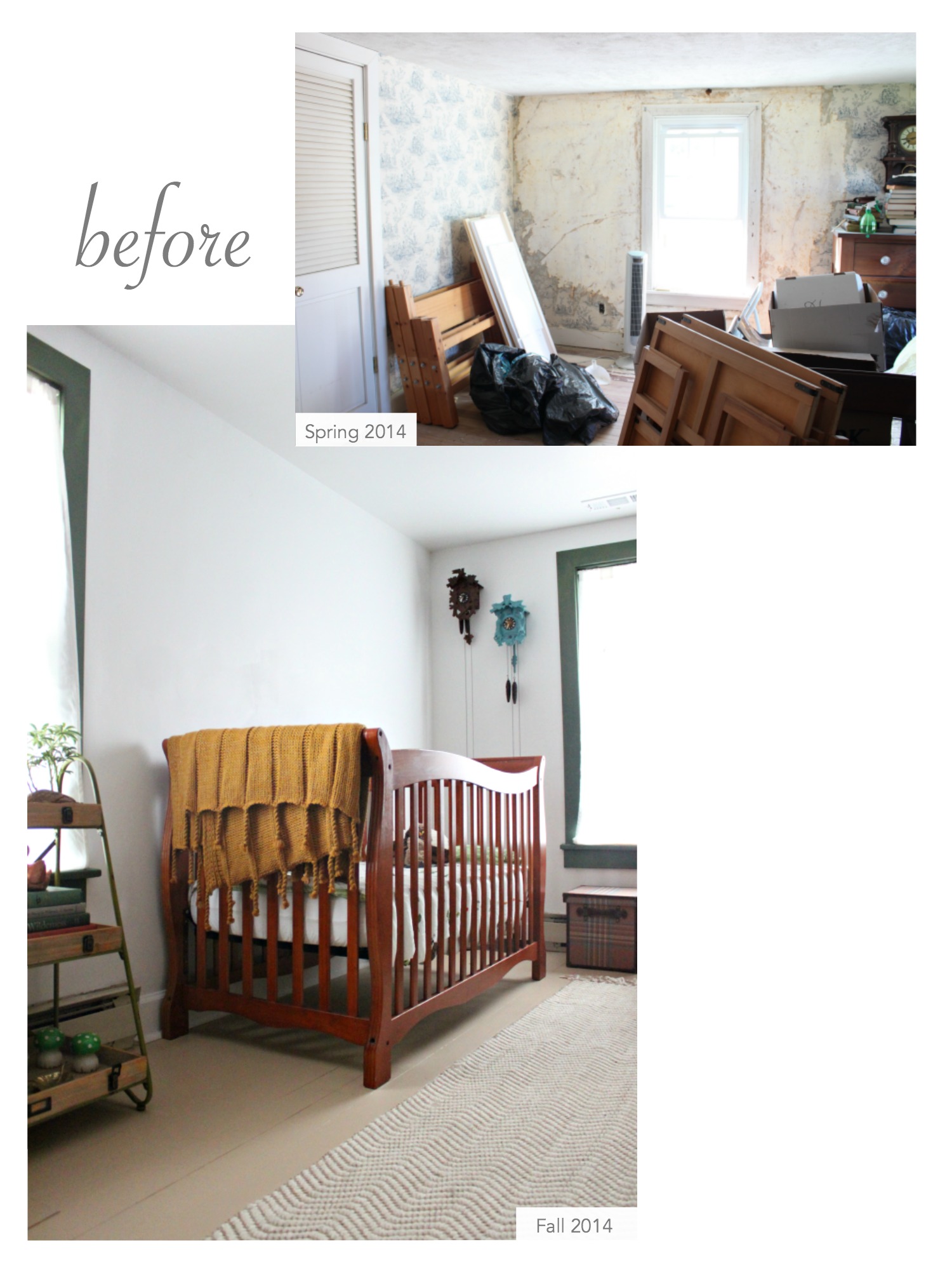 When we bought the house almost 4 years ago this room was a disaster!! In the fall of 2014 we designed and installed a camp theme room for the boys. Now that they're three years older and we needed to make the transition to two twin beds it was a good excuse to give it another update. It's hard to believe how much it has changed.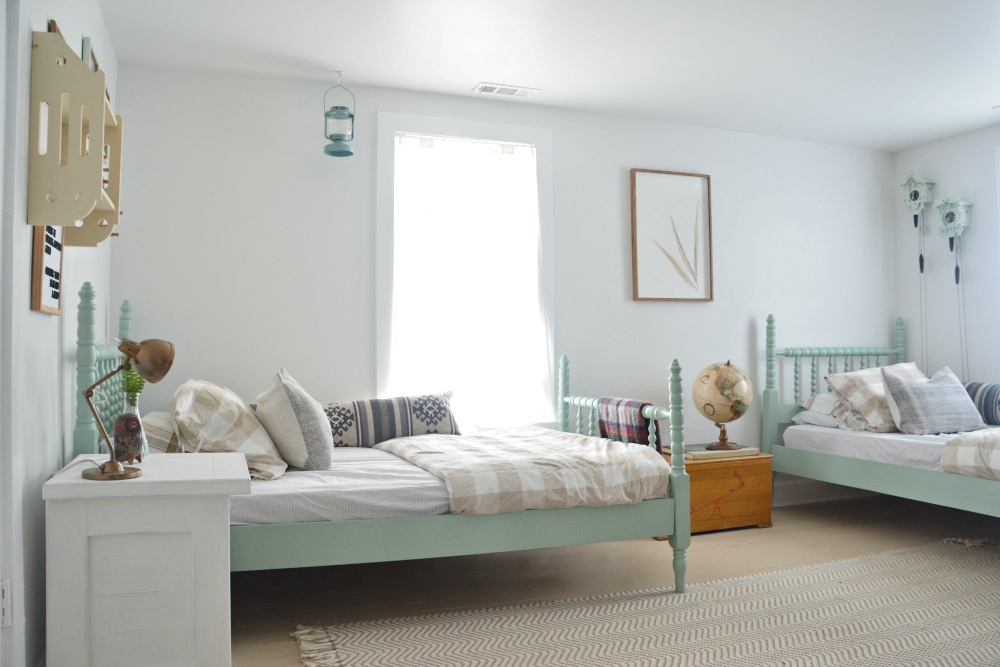 This room is chock full of DIY, refinishing, and repurposing projects. It has been a real labor of love & PAINT has been my best friend over the past seven weeks.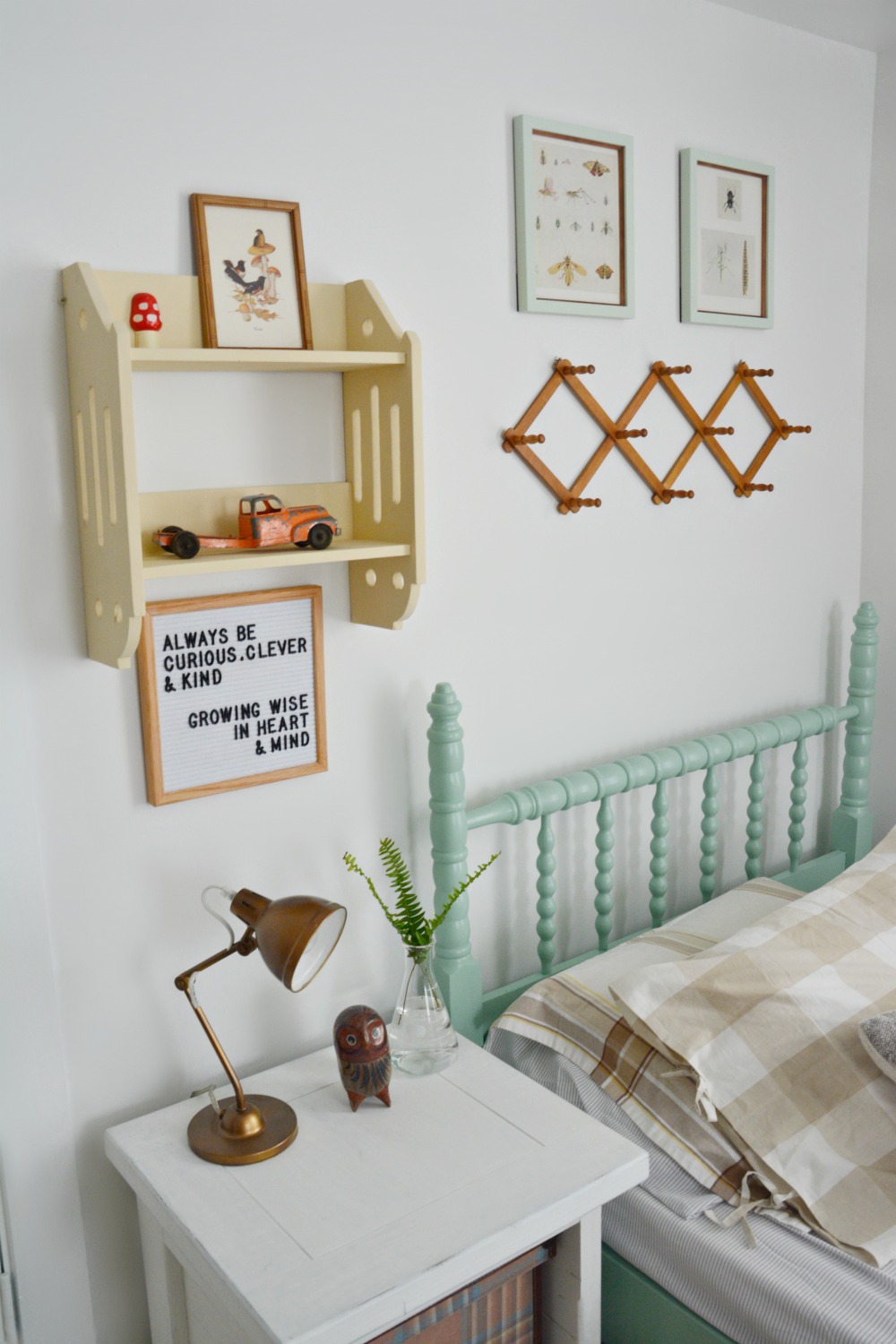 With a paintbrush in hand and my mind on insects & adventure, I even wrote a little poem for my boys!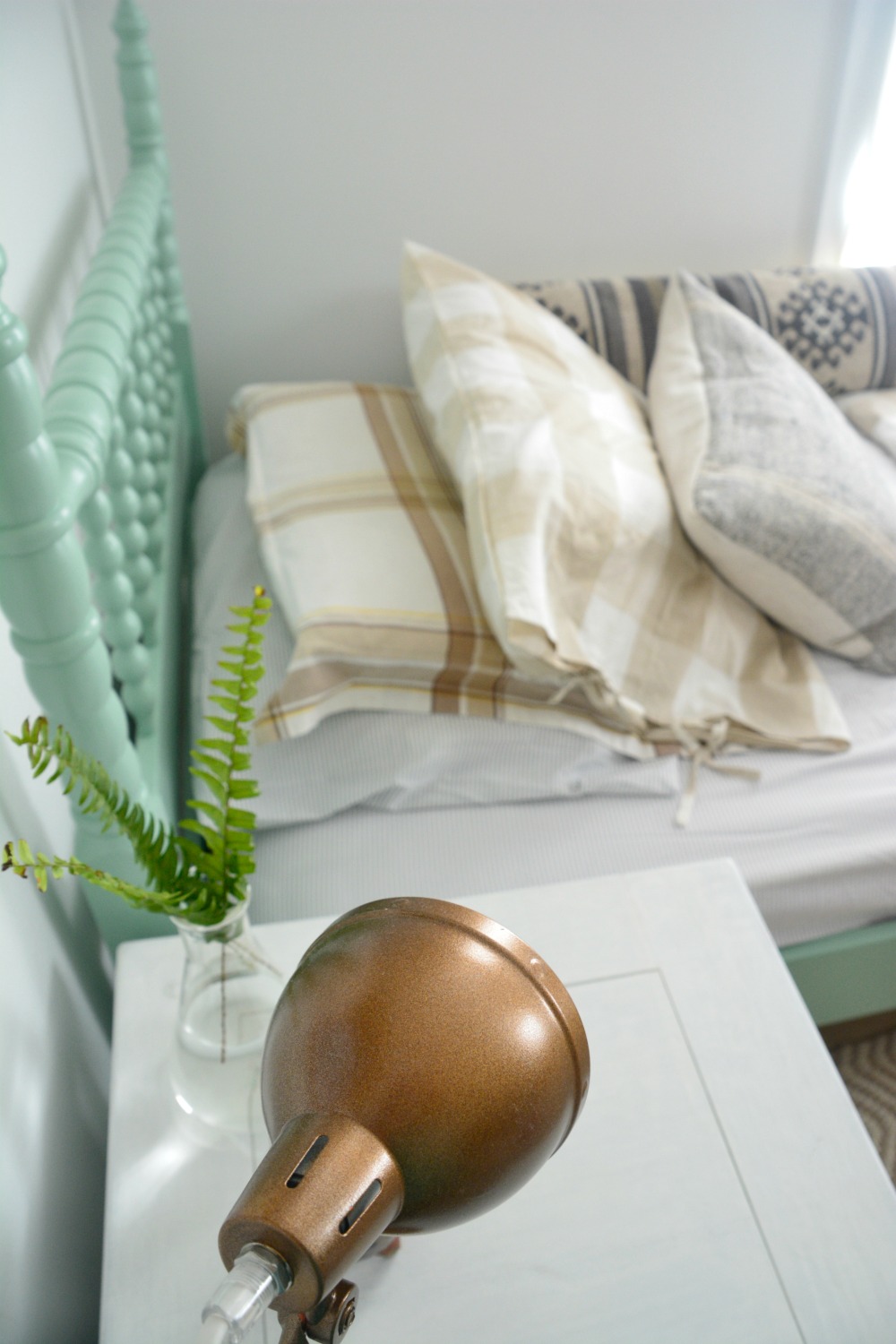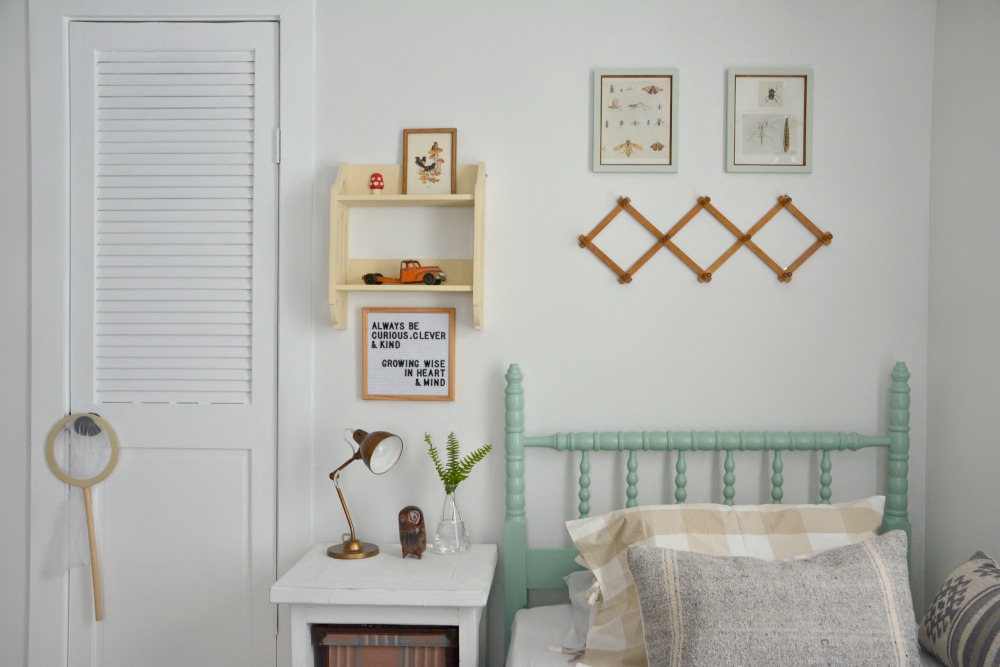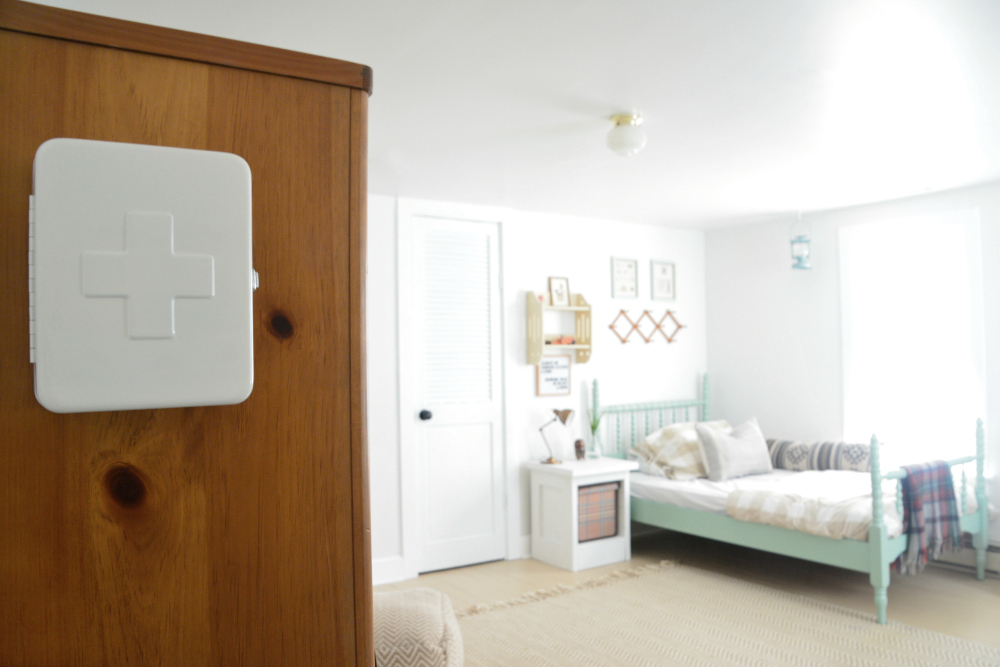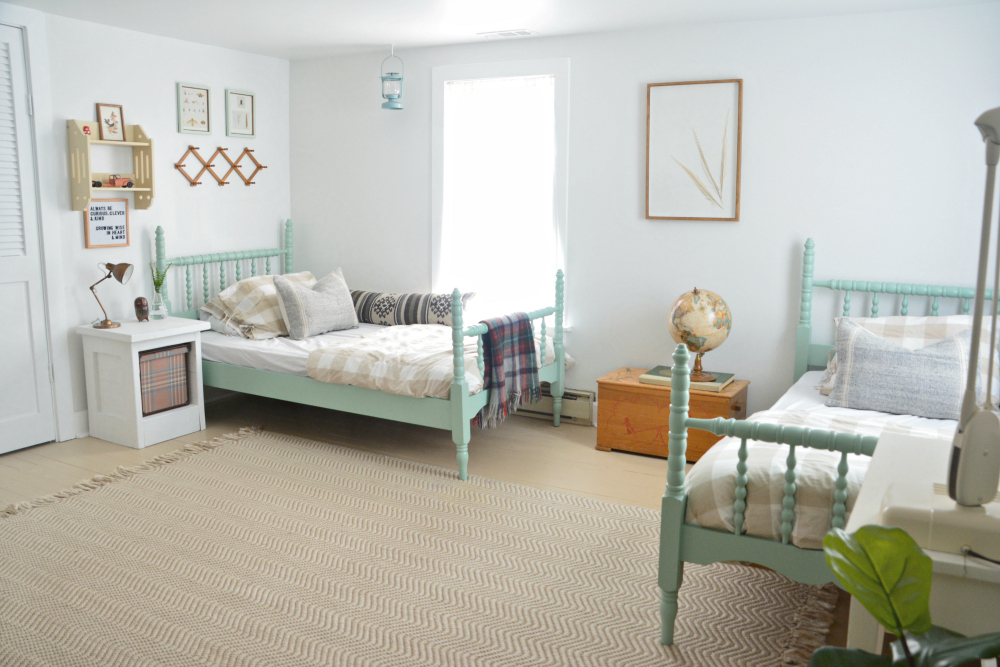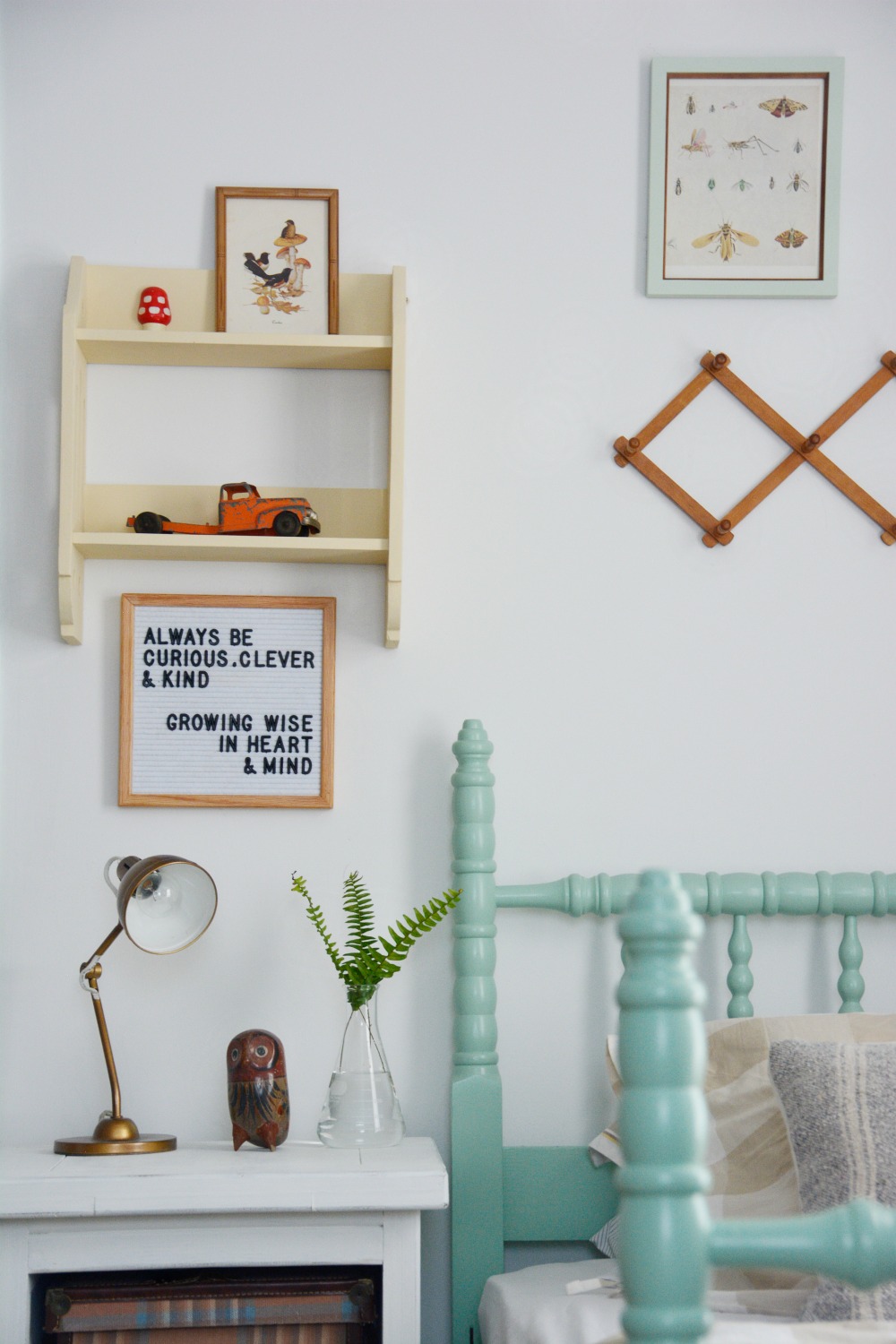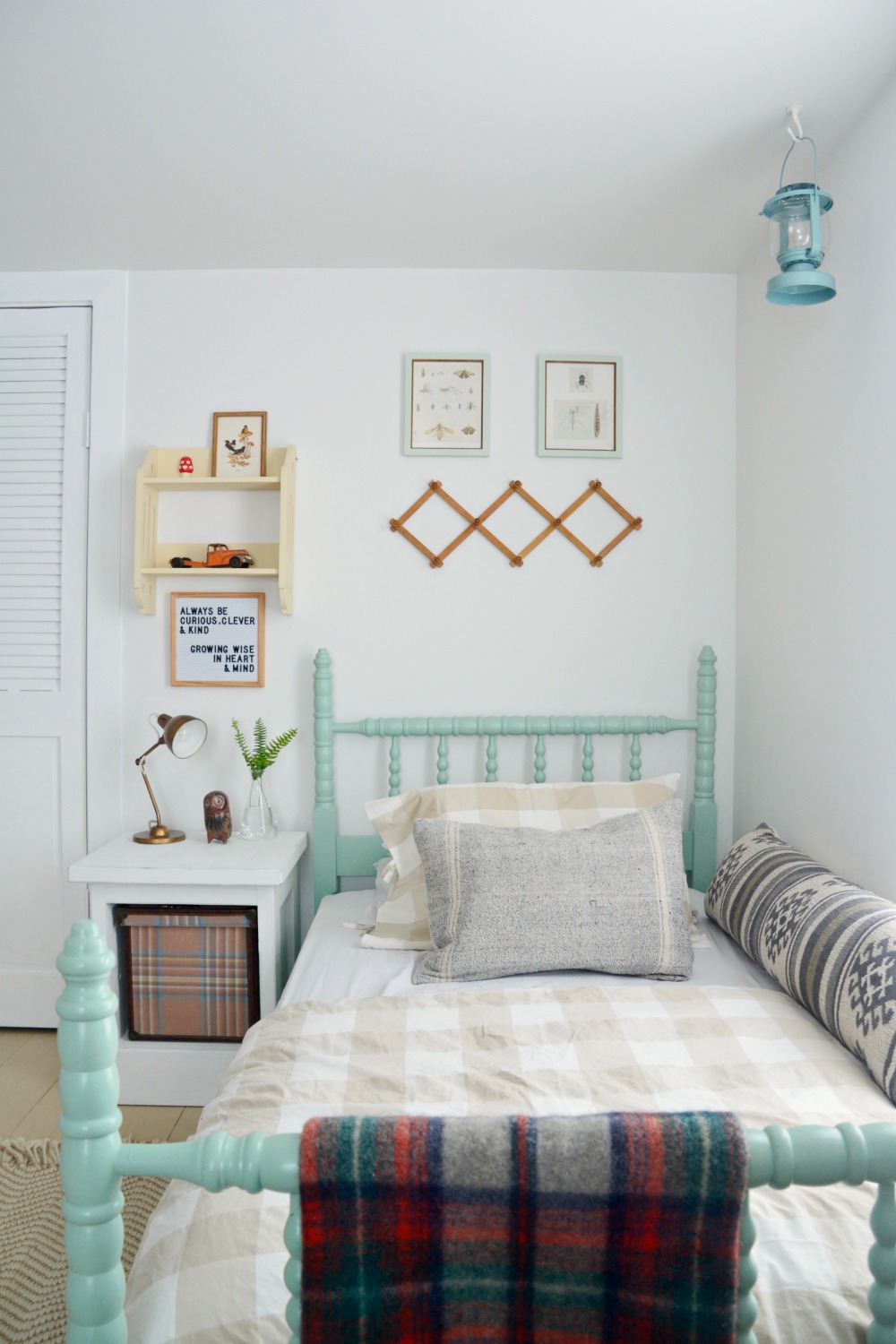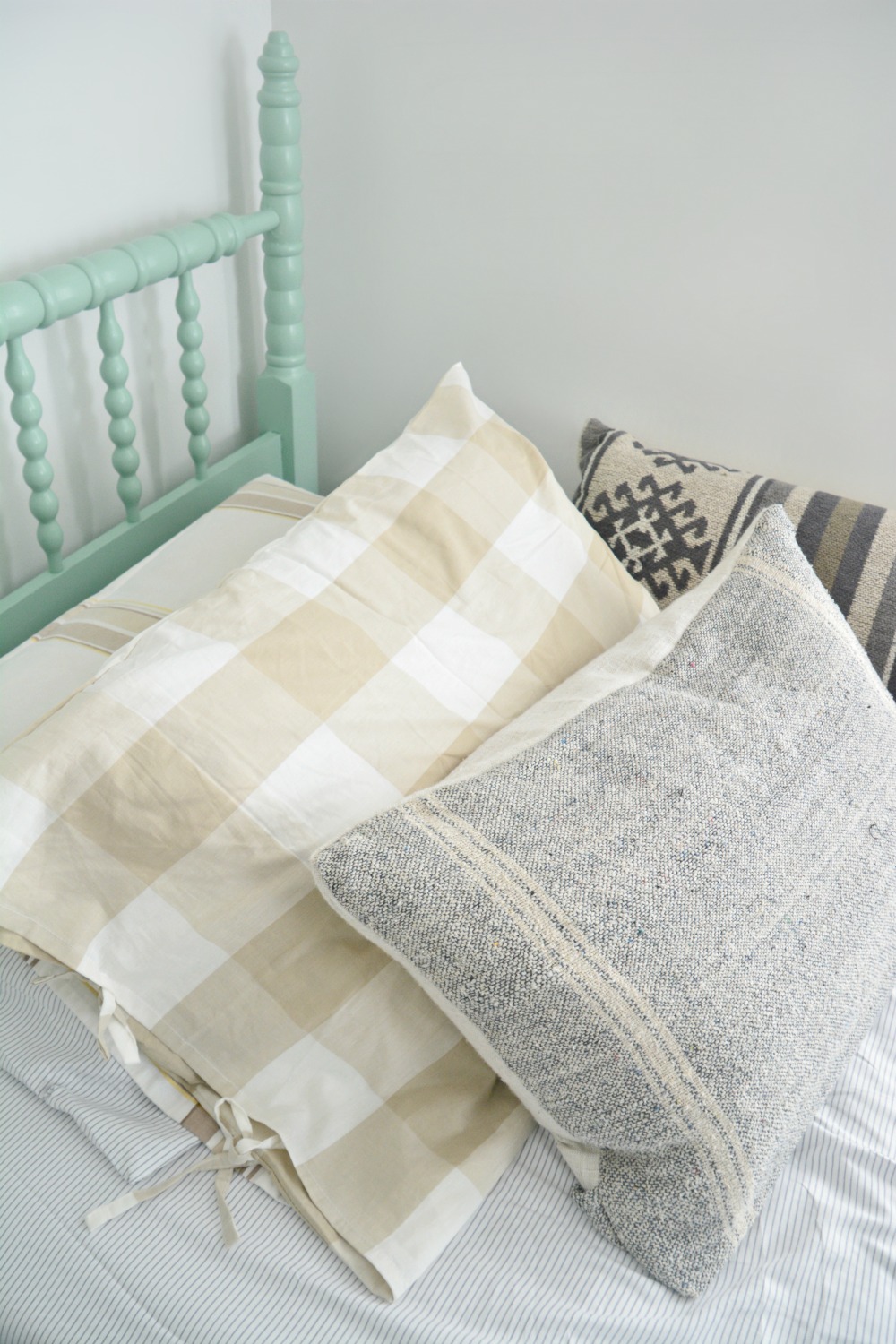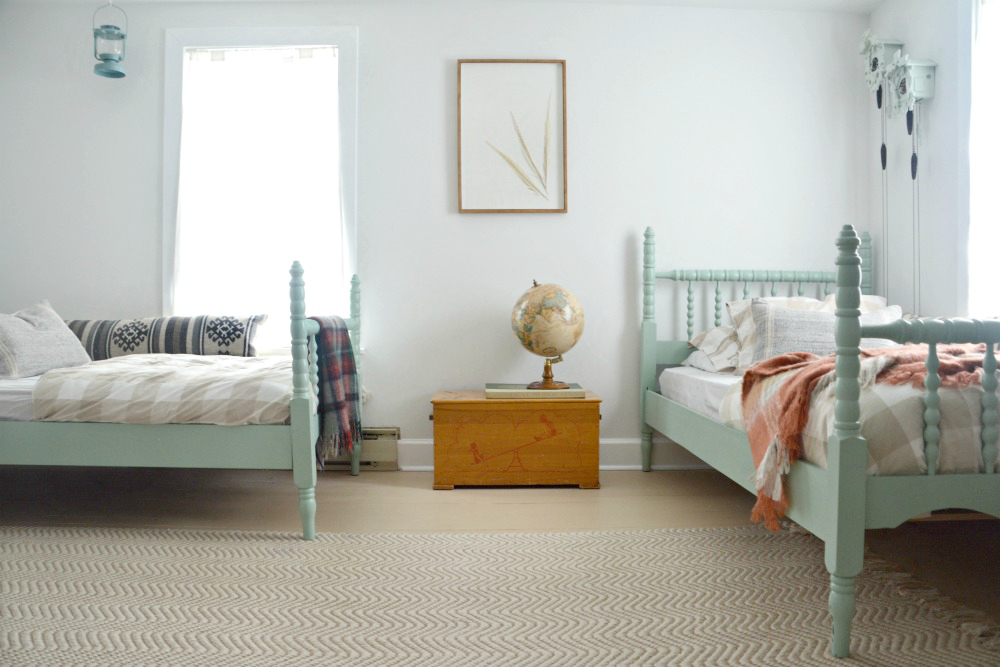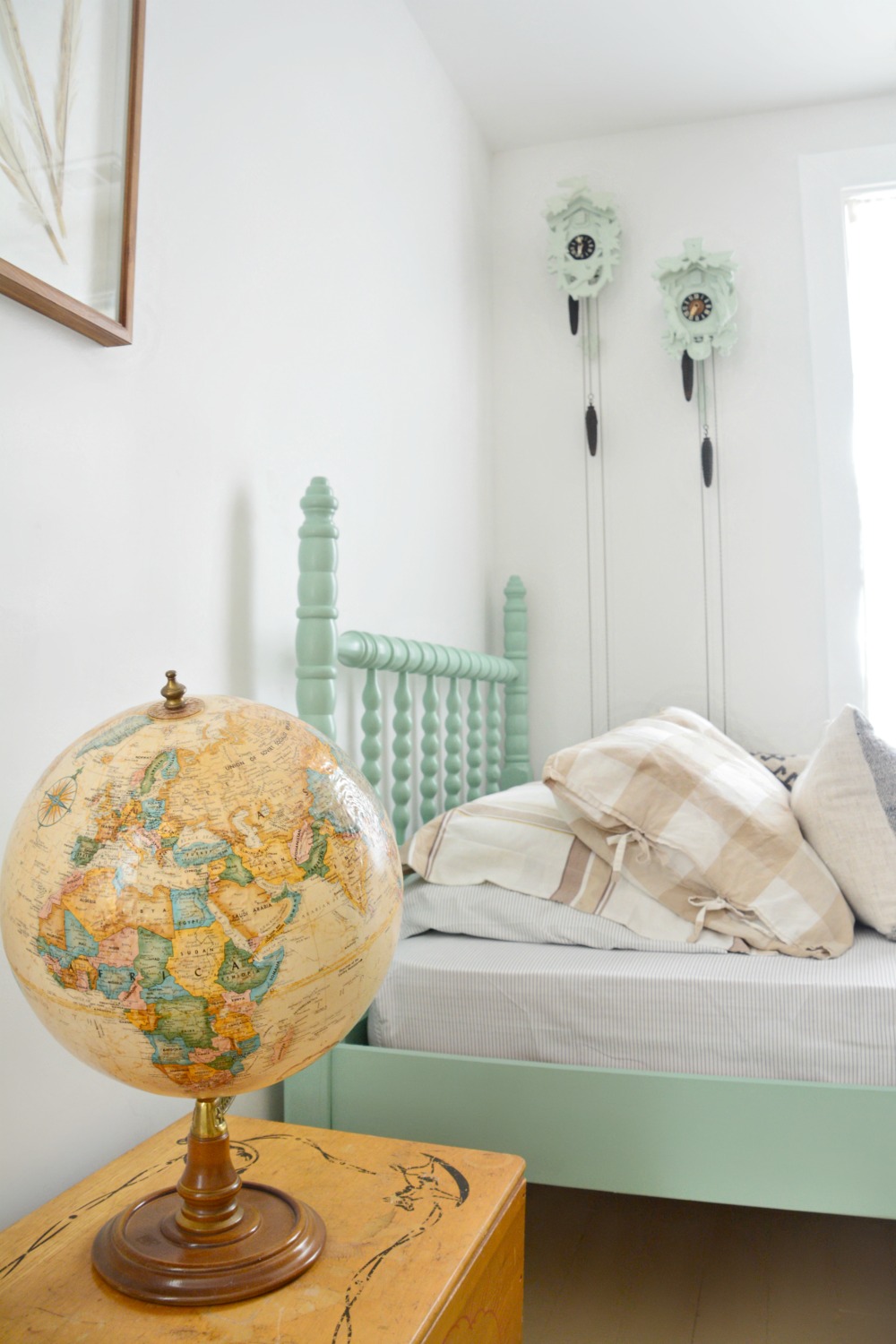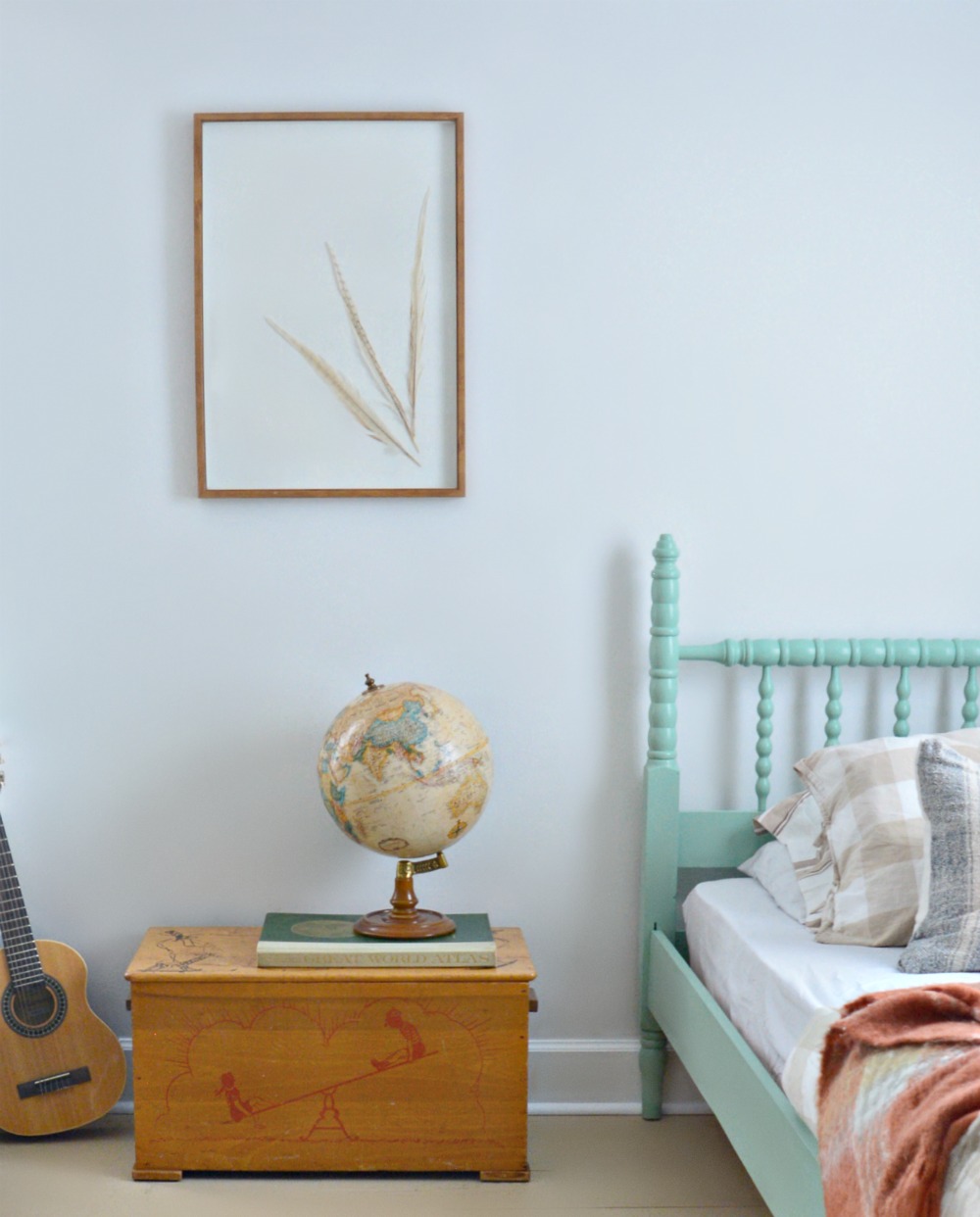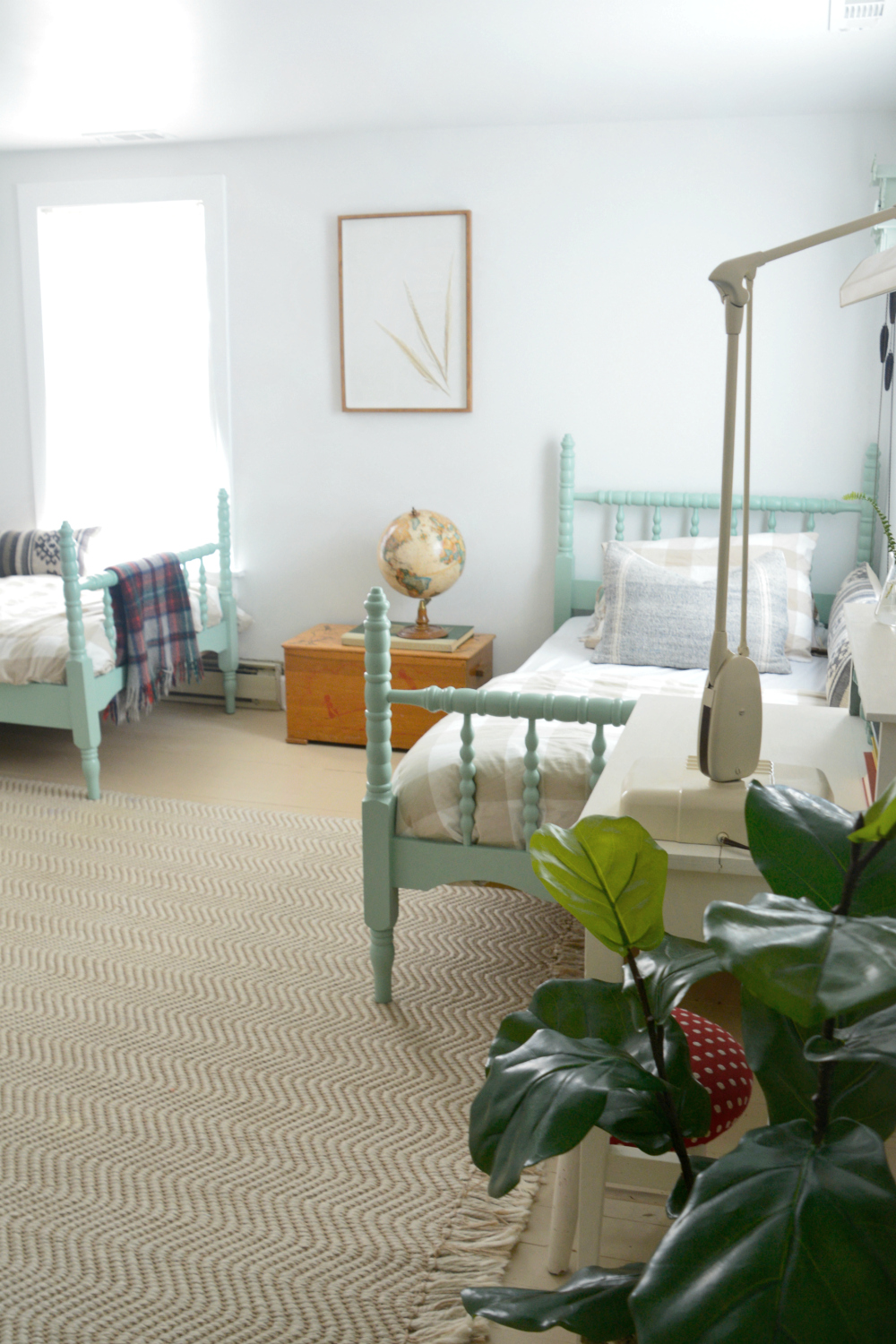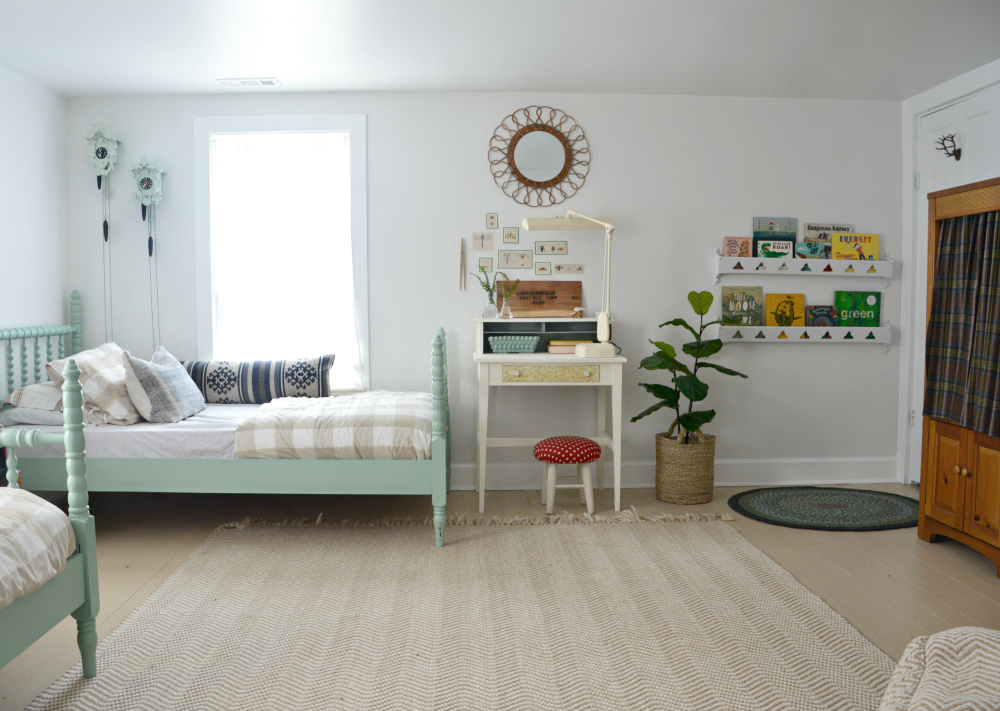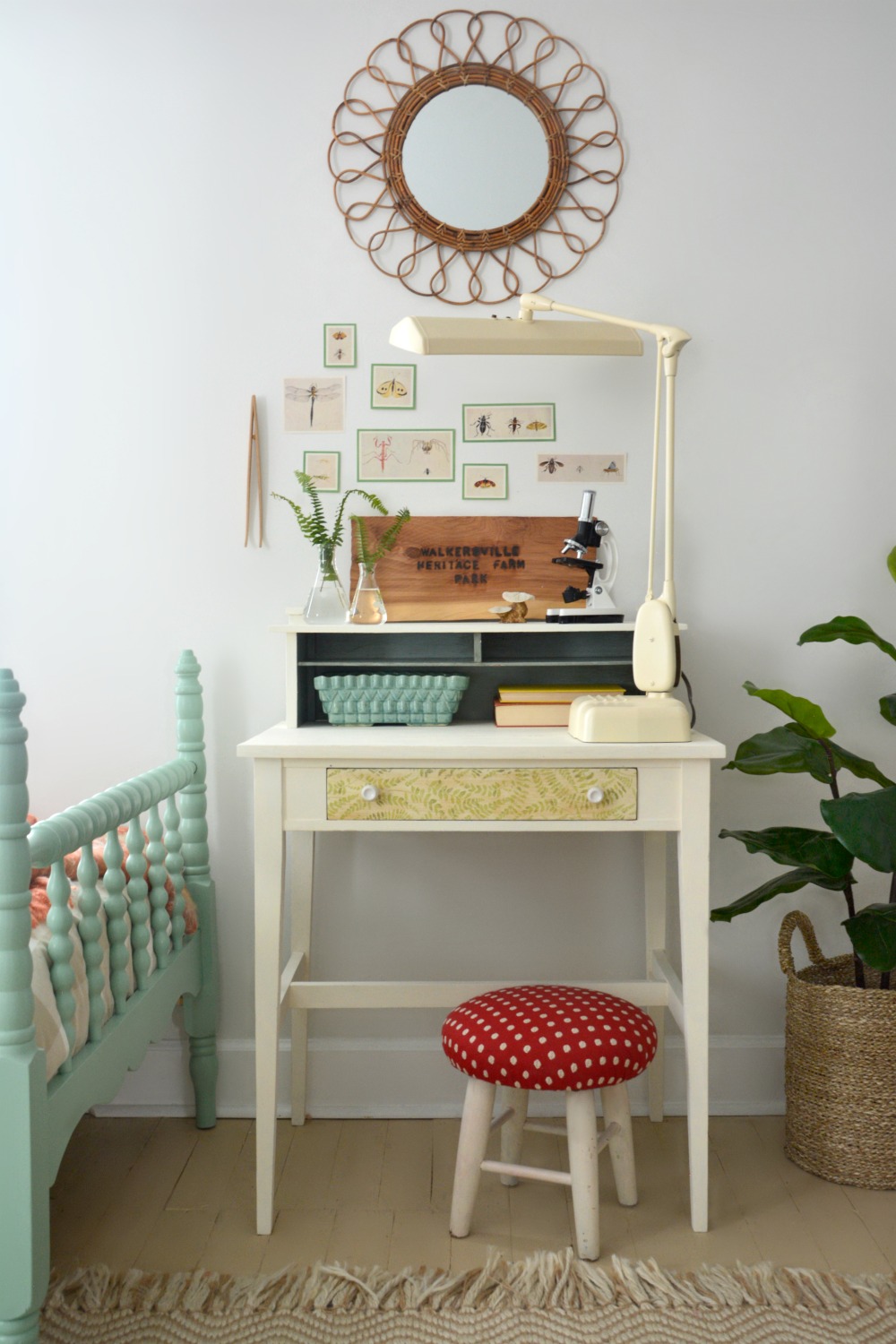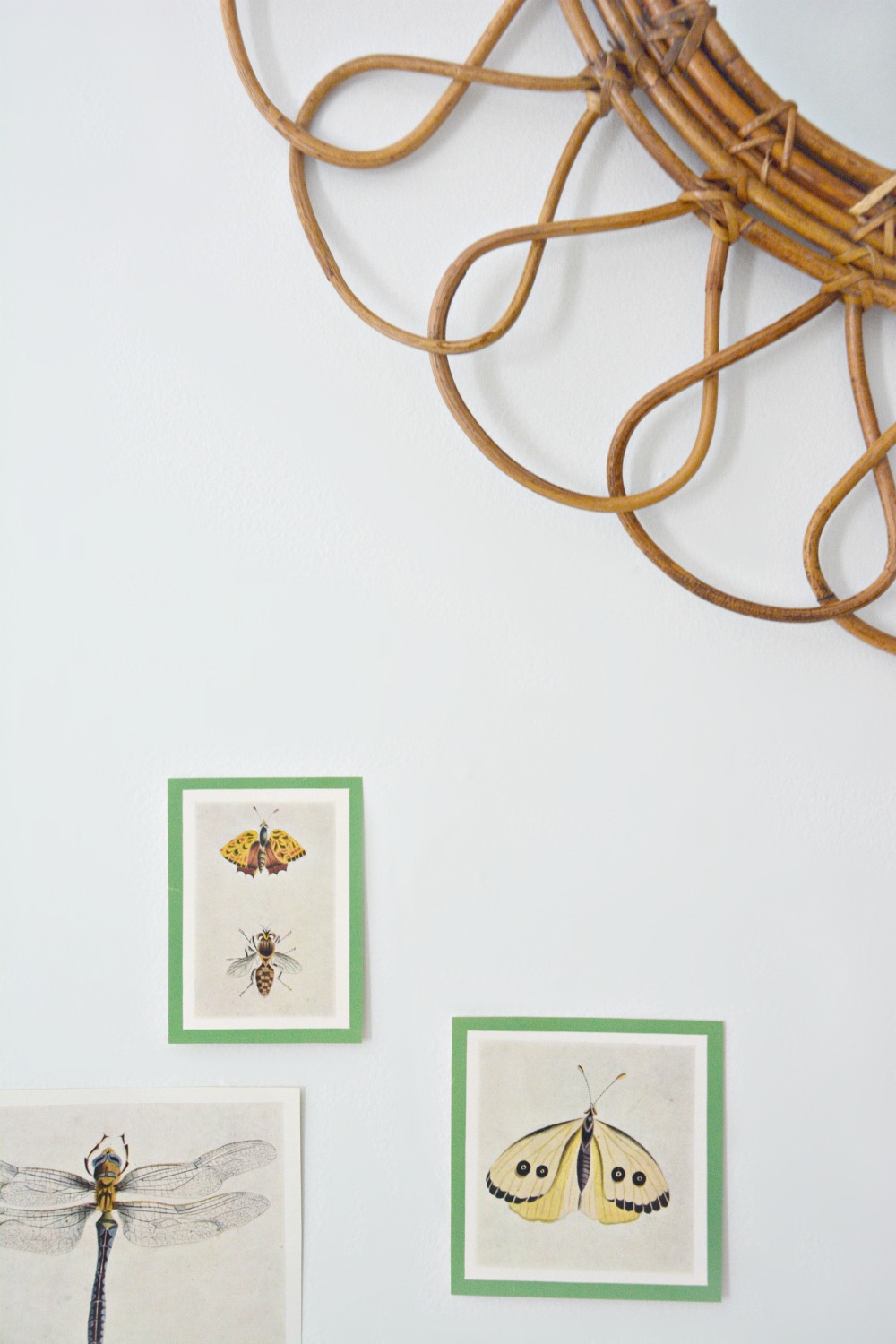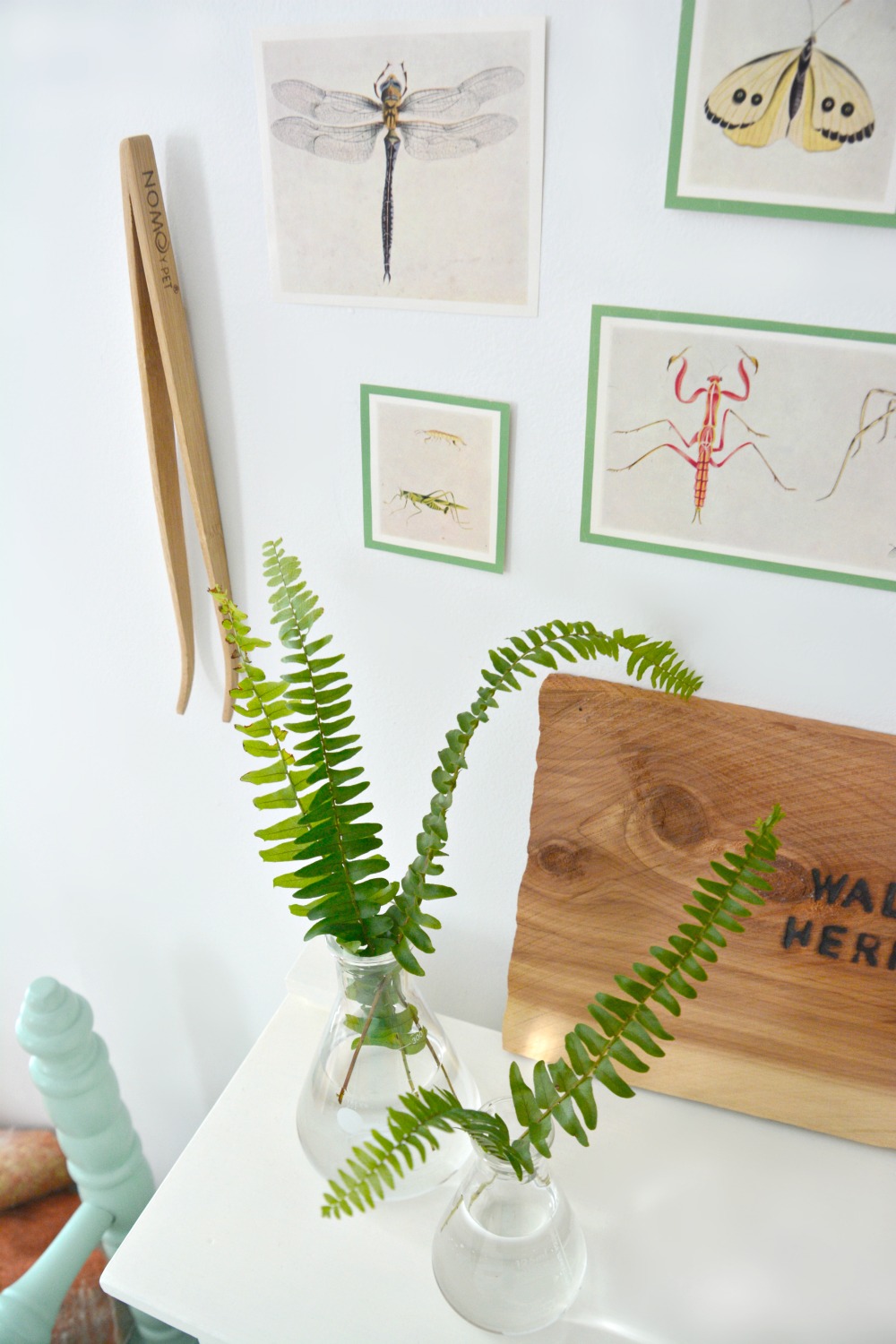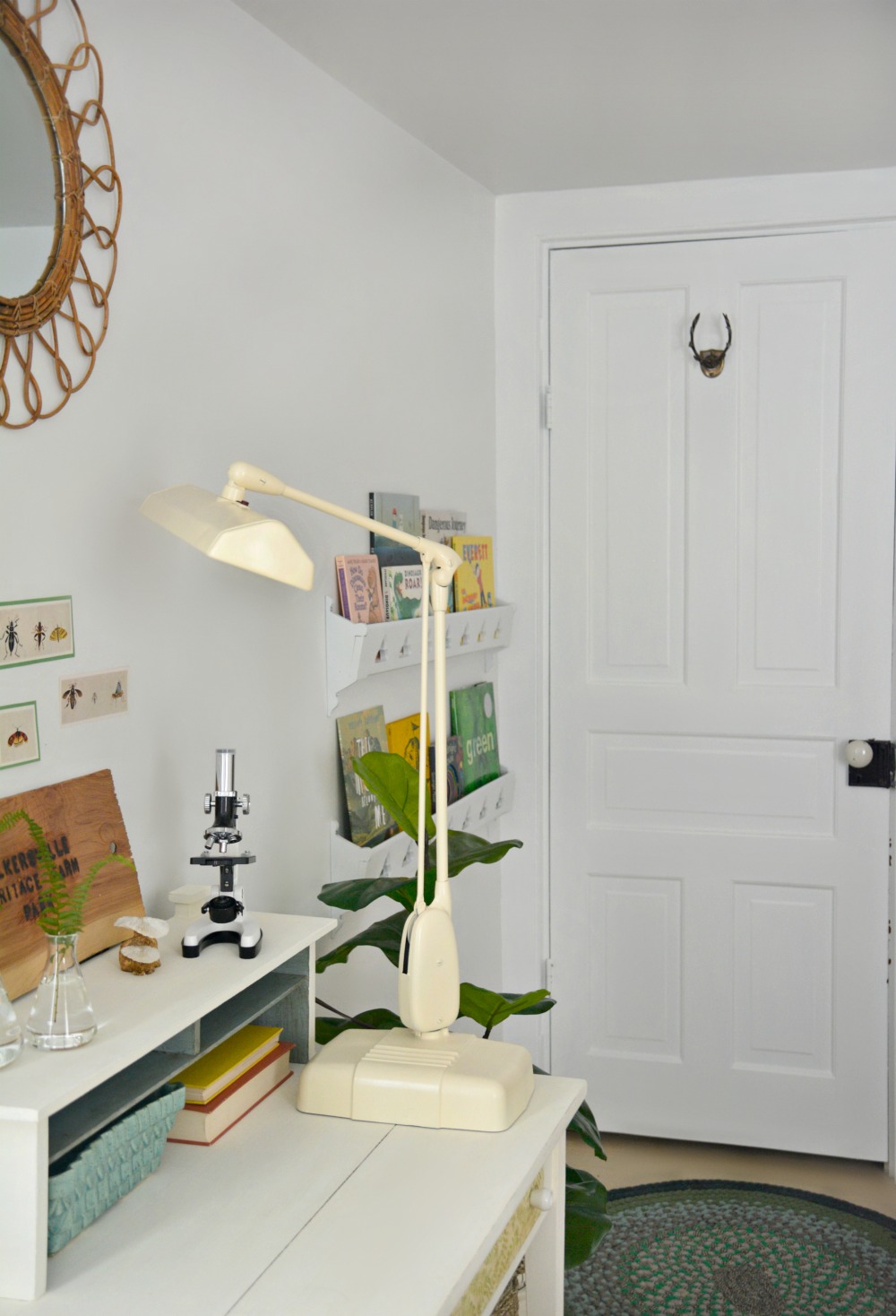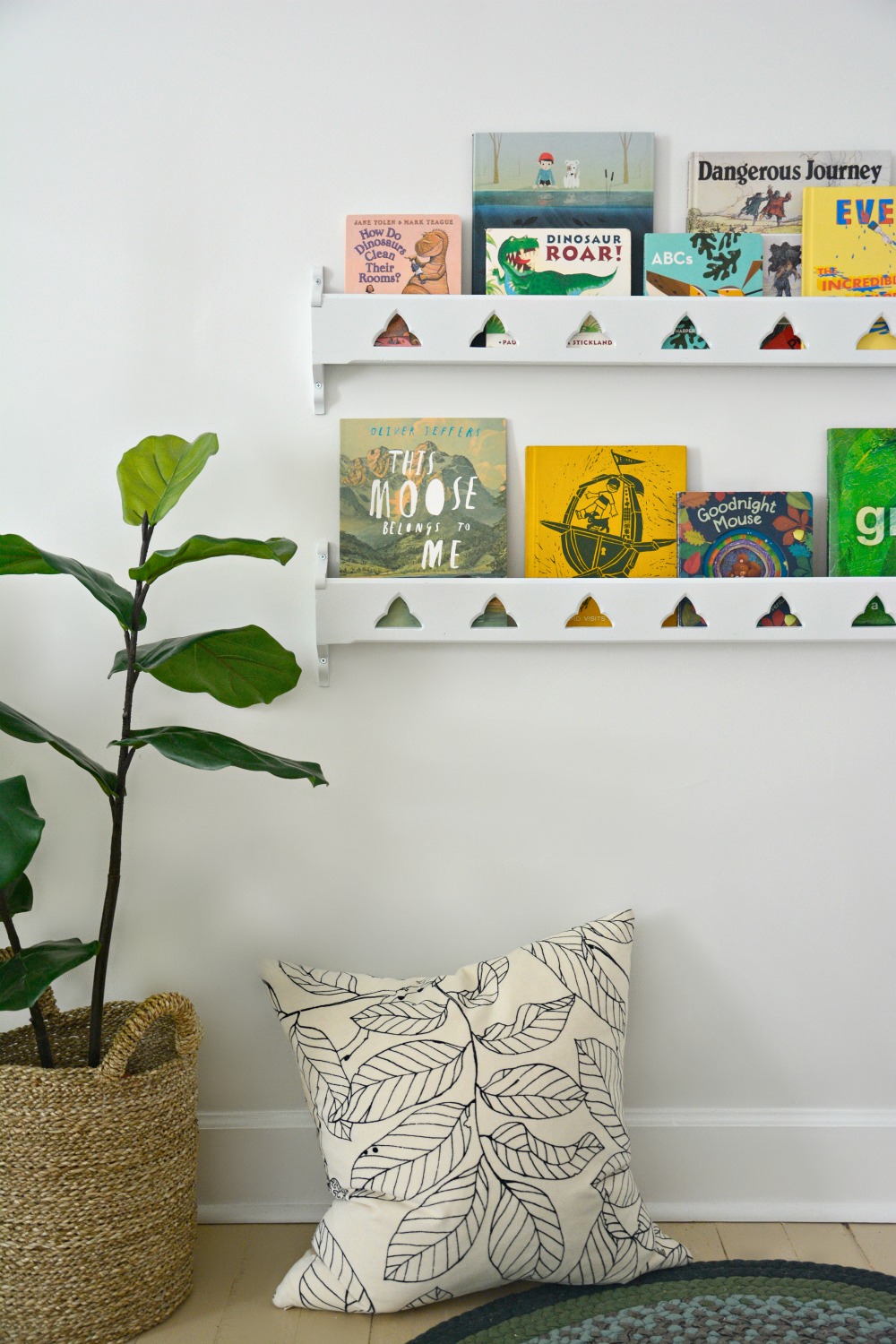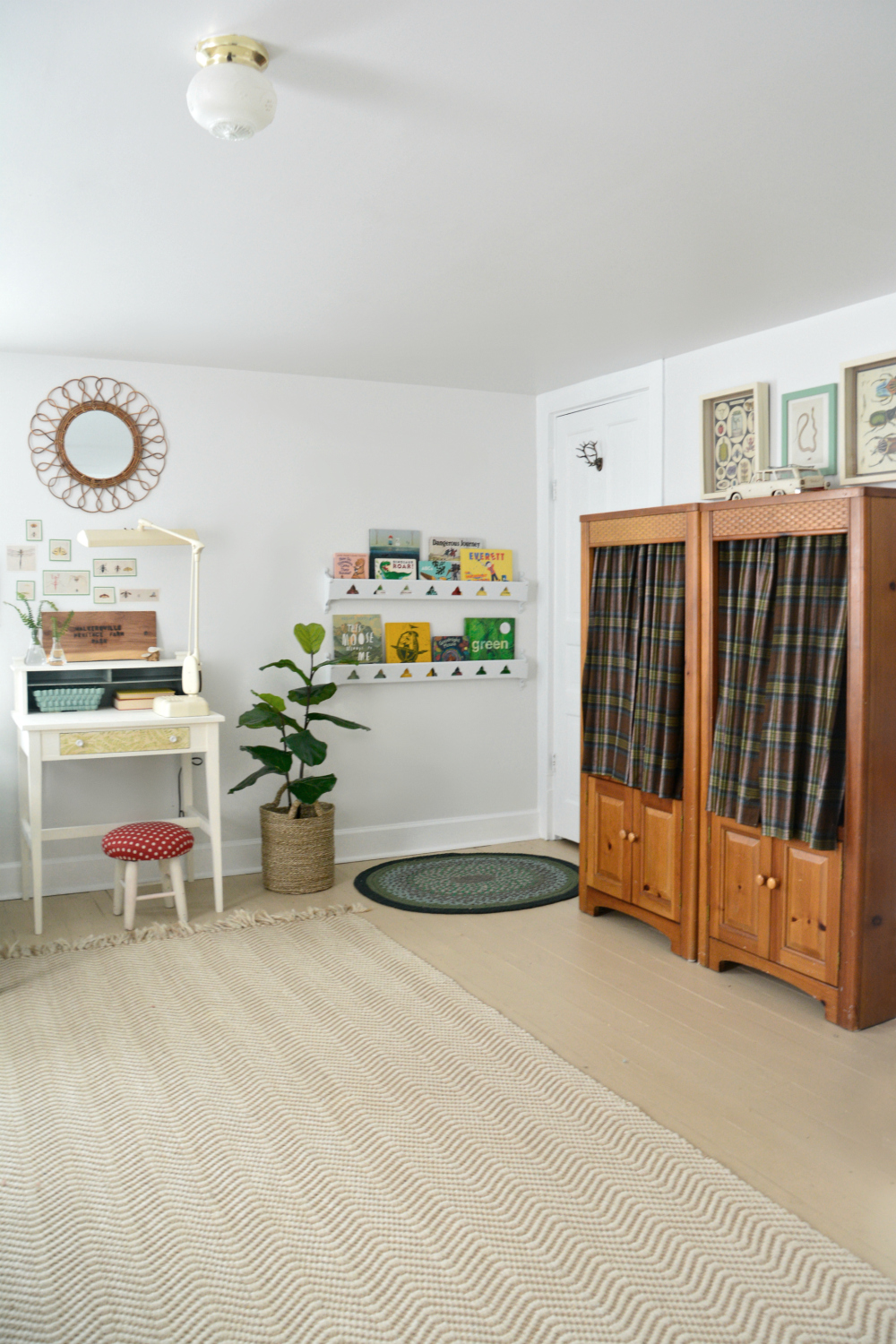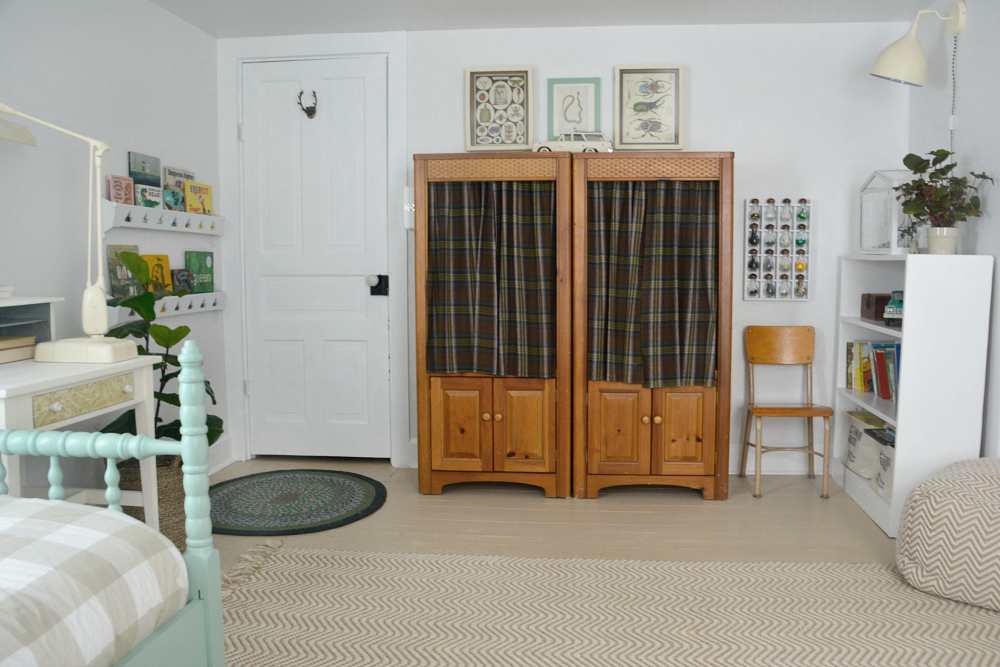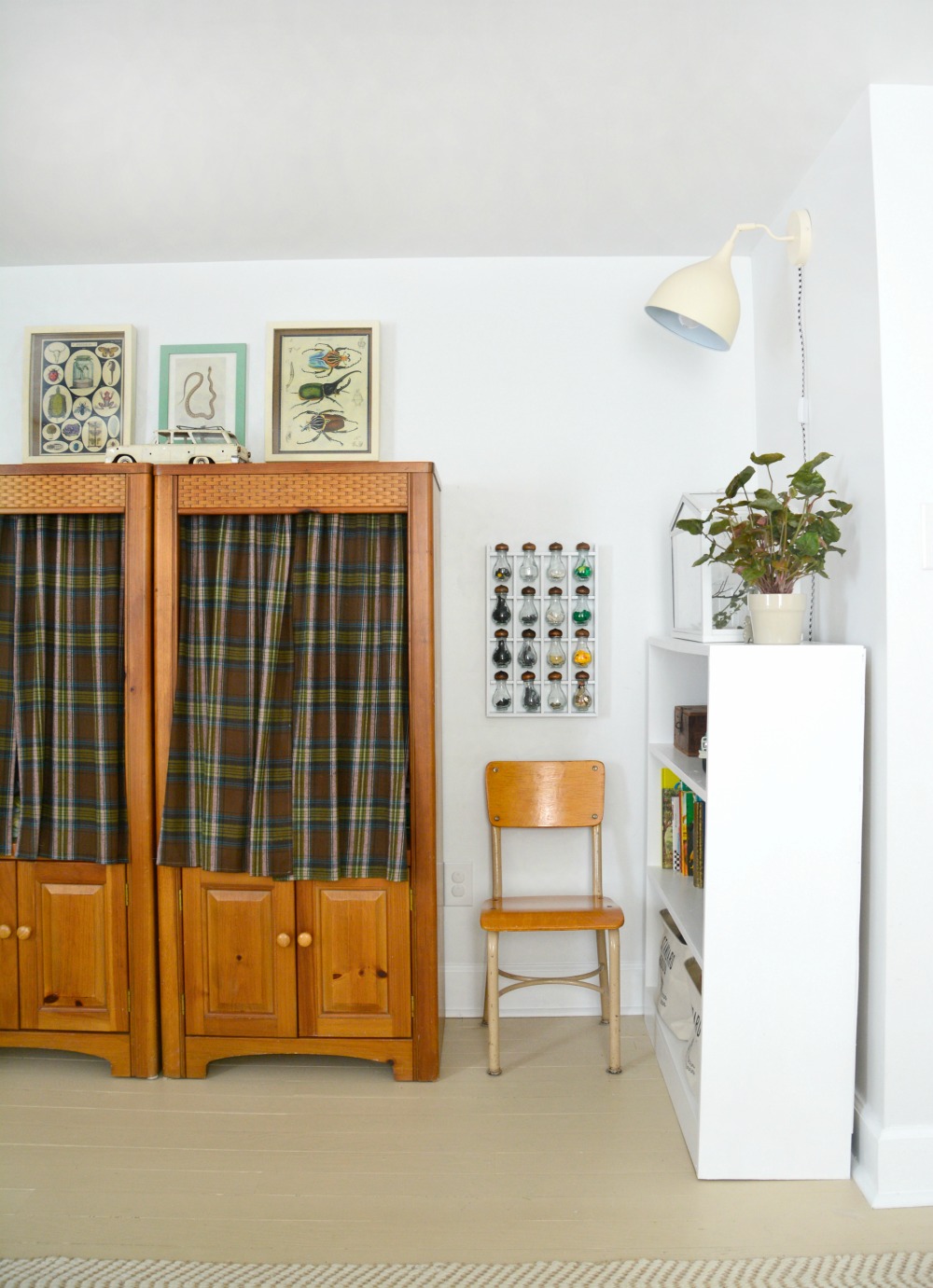 How fun is this spice rack repurposed as specimen jar style lego storage!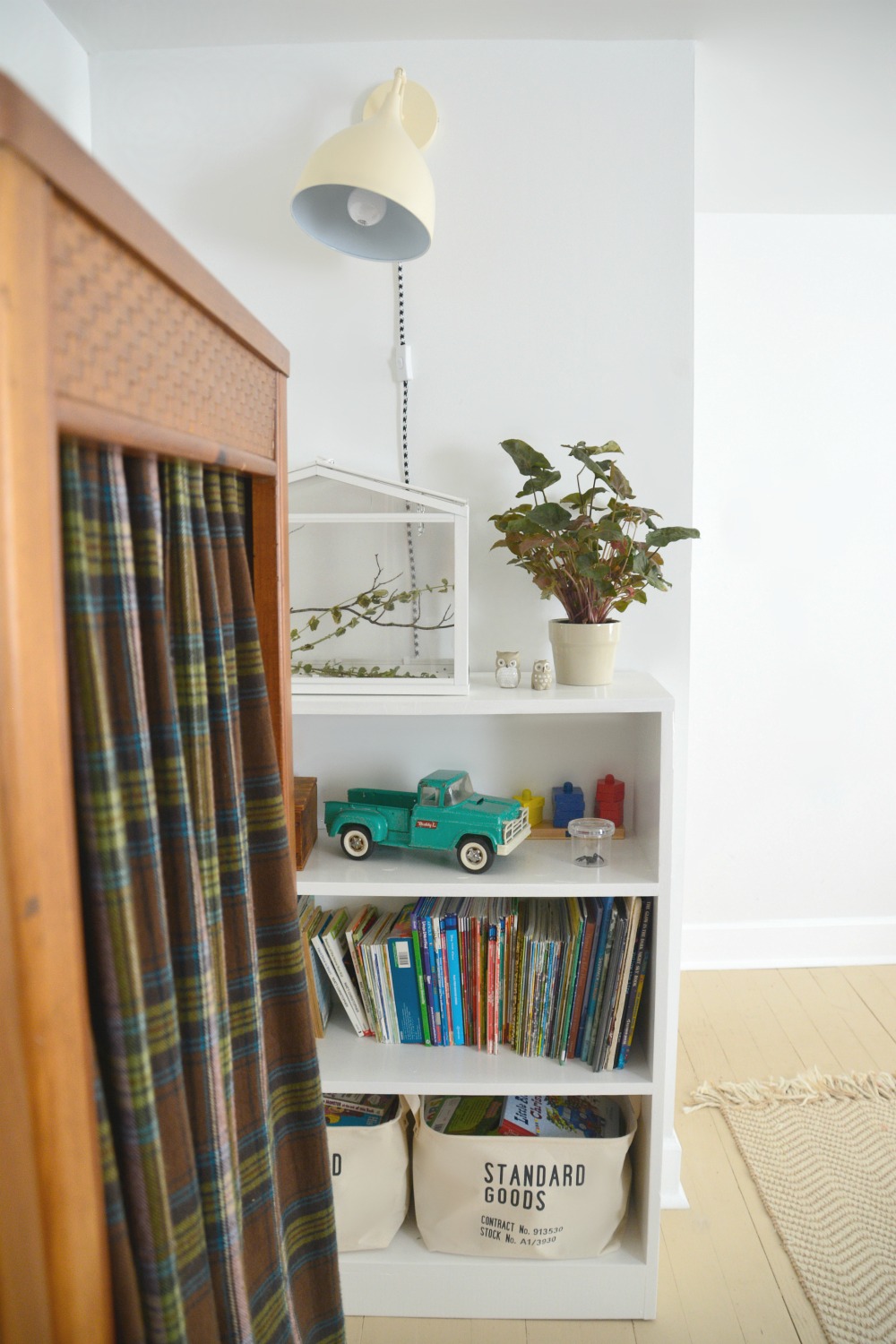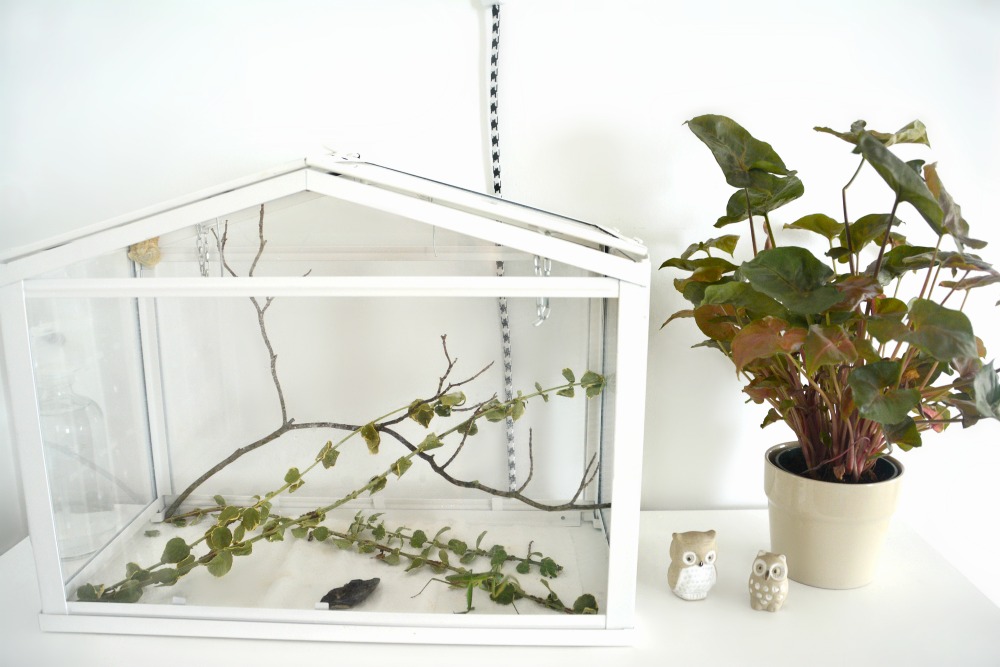 Check out our praying mantis pet! She was found in Grammy's garden in early fall. We just found out this week that she's a girl!! Check out the egg sac she laid in the top corner of her terrarium. I plan on removing the sac and putting it in a jar (with air holes) soon. In 4-6 weeks (in the warm indoor temps) hundreds of baby mantises will come crawling out if mama mantis mated before we found her.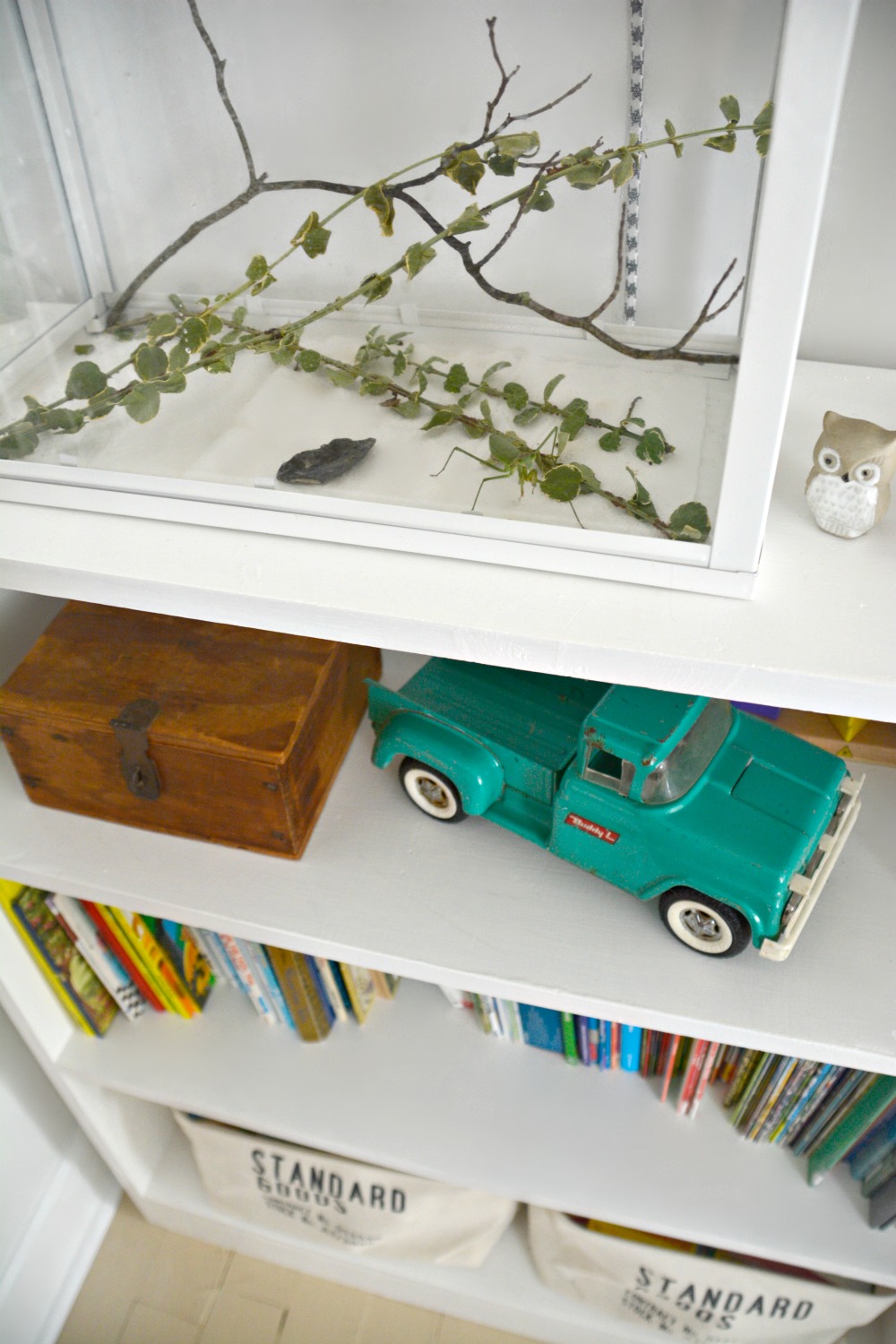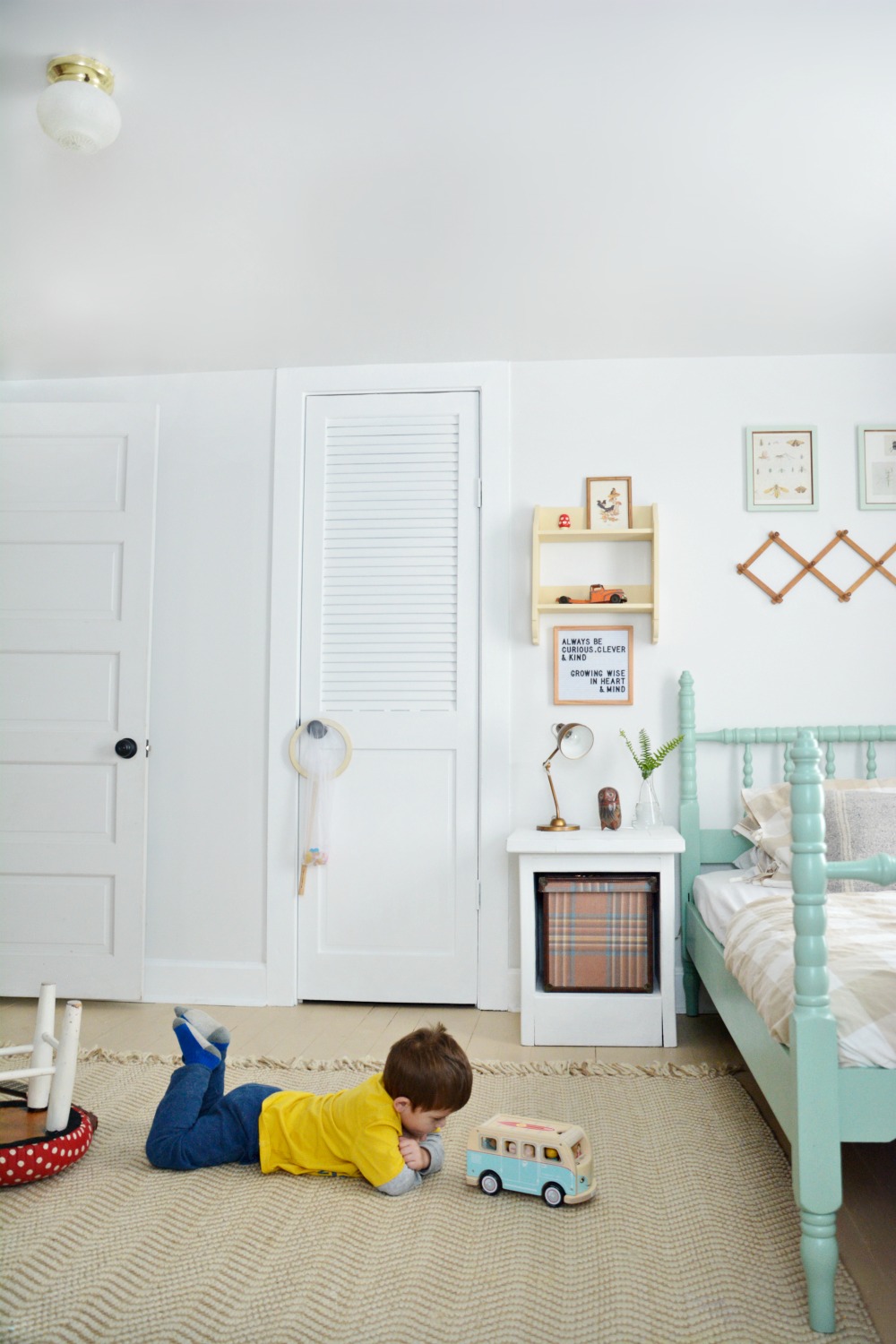 Sources
PAINT:
walls | Benjamin Moore Decorator's White
floor | Benjamin Moore Stone House
trim | Valspar Ultra White Semigloss
BOOKS:
How Do Dinosaurs Clean Their Rooms
Everett, the Incredibly Helpful Helper
Leonard Visits Dinosaur Land (vintage)
TOYS:
DECOR:
Erlenmeyer Flask Set (ours are 500,300, and 125ml)
First Aid Box (ours was purchased from Schoolhouse Electric)
Bamboo Terrarium Feeding Tongs
Curiosities Calendar (we used pages from the 2017 version)
Ikea Emmie Ruta Beige Twin Duvet (queen)
Task Light (painted antique brass)
Industrial Sconce (no longer available – painted Ivory gloss)
Antler Toothbrush Holder (mounted on closet door – no longer available)
Wood Accordion Peg Rack (ours is vintage)
Nighttime Blue Striped Sheet Set
Gray Pattern Bolster Pillows, Feather Art Orange Plaid Blanket, Tommy Bahama Woven Basket (used as planter), Plaid Box – HomeGoods
Rattan Mirror – Cracker Barrel
Blue & White Textured Accent Pillows – Handmade using Cloth Napkins
Spindle Beds – Bulk Trash (painted in Starry Woods)
Cuckoo Clocks – vintage painted in Country Chic Paint Pistachio Delight (color no longer available)
Green Picture Frame (with snake book plate)
I am loving the boys' new lighter more muted room AND they are particularly loving all the floor space!
Thanks for stopping in today and if you wouldn't mind sharing this project we would really appreciate it.
Ready for more inspiring ORC spaces!! You can find the rooms of the 20 featured designers here and the party for all of the linking participants is here (available around 1am EST 11/16/17).