Fall in the online design world means it's time for another round of the One Room Challenge™.
If you've never heard of the ORC it's a biannual challenge where bloggers and designers around the web complete a room redo over the span of 6 weeks. On Wednesday's there is a selection of featured designers who share their progress and on Thursday's Linda of Calling It Home (the originator of the ORC) hosts a linkup where anyone from around the web can jump in and share their own ORC rooms.
This will be the 5th time we are jumping in as a linking participant!! We first started participating in the challenge in Fall 2014.
It's fun to look back at the spaces this challenge has pushed us to accomplish.
Fall 2014 | Boys Bedroom | Design Plans + Reveal
Spring 2015 | Dining Room | Design Plans + Reveal
Fall 2016 | Foyer | Design Plans + Reveal
Spring 2017 | Family Room | Design Plans + Reveal
My plan for this go-around was to tackle one of the still yet unfinished spaces in our fixer upper. I was thinking about the mudroom, sunroom, or living room/to-be studio.
BUT,
seeing as how our little people just keep growing
and the baby is now over 3 (what??!)
he now needs a big boy bed
which means completely changing the furniture and layout of their shared room
We have decided to circle back around and redo the boys' room again!
We're ditching almost all of the existing furniture in order to accommodate two twin beds. We actually found a set of spindle beds (headboards + footboards) on the side of the road during our community bulk trash. Since we have the issue of miss-matched rails to contend with we will most likely be painting the bed frames. I have a black bed frame pictured in the design board below but I'm also tossing the idea of white or colored frames as well. Let me know what you think we should go with!
We do plan to keep some of the same decor elements so we don't have to start 100% from scratch BUT even the things that are staying may look completely different 6 weeks from now [I'm looking at you paint!]. First and foremost we're ditching the green trim. Our oldest still loves the color green but he isn't as into it as he used to be. I also love the idea of brightening, lightening, and neutralizing the space a bit to provide a space for the personalities and likes of both our little men. Right now we have an adventure-seeking-outdoor-loving-adrenaline-junky-wild-man and a scientific-minded-fact-finding-nature-and-bug-collecting-little-dude. With that in mind we'll be making a space to reflect their love for natural adventure. I'm super excited to incorporate some buggy-science-lab-type-elements for our little nature-collecting-mini-entomologist-in-the-making. There may even be some live critters by the time we're through!!
Here's the vibe we're going for.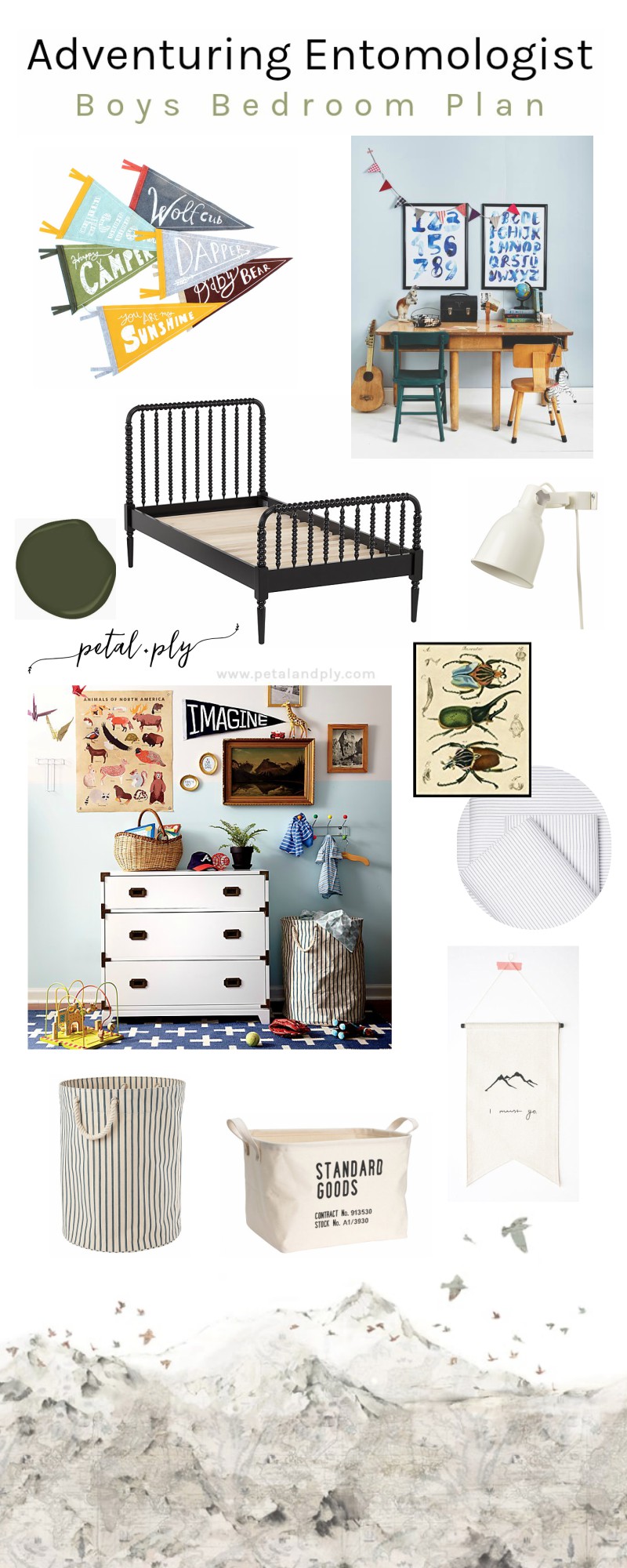 sources : top to bottom
* indicates affiliate link
pennants | indigo ABC & number art over desks | olive green paint | spindle bed frame | cream clamp spotlight | bug print* | pinstripe storage bin in bedroom | striped sheets | mountain banner | standard goods tote | map mountain wallpaper
And, here's some more inspiration from my boys bedroom Pinterest board…

Thanks so much for stopping in!
To see the links for all of the guest participants head here.
See you for week 2 next Thursday.